Renaissance™ Robotic Surgical System

Overview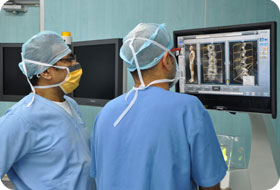 The Renaissance™ Robotic Surgical System transforms spine surgery from freehand procedures to highly-accurate, state-of-the-art robotic procedures, with less radiation and is used for procedures including minimally invasive surgery (MIS), scoliosis, and other complex spinal deformities. It is a minimally invasive robotic guided spine surgery system.
The Renaissance™ Robotic Technology is the only technology specifically designed for spine surgery and the Apollo Hospitals Group is the first in the Asia-Pacific to offer this surgical guidance system, which is a minimally-invasive robotic-guided spine surgery.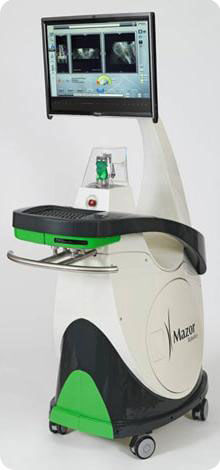 Why Robotics?
Robotics and minimally-invasive surgeries have been a strong focus for Apollo Hospital in recent years. This is because we believe in providing the best medical technologies for our patients. Once we recognized the positive impact that Spinal Robotics would have on patient outcomes, the decision was easy to bring in this technical marvel to India. The Spinal Robotics will offer precision, accuracy and minimally-invasive spinal surgery and will be of immense benefit to patients.
Apollo Hospital is already a significant referral centre for spine surgeries for people from all over the world, and is a pioneer in minimally-invasive surgeries with a well known reputation as an established leader in spine surgery as well as in adopting the latest technologies for patient care.
Since its launch, several patients have already benefited enormously from this procedure. Dr Sajan K Hegde, Senior Consultant Spine Surgeon, Apollo Hospitals has successfully performed a wide range of procedures using this technology, ranging from complex reconstructions on childhood deformities to minimally invasive surgeries for low back disorders.
Clinical Applications
This system can be used for a variety of clinical procedures including :
Open, MIS [Minimally invasive], and percutaneous posterior thoracolumbar approaches
Scoliosis and other complex spinal deformities
Pedicle screws – short and long fusions
Transfacet screws and translaminar-facet screws
Osteotomies
Biopsies
Single Vessel / Multi vessel Small Thoracotomy
Advantages
Higher accuracy
Lower radiation
Fast learning curve
Conventional, freehand MIS presents many challenges. According to literature, in freehand surgery there are instances of misplaced pedicle screws and high levels of radiation are required for intraoperative imaging to assure accuracy. Renaissance™ Robotics' state-of-the-art technology overcomes these challenges thus redefining the standard of care for MIS.
Renaissance™ Robotics Technology has been successfully used in the placement of over 20,000 implants in the United States and Europe. Numerous peer-reviewed publications and presentations at leading scientific conferences have validated the accuracy, usability, and clinical advantages of Renaissance™ Robotics technology.


Case studies
Case – 1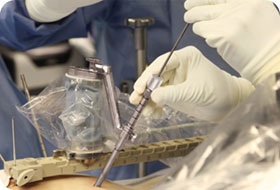 A 10-year-old from Gujarat was born with congenital anomalies that left her with a severely deformedspine. Before being admitted to Apollo Hospitals, the child had already undergone multiple procedures that had failed and left her with rods placed in her back, broken at multiple places, and a spine that was grossly deformed.
The doctors' team faced several challenges in treating the child. But Renaissance™ Robotic Technology allowed a successful spinal fixation with extreme precision and safety in carrying out the delicate maneuver to correct the deformed spine. A child otherwise doomed to go through life with the severe deformity which could have led to premature death due to cardiopulmonary failure or eventual paralysis can now lead a normal life like any other 10-year-old.
This technology helped us in treating the child, ensuring less pain, smaller incisions, shorter hospitalizations and faster recovery for the child. Conventional forms of such surgeries are more challenging due to the surgeon's lack of direct line-of-vision, requiring many intra-operative X-rays to compensate for this. The Spinal Robot overcomes these challenges, providing patients with the best possible clinical results and with minimal intra-operative radiation to both patients and surgeons.
Case – 2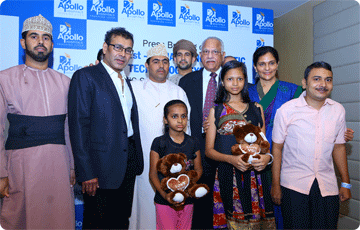 Two young patients from Oman were admitted with severe back pain, which was also running down both their legs. Both patients had previously taken non-operative treatment in Oman, without any relief whatsoever. One of the patients was a 36-year-old , who had suffered pain for more than two years, which then began affecting his regular activities. Both patients underwent Robot-assisted minimally-invasive spine surgery. After the surgery, both have been free of pain and are now walking normally.
Watch our video