Information Technology (IT) has transformed the way healthcare is being delivered today. The revolutionary impact that IT has made, has greatly improved the quality and access to healthcare. Quality improvement and clinical decision support is being powered through Healthcare IT and is not just enabling patient monitoring but also specific and targeted recommendations for improving patients' health.
IT enables the organization to better support its objectives and to leverage the benefits of technology systems across the enterprise. The Department of IT at Apollo Hospitals is responsible for delivering IT solutions and support to all entities throughout the Apollo Hospitals Group using a variety of innovations including:
DIGITAL MEDMANTRA: A comprehensive next-generation Hospital Information System (HIS) aimed at making a healthcare facility a paperless hospital. Highlights of Digital MedMantra is to offer Information Transformation and Clinical Insight. Some of the features include:
Enabling Patient Centric Healthcare
Administration
Patient Care
Clinical Care
Ancillary Services
Ease of access to patient records
Comprehensive Integrated EMR
ASKAPOLLO ONLINE: ONLINE APPOINTMENT SYSTEM
Ask Apollo is a patient-centric service, which combines the expertise of world-renowned Apollo doctors, with the convenience of consulting them at any time, from anywhere. It connects billions of patients to Asia's most advanced healthcare network via video, voice call and email. It allows users to talk to the doctors face-to-face, through video conferencing or connect with them via voice or email, no matter where you are in the world. What's more, you can even choose other secondary services like, Book physical appointment with doctor, order medicines, book blood tests, book Health checks, access health records and request Homecare services through the Ask Apollo App and all at the click of a button.
Unique features include
Patient friendly online scheduling
24/7 online appointment scheduling
Email and text reminders to reduce no-shows and keep patients in the loop
Enhances hospital staff workflow efficiency
Books health appointments in minutes
Online Payment facility available
APOLLO PRISM: A PATIENT HEALTH PORTAL TO ACCESS YOUR HEALTH RECORDS
Receive & Organize your Health Information: The AskApollo Personal Health Record automatically downloads your test results from Apollo Hospitals. You can also use it to maintain a record of your medical conditions.
Track & Monitor Your Health: AskApollo Personal Health Record makes it easy to join and stay on a wellness program – lose weight or manage a chronic condition easily.
Eliminates need for physical records
Safe & Secure: AskApollo Personal Health Record stores all your data in a secure environment and gives you complete control over who accesses your information.
Key Features include:
Patient Engagement Platform (PEP) on secure public cloud
Reviewing medical records online in a safe and secure setting
Access your medical information by 24/7
Continuous Care Delivery
Risk Assessments for Diabetes, Cardiac Health, etc.
Patient controlled Personal Health Record
Used by over 3.3 million patients
ELECTRONIC INTENSIVE CARE UNIT (EICU): REDEFINING CRITICAL CARE
Round-the-clock availability of trained critical care physicians to monitor patients.
Reduced patient mortality in the connected ICUs
Decreased average length of stay for ICU patients
Increased overall quality of care in the connected hospital.
PICTURE ARCHIVING AND COMMUNICATION (PACS) SYSTEM: Via the Apollo Clinical Imaging Cloud, manages all clinical images across all specialities.
Helps to gain efficiency, cost savings and scalability
Helps report efficiently and improve diagnostic confidence.
Leverages productivity of a single system
Supports better, faster patient care
Enables efficient and effective remote reading
Ensures Secure & Safe Mobile Data Access
Improves Patient Care
LABS & BARCODES: A BARCODE LABELING: 100% Safe and Efficient Handling of Lab Samples.
Ensures Patient ID verification
Decreases Turnaround Time
Ensures patient privacy compliance
Enables Paperless workflow
Enables Near Zero Manual intervention
Delivered entirely through Apollo MedMantra
Big Data Analytics
Patient and Revenue Analysis
Patient Flow Analysis (OP)
OT Utilization
Infection Control-Anti Bio gram
Health Check Clinical Analysis
Service Utilization Analysis
Inventory (Ageing) Analysis
APOLLO TELE-HEALTH SERVICES (ATHS)
Tele-health or tele-medicine, or virtual healthcare enables patients and physicians to touch base remotely using technology like video conferencing or mobile apps. Most of the patients are also now comfortable using wearable technology to monitor any changes in their health and sharing that data with their doctors. Leveraging on the latest technological innovations in healthcare, Apollo Hospitals launched Apollo Tele-Health Services to enable patients from remote and rural areas access our world-class health. Ease of use, convenience, and travel times are main reasons why people choose virtual health care.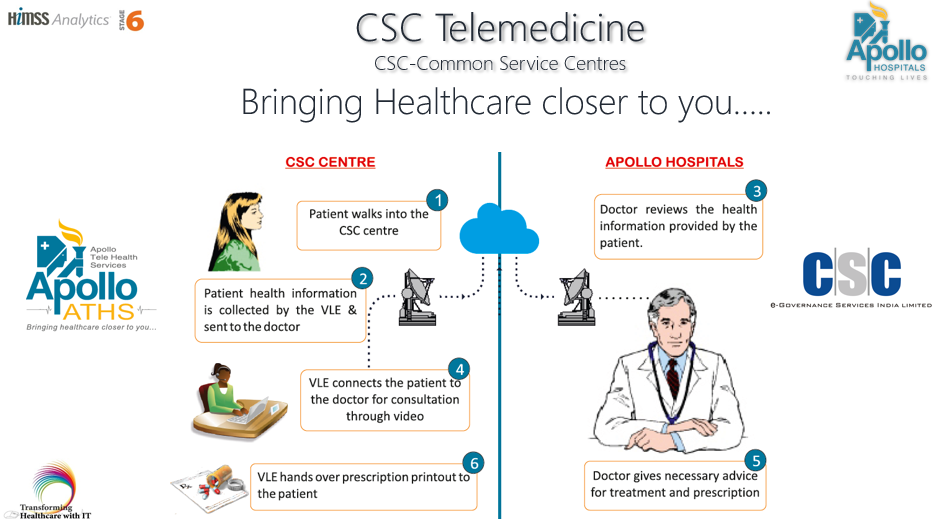 UPDATED ON 05/04/2021
Apollo Highlights & Updates