Hospitals in Bhubaneshwar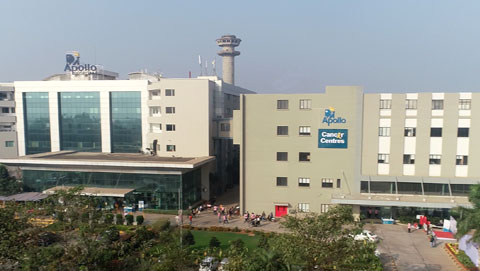 Hospitals in Bhubaneshwar
Plot No. 251, Old Sainik School Road Bhubaneshwar - 750 015
Apollo Hospitals, Bhubaneswar, the 49th hospital of the group was inaugurated on the 5th of March 2010. It is a multi-super speciality tertiary care hospital with 350 beds. Equipped with state-of-the-art technology and internationally acclaimed doctors in all specialities, the institute has become a major referral centre for the people of Odisha and the neighbouring states.
Highlights
NABH accredited hospital.

The hospital has state-of-the art operation theatres supported by post-operative care units.

The emergency and triage unit is backed by dedicated intensive care units for brain stroke, cardiac and trauma cases, making the hospital the first port of call in case of any emergency.

Apollo Hospitals, Bhubaneswar meets the demand for Neonatology by its level 3 NICU which is equipped with advanced ventilators and other equipments. Neonatal retrieval system is also available here for the first time in Odisha, where babies can be transferred to this Hospital from other units around the state by an ultra-modern transport system.

The hospital facilities are spearheaded by internationally acclaimed and skilful doctors in all specialities.

The hospital is a teaching institute too, being recognized for postgraduate courses in various specialities.
To meet the growing incidence of cancer, Apollo Hospitals, Bhubaneswar has also added a state of the art Cancer Centre within the same premises:
The Apollo Cancer Centre, Bhubaneswar has Odisha's first and only advanced Linear Accelerator radiation machine – The Varian True Beam STx to offer the most precise radiation therapy treatment.

The centre also has a Siemens 64 slice PET CT machine and is equipped with all modern facilities to do every type of PET CT including PET guided biopsies.

The centre is the frontrunner in providing organ specific Cancer Care in the state of Odisha and has a functional multidisciplinary Tumour board.

Currently, all departments of Oncology including Medical Oncology, Radiation Oncology, Surgical Oncology and Nuclear Medicine are functional at Apollo Cancer Centres, Bhubaneswar and many more facilities will be added soon to make this centre the most preferred centre in Cancer Care in Odisha.
Contact Details
Apollo Hospitals, Bhubaneswar
Address: Plot No. 251,
Sainik School Road, Unit 15
Bhubaneswar, Odisha – 751005

Useful Telephone Numbers
Emergency: +91 674 666 0666
Appointment: +91 674 666 1016


For more details on Apollo Hospitals at Bhubaneswar,
visit https://bhubaneswar.apollohospitals.com/
Apollo Cancer Centre, Bhubaneswar
Address: Plot No. 251,
Sainik School Road, Unit 15
Bhubaneswar, Odisha – 751005