Hospitals in Mumbai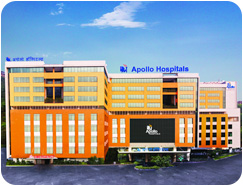 Hospitals in Mumbai
Parsik Hill Road, Sector 23, CBD Belapur, Navi Mumbai - 400 614
Apollo Hospitals, Navi Mumbai is one of the most advanced Multi-Speciality Tertiary Care hospitals in Maharashtra. The hospital offers comprehensive and integrated super speciality services under one roof. Apollo Hospitals at Navi Mumbai has put together a team of renowned expert consultants to provide people easy accessibility to advanced technologies for precise diagnosis and treatment. The facility is accredited by Joint Commission International (JCI) and National Accreditation Board for Hospitals and Healthcare Providers (NABH). It also provides advanced personalized health check programmes which is tailor made to individuals lifestyle requirements.
Clinical Excellence – Apollo Hospitals has pioneered Clinical Excellence in India and it is one of the Group's proudest legacies. The unit boasts of renowned consultants and the focus is on high-quality patient experience in all aspects. It thrives to deliver clinical outcomes comparable to the very best in the world.
Infrastructure – It is a 500 bedded facility and has access to world-class technologies, 13 state-of-the-operation theatres, advanced laboratory and medical diagnostics and 120 ultra-modern I.C.U. beds including N.I.C.U. & P.I.C.U. manned round the clock by critical care specialists
Technology – Apollo Hospitals Group has always been ahead of the curve in terms of technology. Apollo Hospitals, Navi Mumbai, has state-of-the-art technologies, enhanced patient care with greater precision, better patient experience and precise diagnosis. The best of the technologies available are:
128 slice CT Scan
3 Tesla MRI
500 MA & 800 MA Digital X-Ray
AlluraClarity – Cath lab with 3D OCT (Optical Coherence Tomography)

Reduced radiation (X-ray) dose by an average of 50% with equivalent image quality for diagnosis in cardiac angiography
Advanced Image Processing Technology
Flexible modular platform for screening, diagnosis, biopsy and 3D Tomosynthesis
Flexible Digital Imaging Pipeline (Tailored to each & every application)

Digital Mammogram

Intelligent 3D stereotactic biopsy system with high image quality
Unique feature of OPDOSE for best image quality with lowest dose
Flexible modular platform for screening, diagnosis and biopsy
Unique feature of OPCOMP for optimal compression without causing patient discomfort

TrueBeam STx has helped pioneer new stereotactic treatment technologies in use for the treatment of cancer and other conditions. Radiosurgery treatments take advantage of recent advances in proven technologies, including:

Imaging with cone – beam CT
Motion management
Precision beam delivery with Rapid
Treatment planning through Eclipse
Automated patient-positioning technologies
Image-guided radiation therapy (IGRT)
Image Modulated radiation therapy (IMRT)
RapidArc
Stereotactic body radiation therapy (SBRT)
Stereotactic radiosurgery (SRS)
BrachyTherapy

Robotic Spine Surgery
da Vinci Robotic Surgery
Apollo Hospitals in Navi Mumbai is the 66th hospital of the group. It offers Super-Specility Care across the following specialities:
Apollo Personalised Health CheckTM
Anaesthesiology
Bariatric Surgery
Bone Marrow Transplant
Breast Surgery
Cardiology
Cardiovascular & Thoracic Surgery
Cosmetic & Plastic Surgery
Dentistry
Dermatology
Dialysis
Emergency Medicine
Endocrinology
Endoscopy & Bronchoscopy
Gastroenterology (Medical & Surgical)
General Medicine
General Surgery
Hemato-Oncology
Hepato-Pancreato-Bilary
Infectious Diseases
Intensive & Critical Care
Interventional Radiology & Neuro-Radiology
IVF (Fertility)
Lithotripsy
Maxillofacial Surgery
Nephrology
Neurology & Neurosurgery
Obstetrics & Gynaecology
Oncology (Medical, Surgical & Radiation)
Ophthalmology
Organ Transplant (Kidney, Liver, Heart)
Orthopedics & Joint Replacement
Otolaryngology (ENT)
Pediatrics & Neonatology
Pediatric: Cardiology, Endocrinology, Gastroenterology, Hematology, Neurology, Ophthalmology, Pulmonology, Psychology, General Surgery, Genetics, Orthopedics, Neurosurgery.
Psychiatry (on out-patient basis)
Pulmonary Medicine
Rheumatology
Robotic Surgery
Spine Surgery
Sports Medicine
Urology
Vascular Surgery
Vaccination Center
Each of these departments is led by highly experienced and skilled doctors, educated and trained at the foremost medical institutions of UK, USA and India. The nursing services and the patient-care providers are specially trained to provide compassionate care round-the-clock.
Contact
Apollo Hospitals – Navi Mumbai
Parsik Hill Road,
Sector 23, CBD Belapur,
Navi Mumbai – 400 614
Online Appointments – www.askapollo.com
–>