Apollo BGS Hospitals, Mysore saves the life of a 36-year-old patient by successfully performing a rare surgery using ECMO
Posted by Apollo Hospitals | 21 May, 2019
A rare and a life-saving procedure was successfully performed at Apollo BGS Hospitals, Mysore by the department of Pulmonology and Cardiology Intensive care, led by Dr. Madhu K, Dr Nagendra Prakash, Dr. Harish Nayak and Dr. Ramakrishna respectively along with their trained and experienced nurses.
After a constant battle with death for nearly a month, Apollo BGS Hospitals team helped Mrs. Savitha tide through the life threatening crisis and emerged victorious in the end!
A 36-year-old lady from Malavalli village came with severe cough, fever and breathing difficulties to Apollo BGS Hospitals, Mysuru emergency. Her symptoms were progressively increasing. She was managed in Intensive Care Unit (ICU) with high flow oxygen, injectable antibiotics and special medications to bring down the symptoms. She was then put on a ventilator, a special type of ventilation known as prone ventilation.
Even after such high level of medical care, when she did not respond, a novel technology called ECMO was performed on the patient. ECMO stands for Extra Corporeal Membrane Oxygenation. This is a sophisticated machine which acts like an artificial lung and performs the work of lungs (which is to provide fresh oxygen to blood and removal of carbon-di-oxide from blood).
"ECMO may be understood as dialysis for the lungs, as the machine acts like an artificial lung. ECMO provides rest to the lungs to recover from the illness. ECMO machine provides oxygenation outside the body, unlike in ventilator where the oxygenation is done within the body" says Dr. Madhu – Consultant Pulmonologist, Apollo BGS Hospitals, Mysore
"ECMO ventilation attachment was achieved with the help from our cardiology team. We inserted various tubes required to carry blood into and out of the ECMO machine, and perfusionists monitored the patient's oxygenation round the clock" says Dr. Nagendra Prakash – Consultant Cardio Thoracic Surgeon, Apollo BGS Hospitals, Mysore
"She started improving after around fifteen days, with strict vigil and prompt intervention by the team of doctors, intensivists, paramedics & nurses who gave special attention and care during this procedure and helped her to sustain on ECMO during this time" said Dr. Harish Nayak & Dr. Ramakrishna – Consultant Intensivists, Apollo BGS Hospitals, Mysore.
"Savitha is now fully recovered and is ready to lead a healthy life, thanks to the ECMO procedure!" says Mr. Venkatesh, Mrs. Savitha's Husband
"This is a first-of-its-kind procedure in Mysuru which has been successfully performed with the in-house team of Pulmonologists, Cardiac Surgeons, Intensivists, Respiratory Therapists and the nurses without whom success of this procedure wouldn't have been possible. With increasing trends of influenza every year, and with the threat of swine flu causing complications such as in this case, Mysuru now has a full-fledged facility at Apollo BGS Hospitals to treat such cases using ECMO, which was previously only possible in Metro cities" says Mr. N. G. Bharateesha Reddy – Vice President & Unit Head, Apollo BGS Hospitals, Mysore.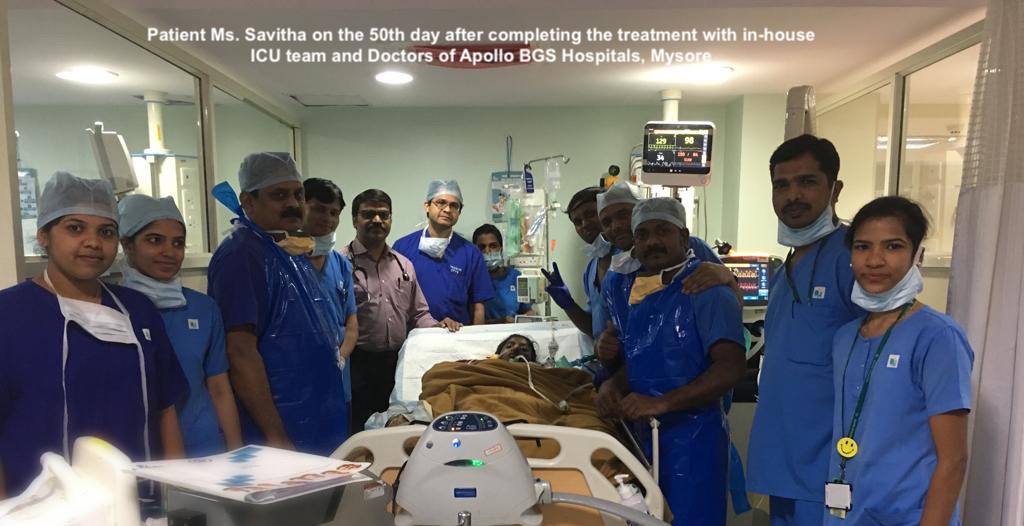 Posted by:
Apollo Hospitals
21 May, 2019
Get the best of health related stories delivered to your inbox.
Apollo Proton Cancer Centre (APCC) has inaugurated its groundbreaking Centre of Excellence (CoE) for Head and Neck Ca...
Date: 15 Nov,2023
Apollo Cancer Centres (ACCs) continue to push the boundaries with advanced cancer treatment, by introducing 'India's ...
Date: 06 Nov,2023
In a significant stride towards advancing healthcare infrastructure, Apollo Cancer Centre (ACC), Visakhapatnam inaugu...
Date: 24 Sep,2023