Hospitals in Karur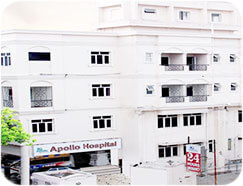 Hospitals in Karur
163 - AE, Allwyn Nagar Kovai Road Karur - 639002
Apollo Hospitals, Karur was started in the year 2009. The 100-bedded hospital provides affordable and quality critical care to communities in the Karur and Kongu region of the state of Tamilnadu.
The state-of-the-art bio-medical equipment complemented by highly-skilled staff ensures high standards of care. The hospital places special emphasis on quality time between patients and doctors and nurses.
Medical Highlights
First Multi specialty Hospital providing tertiary care in Karur
First Cath Lab facility in Karur
First Intensive Care Unit for Neo-natal Care in Karur
First to perform Aneurysm surgery (Neurosurgery) in Karur
First hospital in Karur to introduce Arthroscopy surgery
First hospital in Karur to perform Pediatric Thoracic surgery.
Well established State of the Art Poly Trauma unit
State of the Art Dialysis unit
Centre of Excellence in Neurosciences
Some of the Community initiatives undertaken by Apollo Hospitals, Karur are-
Establishment of a Tele-Medicine center that helps people to get quality consultation from other Apollo locations.
"Healthy Karur" – an initiative that engages people in and around Karur. Disseminating awareness and health screening of the poor and needy are the highlights of this program which is being conducted every Sunday now for more than 100 weeks.
BLS Initiative for Students & Drivers in & around Karur district.
Specialties
Contact
Apollo Hospitals, Karur
163 – AE, Allwyn Nagar
Kovai Road
Karur – 639002
+91 4324 241900 / 240800 / 240900