Apollo Hospitals, Navi Mumbai redefines the life of a 78-year-old cardiac patient by successfully performing Transcatheter Aortic Valve Replacement surgery
Posted by Apollo Hospitals | 24 Apr, 2019
TAVR or Transcatheter Aortic Valve Replacement, a percutaneous procedure, was successfully performed at Apollo Hospitals, Navi Mumbai. A 78-year-old man who could not undergo open heart valve replacement surgery due to co-existing health issues including past history of bypass surgery, was treated using TAVR – an advanced treatment technique.
The 78-year-old patient, a resident of Nerul in Navi Mumbai was suffering from severe breathing issues, even on mild exertion since last six months, affecting his daily routine. He consulted the cardiologist at Apollo Hospitals, Navi Mumbai where he was diagnosed with severe Aortic Valve Stenosis. A second surgery was very risky considering his age and poor health. But with TAVR, there is now new hope for these patients.
TAVR also known as TAVI (Transcatheter Aortic Valve Implantation) makes it possible to treat on patients who were previously deemed unsuitable or too high risk for surgery. Whereas in conventional open heart surgery, the chest cavity needs to be opened by cutting through the sternum to allow the surgeon to operate on the heart, TAVR is a non-surgical technique where heart valves are replaced via needle-puncture of the skin, rather than a scalpel.
Dr. Sanjeev Kalkekar, Consultant, Interventional Cardiology, Apollo Hospitals, Navi Mumbai explained, "In TAVR, a miniaturized valve is inserted through a catheter, a thin flexible tube, from the groin into the heart. The deployed valve reaches the base of the aorta at the site of the previous aortic valve. The doctor then opens a balloon which inflates the valve pushing aside the old valve and overcoming the stenosis or narrowing. The entire procedure is conducted under general anaesthesia or mild sedation, takes about an hour as compared to 5-6 hours required for an open heart surgery."
TAVR is a game changer for patients with valve disease in India. While the expenses are more as compared to conventional open heart surgery, the benefits are incomparable. TAVR allows many patients with severe aortic valve stenosis who were previously classified as too high risk or inoperable to be effectively treated, giving them a second opportunity at a healthy life. Interventional cardiology methods such as 'TAVR' has redefined the lives of people with an improved quality of life, even in people aged above 70 years or 80 years. Interventional methods can help many patients who are suffering from severe cardiac risks.
The patient showed remarkable improvement. He started speaking normally right after 45 minutes of the procedure and has been discharged from the hospital, in a stable condition.
Dr. Sai Satish, Senior Interventional Cardiologist, Apollo Hospitals, Chennai said, "TAVR is a godsend for patients who are unfit for open heart valve replacement surgery. One of the most common form of valve disease is calcification that affects the leaflets (parts which open and close with the flow of blood) of the aortic valve. The leaflets get affected by fat deposition over 10 to 15 years with inflammation and hardening. Patients often present with symptoms only after the age of 70-75 years. At this age, 35% of patients are not suitable for surgery. The catch is that if not treated, 50% of them will not survive for more than a year or two. TAVR can increase the patient's life between 8 to 9 years. So far, the success rate of this procedure in India is around 95%."
Mr. Santosh Marathe, COO, Apollo Hospitals, Navi Mumbai, said, "The face of healthcare in the Navi Mumbai region is undergoing a sea change with advanced medical technology available to help address complex conditions in patients. From organ transplants including heart transplants, minimally invasive surgery to interventional cardiology, the incomparable benefits of the latest advances will help patients who are inoperable or at high risk to be treated effectively and get a second opportunity for a healthy life."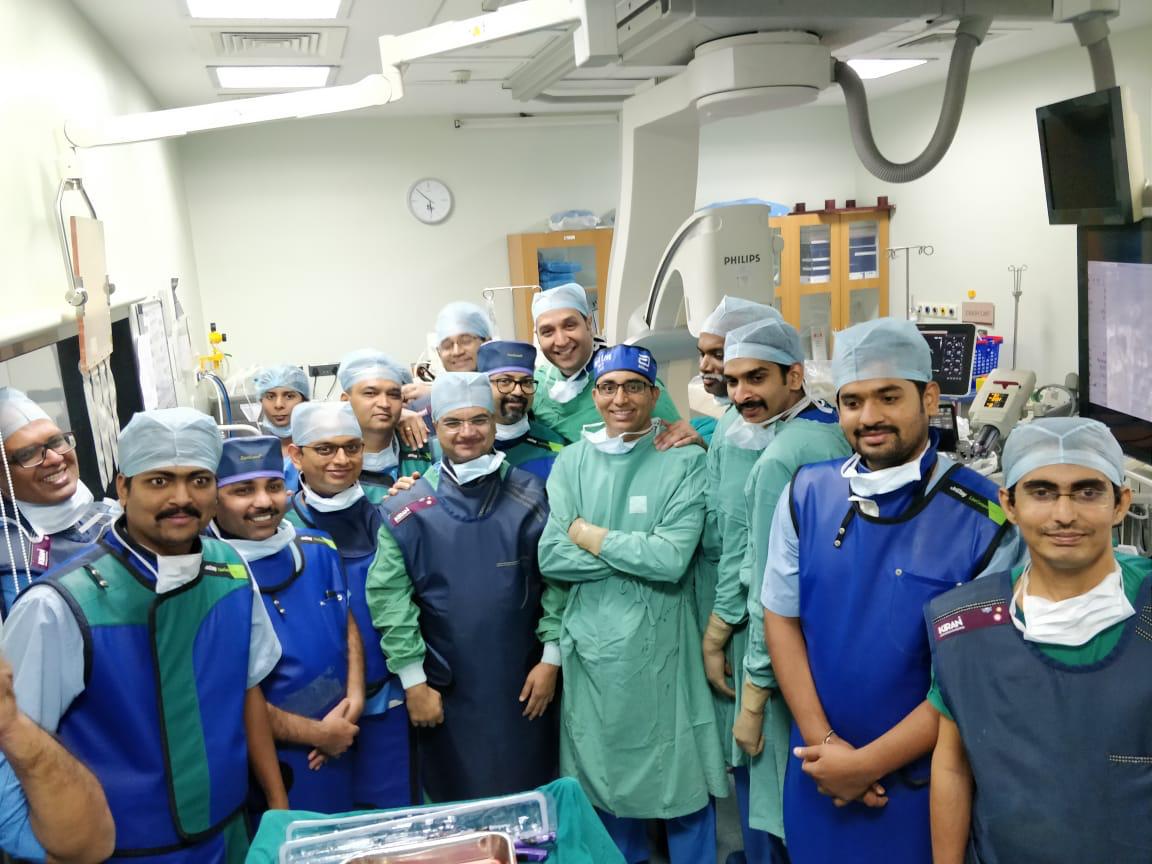 Posted by:
Apollo Hospitals
24 Apr, 2019
Get the best of health related stories delivered to your inbox.
A team of doctors at Apollo Hospitals, Ahmedabad led by Senior Consultant Cardiothoracic Surgeon, Dr Utpal Shah, gave...
Date: 24 Nov,2022
Apollo Multispecialty Hospitals, Kolkata has launched Induced Sputum Lab and become the first hospital in the private...
Date: 03 Aug,2022
A group of medical professionals working with the motto of pain relief came together to form the Indian Society for S...
Date: 12 Jul,2022