Apollo Gleneagles Hospitals, Kolkata performs a complex surgery on a 2-year-old child and gifted him his voice
Posted by Apollo Hospitals | 21 May, 2019
Parents of Master Toufiq Hassan had lost all hope that they would get to hear the voice of their child ever. Since the time of birth there was no voice whenever the child cried, laughed or babbled. Even after visiting several doctors, nobody had a clue as to what was happening to the child. Around two years of age, little Toufiq started developing breathlessness and was wrongly treated for asthma by other centres. Finally, he came to the emergency of Apollo Gleneagles Hospitals, Kolkata with severe breathing difficulty and impending respiratory arrest.
His life was saved by carrying out an urgent tracheostomy by Dr Shantanu Panja, Senior ENT & Head & Neck Oncosurgeon at Apollo Gleneagles Hospitals, Kolkata. With the efforts of the Paediatric Critical Care team at Apollo Gleneagles Hospitals under Dr Abhishek Poddar he recovered and further endoscopy revealed that his vocal cords and windpipe were filled with papillomatous grape like growths leading to such a condition. He was suffering from an extremely rare condition called Juvenile-onset Recurrent Respiratory Papillomatosis (JoRRP) with a prevalence of about 4 in 1,00,000 births, caused by Human Papilloma Virus Type 6,11 and 16. The same virus which is responsible for genital warts and sometimes cancer of uterine cervix. This condition is notorious for recurrence and extremely difficult to treat.
Subsequently, the child underwent three staged surgical procedures over a span of four months by Dr Shantanu Panja and his team whereby the disease was cleared endoscopically with a specialised tool called laryngeal microdebrider. It was a challenging procedure and required absolute precision so that the delicate windpipe and voice box of the two-year-old was not damaged in any way which could have led to irreversible loss of voice and narrowing of the airway. He was kept under keen observation and achieved full remission without any complication. His breathing tube has been successfully removed now after being absolutely sure of disease control and finally his parents could hear him speak for the first time.
He is presently undergoing speech therapy, as he has never spoken before. His parents now look forward to enrol him in a play school, once his speech improves.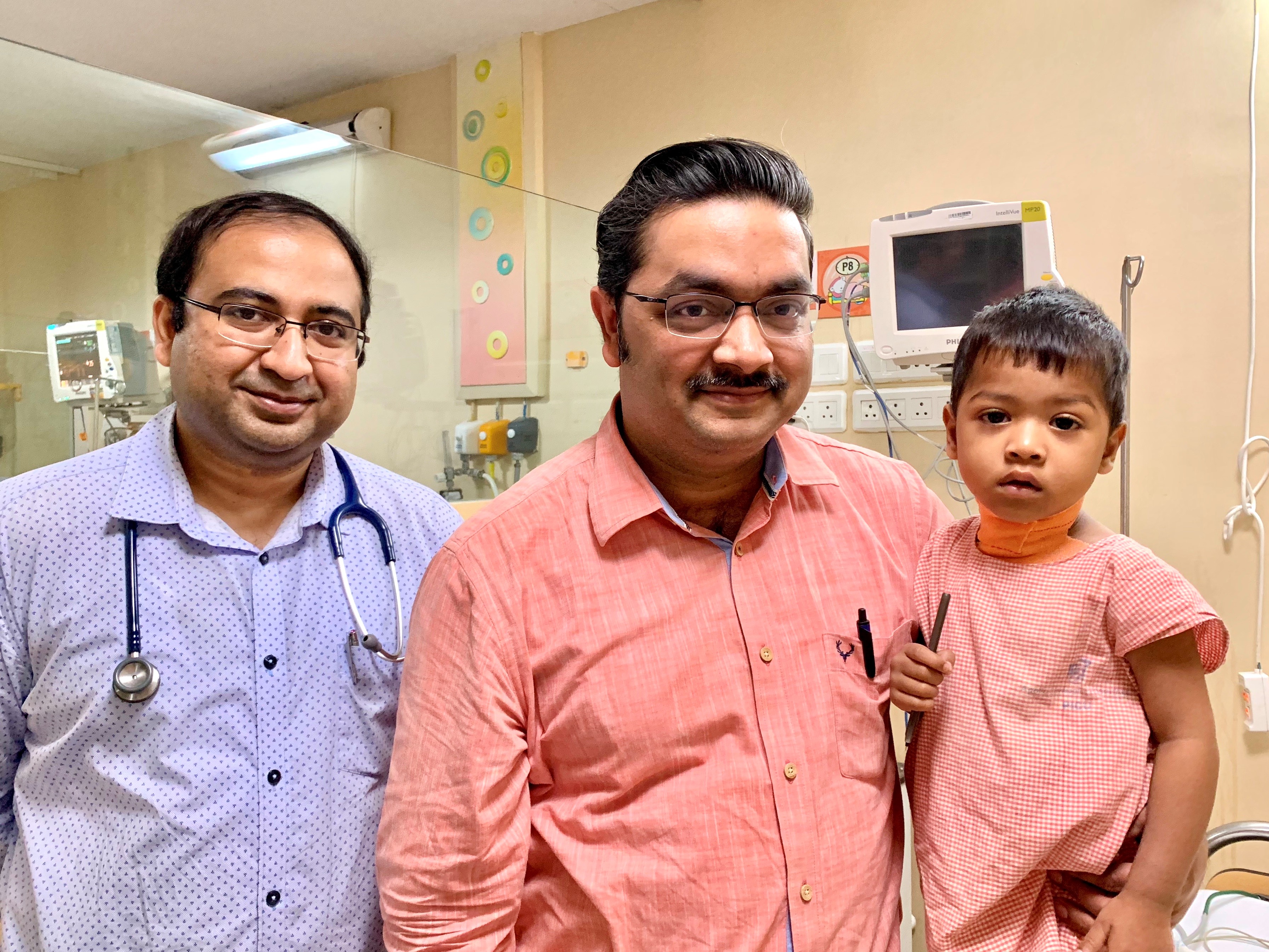 Posted by:
Apollo Hospitals
21 May, 2019
Get the best of health related stories delivered to your inbox.
Apollo Cancer Centre has launched fast forward Breast Cancer radiation therapy in the West Bengal region. The existin...
Date: 24 Nov,2021
In a major feat of clinical excellence at Apollo Speciality Hospitals, Nellore, Senior Orthopaedic Surgeon Dr. Madan ...
Date: 19 Aug,2021
The Transplant team of Indraprastha Apollo Hospitals, Delhi helped Chitwan Medical College (CMC), Bharatpur, Nepal...
Date: 05 Apr,2021