Hospitals in Bangalore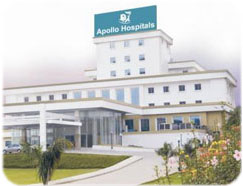 Hospitals in Bangalore
154 / 11, Bannerghatta Road Opp. I.I.M Bangalore - 560 076
Apollo Hospitals, Bangalore is a tertiary care flagship unit of the Apollo Hospitals Group. It has indeed made a mark in the city of Bangalore.
The Apollo Hospital, Bannerghatta
The Apollo Hospitals at Bannerghatta is a 250 bedded hospital, located in the heart of the capital. The hospital is equipped with state-of-the-art technology making it a powerhouse of healthcare in Bangalore and is committed to invest in the latest medical technology on par with the latest worldwide developments having 30 years of experience, to ensure that every one of our patients benefit from the latest knowledge.
Some of the equipments and technology available at Apollo Hospitals, Bangalore include:
Robotic assisted surgeries
Thallium Laser-First in India
Holmium Laser-First in South India
Digital X-Ray-First in Karnataka
120 slice CT angiogram
3 Tesla MRI
Low energy & High energy Linear Accelerators
Navigation System for accuracy in surgical procedures
4-D Ultrasound for 4 dimensional sonography
Digital Fluoroscopy
Gamma Camera
Stereotactic Robotic Radio- surgery
Autologous Bone Marrow Transplantation
Highlights:
Apollo Hospitals, Bangalore is JCI certified. The Joint Commission is the gold standard accreditation for health care organizations
The medical faculty comprises of some of the best in the medical fraternity. The hospital has over a hundred consultants and 70% of them have either studied or worked in reputed institutes
Apollo Hospitals, Bangalore use First Y shaped stent for tracheoesophageal fistula in the region
Apollo Hospitals, Bangalore perform a rare procedure where Four autologous chondrocyte implantations were done
Apollo Hospitals, Bangalore perform other rare procedures such as Spinal angiolipoma excision and Tibial tuberosity shift with MPSL reconstruction
Apollo Hospitals, Bangalore perform a new medical treatment in the form of Coronary perforation treated with covered stent – hand made in cath lab
It has the distinction of performing largest series of airway stents in the country
One of the flagship centres of excellence at Apollo Hospitals, Bangalore is the "The Minimal Access Surgery Centre" (MASC) which is dedicated to the practice of surgical techniques that are least invasive for the patient. The outcome is that the patient recovers faster, safer and with fewer long-term consequences of the surgery. Surgery has been revolutionized by the availability of laparoscopic technology, video imaging capabilities, harmonic scalpel ("cold scalpel") for cutting and coagulation and an ever-expanding base of surgical experience.
Apollo Hospitals was ranked the 2nd best multi-speciality hospital in Bangalore by the THE WEEK-A C Nielsen, Best Hospital Survey 2013.
Surgeons at the Minimal Access Surgery Center are routinely using these techniques in almost all surgeries in the following surgical subspecialties such as Cardiac surgery, General & Gastro-intestinal surgery, Gynaecology, Paediatric surgery, Thoracic surgery, Urology, Colorectal surgery, Cancer surgery, Orthopedics, Neurosurgery and Ear, Nose & Throat surgery.
The Apollo Hospital, Jayanagar
Apollo Speciality Hospital, Jayanagar is a 150 bedded super speciality center with 15 years of experience, unparalleled consultant expertise and state-of-the-art technology with multiple Centers of Excellence, chief among them – Institutes of Orthopedics, Institutes of Neurosciences, Institutes of Spine, Institutes of Pulmonology, and Critical Care, we are perhaps the most advanced medical center in south India.
We are a fully equipped centre with a modern Emergency Room, state – of -the – art operating theatres, and ICUs with round the clock monitoring. We offer Speciality Clinic services in Pain Management, Bone Health, Uro-Nephro care, General Surgery and General Medicine. Our Emergency Rooms specialise in handling Cardiac emergencies, Stroke, Road accidents & trauma.
This centrally located hospital has 37 ICUs equipped with ventilators (including noninvasive machines), BIPAP5, 6 super luxury executive suites, 12 private rooms, 28 semi private rooms, 50 multiple occupancy rooms (general wards). Our 10 emergency rooms, 25 out-patient consultation suites and 2 treatment rooms complete the infrastructure of the hospital.
Highlights:
Apollo Speciality Hospital, Jayanagar is equipped with some of the world's best diagnostics equipment and facilities like 1.5 Tesla MRI, 128 slice CT, X-ray(DR), ECHO, TMT, Endoscopy, Sleep Lab, Blood Bank etc.
It has state-of-the-art Operating Theaters have C-arms, Neuro Navigation, latest Anaesthesia machines & slave monitors, which are seamlessly blended with some of the world's best doctors, highly qualifies nurses, emergency and para-medical staff.
This facility is also unique with 2 dedicated interventional pulmonology suites, complete with EBUS for bronchoscopy, plueroscopy and for anything related to lung & airway diagnostics.
Apollo Speciality Hospital, Jayanagar is truly a one stop medical destination for advanced medical care.
Apollo Hospitals, Sheshadripuram
Apollo Hospitals, Sheshadripuram is a 200-bedded hospital. It is the fourth in the state of Karnataka in addition to the ones existing at Bannerghatta Road & Jayanagar in Bangalore and one in Mysore.
With this hospital, Apollo continues to keep up with its commitment towards bringing quality healthcare closer and accessible to all.
Highlights:
The hospital is well-equipped with latest infrastructure, state of the art technology and a team of specialists to address and cater to the rising need of attention towards non communicable diseases which are on the rise in the state
The five specialities that Apollo Hospital, Sheshadripuram would focus on are Cardiac Sciences, Neurosciences, Orthopaedics, Medical & Surgical Gastroenterology & General and Laparoscopic Surgery led by a team of experts with combined experience of over 100yrs.
Contact
For more details on Apollo Hospitals and clinics at Bangalore, visit bangalore.apollohospitals.com