We Care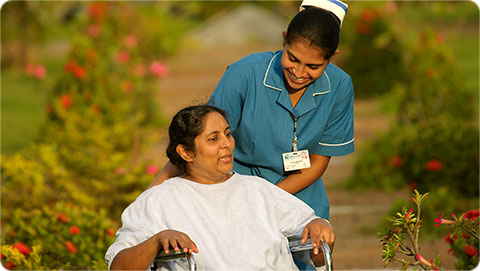 Tender Loving Care
TLC is a silent revolution that sweeps the corridors of every Apollo hospital, every single day. Its objective is simple and clear – ensure the best patient experience possible. This focus transcends beyond just the soft and emotional aspects. At Apollo it is practised like a science. It consists of a deck of best practises that encompass the universe of patient touch points. A wide range of systems that have been perfected to ensure that every process at Apollo is patient-centric.
Cancer care draws strongly on Apollo's strong credentials in TLC. This is a long and elaborate process that only begins with detection and treatment. Rehabilitation, counsel and support are vitals facets of a well rounded cancer programme. At Apollo no stone is left unturned in ensuring the maximum comfort and well being of our patients.
A robust network of expert support staff and initiatives further enhance Apollo's patient focused approach to cancer care. Some of these unique offerings are:
Physiotherapy & Rehabilitation
Physiotherapy is a therapy for the preservation, enhancement or restoration of movement and physical functions that are impaired or threatened by disability, injury or disease. It utilises therapeutic exercises, physical modalities, assistive devices, patient education and training. At Apollo Cancer Hospitals patients can benefit from Exercise Therapy, Electro Therapy and Occupational Therapy.
Cancer Support Group
Apollo Hospital Cancer Support Group was started on March 8, 2004. It was set up with the belief that cancer survivors, having experienced and combated cancer, and having come back with a renewed vigour for life could provide emotional, psychological and spiritual support to newly diagnosed patients and help them fight cancer with grit and grace.
Sunshine Stores
This is an exclusive outlet catering to the needs of cancer patients. It is a retail solution that offers wigs, breast prosthesis, pressure garments, gowns, scarves, innerwear and CD's