Apollo Cancer Centres, Hyderabad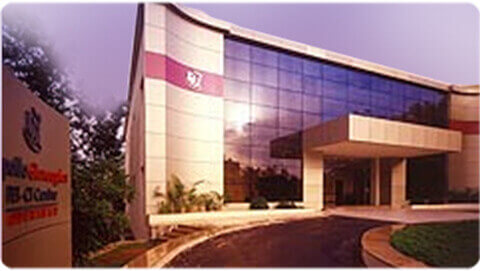 Apollo Cancer Centres, Hyderabad is a centre of excellence in cancer care. The hospital provides comprehensive cancer care including prevention, treatment and rehabilitation.
Apollo Cancer Centres offers services including Radiation Oncology, Medical Oncology, Surgical Oncology, and Head & Neck Oncology along with Specialty Clinics for Breast Cancer, Musculoskeletal Cancers, Oral and Throat Cancers.
The Hospital is equipped with state of the art technology and was the first hospital to have a PET CT Scanner in India and now the latest addition being Novalis Tx which is a new standard in radiation therapy and radio surgery.
The tumor board, which is a unique feature of the Apollo Cancer Centre, facilitates interaction of oncologists and all the support functions involved in patient care on a platform to discuss the best approach for treatment.
As early detection is the key to successful treatment, the hospital offers the Apollo Cancer Check, which includes gender-specific investigations covering all common cancers.
TREATMENTS
Radiation Oncology,
Medical Oncology
Surgical Oncology
Head & Neck Oncology
Specialty Clinics for Breast Cancer, Musculoskeletal Cancers, Oral and Throat Cancers
TECHNOLOGY
PET CT System
Novalis TX Radiotherapy