Apollo Cancer Centre, Chennai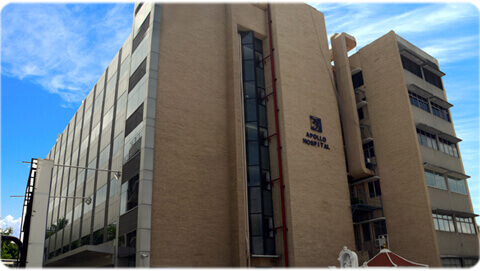 Apollo Cancer Centre, India's first ISO certified healthcare provider is today ranked among the top super specialty hospitals , offering advanced tertiary care in Oncology, Orthopedics, Neurology and Neurosurgery, Head and Neck surgery and Reconstructive and Plastic surgery.
Equipped with 300 beds, the latest and the best technology, manned by a large pool of world renowned specialists and supported by a dedicated team of medical and paramedical professionals, Apollo Cancer Centre offers specialty healthcare of international standards with outcomes matching those of the world's best hospitals.
The hospital provides 360 degree cancer care. The comprehensive treatment planning system involves a Tumour Board which consists of a panel of competent medical, surgical and radiation oncologists. The Board along with diagnostic consultants examines referred cases and jointly decides on the best line of treatment for each patient. Medical counsellors, speech therapists, dieticians and other professionals, relevant to the case further support the panel.
The hospital is one of the few centers in India with facilities to search for a potential unrelated donor and offer transplantation.
MILESTONES
First Oncology Hospital in India and First Hospital in Chennai city to be accredited by NABH.
First hospital in South-East Asia to introduce the 64 Slice PET-CT Scan.
First hospital in India to introduce CyberKnife®.
First hospital in India to have all the latest Radiotherapy equipment such as TrueBeam STX .
First hospital in India to launch Proton Therapy shortly.
TECHNOLOGY
Full Field Digital Mammography with Tomosynthesis (3D) System.
64 SLICE- PET CT scan system.
PET MRI
Cyberknife
True Beam STX radiotherapy
Proton therapy
Brachytherapy
FACILITY
300 Beds
Dedicated Chemotherapy Ward
Dedicated Stem Cell Transplant Unit
Platinum Ward Dedicated To Patient Comfort