Apollo Cancer Centre, Bhubaneswar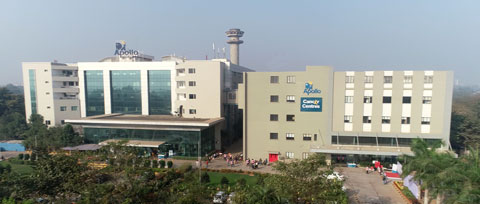 The Apollo Cancer Centre at Bhubaneswar is a comprehensive, 360 degree, state-of-the-art cancer hospital at the heart of Bhubaneswar within the same premises of Apollo Hospitals-Bhubaneswar. The cancer hospital is equipped with Odisha's first and most advanced Linear Accelerator radiation machine-The Varian True Beam STx to offer the most precise radiation therapy treatment. The centre also has a Siemens 64 slice PET CT machine and is equipped with all modern facilities to do every type of PET CT including PET guided biopsies. The centre is the front runner in providing organ specific Cancer Care in the state of Odisha and has a functional multidisciplinary Tumour board. Currently, all departments of Oncology including Medical Oncology, Radiation Oncology, Surgical Oncology and Nuclear Medicine (PET CT scan) are functional at Apollo Cancer Centre, Bhubaneswar and many more facilities will be added in the coming days to make this centre the most preferred centre for Cancer Care in Odisha. Apollo Cancer Centres, Bhubaneswar is well supported by a 350 bedded super speciality, tertiary care main hospital which is functional since 2010. This makes Apollo Cancer Centre the most invincible centre in providing complete cancer cure and care to the people of Odisha and neighbouring states.
Apollo Cancer Centre, Bhubaneswar provides comprehensive cancer care which includes:
Comprehensive early cancer screening packages.
Complete examination and consultation by Oncologists for all types of cancers, especially solid tumors, Hemato oncology and related ailments.
Complete diagnostic facility including the best PET MRI and PET-CT in the region.
Comprehensive radiation therapy unit which provides precision radiation therapy for all kinds of cancer in the safest possible manner.
Comprehensive Surgical Oncology services.
KEY HIGHLIGHTS
Precision Oncology.
Organ Specific Cancer Care.
Highly experienced team of Medical, Surgical, Radiation Oncologists and Nuclear Medicine Specialists.
National Tumour Board leveraging Apollo Hospitals' countrywide cancer care network for optimal treatment programmes.
Highly trained Technicians and Nursing Staff.
TECHNOLOGY
Odisha's first and only Varian TrueBeam STx – treats cancer with sub-millimeter accuracy with minimal side effects. It treats cancers in any part of the body with exceptional speed, reducing radiation therapy duration by 80%.
Siemens 64 slice PET CT Scan including PET Guided Biopsy.
FACILITY
Medical Oncology – Chemotherapy, Targeted, Hormonal and Biological therapies.
Radiation Oncology – 3D Conformal Radiation Therapy (CRT), Intensity-Modulated Radiation Therapy (IMRT), Image-Guided Radiation Therapy (IGRT), RapidArc®, Stereotactic Radiosurgery (SRS/SRT), Stereotactic body radiation therapy (SBRT)
Surgical Oncology – Complex and Minimally invasive cancer surgeries, Organ Conservation and reconstructive surgeries.
Paediatric Oncology.
Nuclear Medicine, PET CT.
Palliative Care and Pain Medicine.
Second Opinion Clinic.