Apollomedics Cancer Centre, Lucknow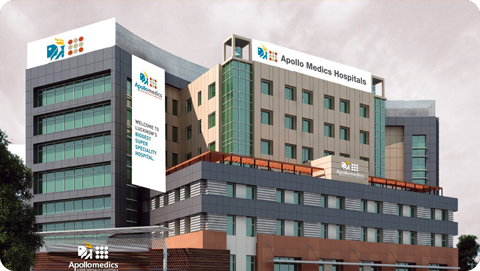 Apollomedics Cancer Centre, Lucknow, is poised to become the region's best hospital, offering advanced tertiary care in Oncology. Apollomedics Cancer Centre is a 300-bedded hospital with the latest and the best technology. The Cancer centre is spearheaded by world's renowned specialists and supported by a dedicated team of medical and paramedical professionals. Apollomedics Cancer Centre provides specialty healthcare of international standards.
The hospital provides Comprehensive cancer care which includes:
Comprehensive early cancer screening packages
Complete examination & consultation by Oncologists for all types of cancer esp. solid tumors, Hemato oncology, and related ailments.
Complete diagnostic facility including the best PET MRI and PET-CT in the region.
Comprehensive radiation therapy unit which provides precision radiation therapy for all kinds of cancer in the safest possible manner.
Comprehensive Surgical oncology services.
The comprehensive treatment planning system comprises of a Tumour Board, consisting a panel of Medical, Surgical and Radiation Oncologists. The Tumour Board along with diagnostic consultants examines the cases and adopts the best line of treatment suitable for each patient, resulting in better outcomes.
MILESTONES
First corporate hospital in the region to have complete cancer treatment facility under one roof
First corporate hospital in Lucknow, Uttar Pradesh to introduce the 64 Slice PET-CT Scan.
First corporate hospital in Lucknow Uttar Pradesh to introduce the 64 Slice PET-CT and TrueBeam STX under one roof.
TECHNOLOGY
64 SLICE- PET CT scan system.
PET -MRI
True Beam STX radiotherapy
Brachytherapy
Full Field Digital Mammography with Tomosynthesis (3D) System
FACILITY & SERVICES
Dedicated early cancer detection health packages.
Dedicated Chemotherapy lounge for chemotherapy, immunotherapy and targeted therapy
Dedicated Nuclear Medicine department with PET MRI and CT for identifying all types of cancer and treatment such as Radionuclide therapy involving LU-177 DOTANOC., LU – 177 PSMA Therapy and Iodine 131 therapy.