Apollo BGS Hospitals, Mysore in association with Rotary Mysore has organised an organ donation drive, Punarjanma
Posted by Apollo Hospitals | 15 Aug, 2019
India is struggling with acute shortage of organs for transplantation. It is estimated that more than a million people suffer with end stage organ failure, but only a handful of 3,500 transplants are performed annually. At least 15 patients die every day waiting for organs and every 10 minutes a new name is added to this waiting list. Awareness on organ donation, is therefore the only way out of this depressing scenario. The more potential donors there are, the more the likelihood of organs becoming available to save lives.
For many of the end-stage organ diseases, organ transplantation is the most preferred treatment. The need for the organ transplantation is higher than the availability. Hence, Apollo BGS Hospitals, Mysore in association with Rotary Mysore have come forward to create awareness regarding organ donation under the banner "PUNARJANMA"
Today, Apollo BGS Hospitals, Mysore has been offering the most advanced medical outcomes for patients in its region. Holding NABH & NABL accreditation with major human organ transplants like renal & liver transplant license. It has also been offering better chances of survival and treatment options in case of any medical emergency with full-fledged emergency & ICU care facilities. Apollo BGS Hospitals, Mysore has shown exemplary performances in terms of Clinical & Service excellence with state-of-the-art technology and highly skilled consultants on board providing round the clock access.
The Rotary Club of Mysore is the first club in the RI District 3180. Rotary Club of Mysore, which later came to be called as Rotary Mysore, can be called the Mother of all clubs in the District 3180. Rotary club members are volunteers who work locally, regionally, and internationally to combat hunger, improve health and sanitation, provide education and job training, promote peace, and eradicate polio under the motto "Service Above Self". Rotary's main objective is service – in the community, in the workplace, and throughout the world.
Both Apollo BGS Hospitals, Mysore along with Rotary Mysore is focusing on the Organ donation awareness throughout this year in Mysore and its surrounding district. On the Occasion of World Organ Donation day i.e., on 13th August 2019, the organ donation campaign was initiated at Rotary High School, KRS Road (Opp. Mandovi Motors). This awareness drive is being supported by Annaporna Eye hospital, Vaishnavi Sweets, Rotary Mid-town, Rotary Panchaseel, Lions Club, Inner wheel club, Round Table & Young Indians (Yi).
"Right now, more than 1,00,000 people in India need an organ transplant and every year around 1,000 people die while waiting to find an organ donor. The need for donors has never been greater. Organ transplantation is one of the most miraculous achievements of modern Medical Science. But, it depends entirely on the generosity of donors and their families who are willing to make this life saving gift to others" says Rt. Chetan Vishwanath, President, Rotary Mysore
Past patients of Apollo BGS Hospitals, Mysore which includes organ donors, organ recipients shared their stories, Pt. Naveen Kumar who is to receive liver from his mom also spoke to the members gathered along with Doctors of Apollo BGS Hospitals, Mysore. President and Secretary of all Rotary clubs, Lions club, and Young Indians members supported the cause and will be felicitating the organ donors & the recipients.
"Apollo BGS Hospitals, Mysuru is the licensed liver and kidney transplant unit in the city of Mysore. We have successfully conducted many kidney and liver transplants and Apollo BGS Hospitals, Mysore is thankful for the donors. People travel from all over Karnataka and places outside to get these transplants done at Mysore. Mysoreans need not go outside the city as we are backed with state of technology and highly skilled Doctors. Thousands of people die every year with end stage organ failure. The only way they can have a new lease of life is by having an organ transplant. One donor can give life to a minimum of 8 people. There is a critical shortage of organs, and the gap between the number of organs donated and the number of patients waiting for a transplant is increasing & hence the campaign Punarjanma." says, Mr. N. G. Bharateesha Reddy, Vice President & Unit Head, Apollo BGS Hospitals, Mysore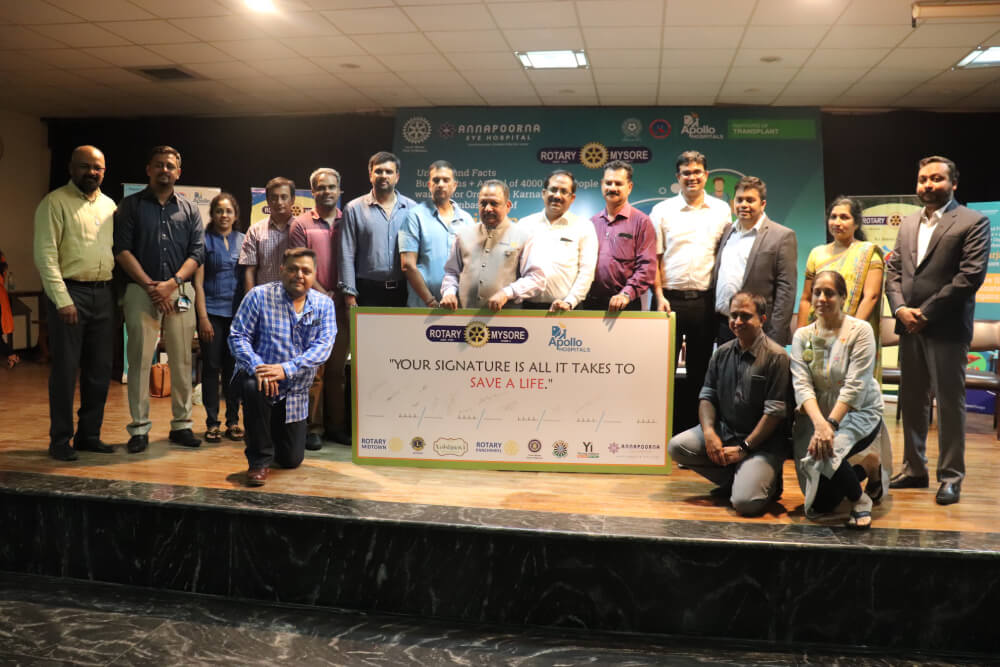 Posted by:
Apollo Hospitals
15 Aug, 2019
Get the best of health related stories delivered to your inbox.
Apollo Hospitals Sheshadripuram, Bangalore organised a 'Say No to Horn' public awareness campaign, urging citizens to...
Date: 09 Aug,2023
Amidst an air of triumph and hope, Apollo Proton Cancer Centre (APCC) together with Apollo Cancer Centre (ACC) and Ap...
Date: 07 Aug,2023
Apollo BGS Hospitals, Mysuru organised had Apollo Cardiovascular Symposium 2023 at Hotel Radisson Blu. During the sym...
Date: 14 Jun,2023