WB Corporate Stalwarts Release biography of Dr Prathap Chandra Reddy!
Posted by Apollo Hospitals | 11 Jan,2014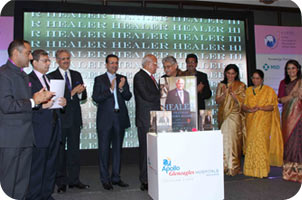 Noted Industrialists and Corporate Leaders, Mr. Sanjiv Goenka, Mr. Harsh Vardhan Neotia, Mr. Y C Deveshwar and Mr. Sumit Mazumder jointly released the Biography of Dr Prathap Chandra Reddy, the architect of corporate healthcare in India in Kolkata. Present during the release were MD of Apollo Hospitals, Ms Preetha Reddy, CEO of Apollo Gleneagles, Dr Rupali Basu, Group DMS of Apollo Hospitals group, Dr Anupam Sibal and Author, Mr. Pranay Gupte.
The Kolkata leg of book launch was organized during the prestigious 'IV Annual GAPIO (Global Association of Physicians of Indian Origin) being hosted in Kolkata.
The 600-page biography, ""Healer: Dr. Prathap Chandra Reddy and the Transformation of India,"" is authored by PranayGupte, veteran international journalist, biographer and historian and published by Penguin, the world's largest publisher. The book was two years in the making, and its publication comes on the occasion of Dr. Reddy's 80th birthday, and the 30th anniversary of the founding of Apollo Hospitals.
Earlier during the GAPIO inaugural meet, Dr Prathap C Reddy presented a copy of the biography to Shri Amit Mitra, Hon'ble Minister of Finance, Commerce and Industries, Govt. of West Bengal.
Author Pranay Gupte shared his experience of two years which he spent with Dr Reddy to an audience comprised of doctors, Consulate officers, industrialists and eminent journalists.
The biography traces Dr. Reddy's improbable journey from Aragonda to medical school in Madras to a flourishing cardiology practice in the United States. At the age of 50, Dr Reddy returned to India at the behest of his father in order to make a contribution to his homeland. Recognizing that healthcare in India was delivered mainly by government hospitals and philanthropic institutions that lacked proper facilities, Dr. Reddy set out to establish Apollo Hospitals, a pioneer in the corporate sector. By bringing world-class equipment and best practices, and by persuading Indian doctors living abroad to come home again, Dr. Reddy succeeded in creating what has now become Asia's foremost medical system. Apollo holds world records in heart, lung, kidney and other organ surgeries and transplants.
"Dr. Reddy transformed the healthcare landscape of India," author Gupte says, noting that his research showed that Apollo has served more than 37 million people through its 54 facilities in the last 30 years.
The biography is now available at bookstores and airports across India.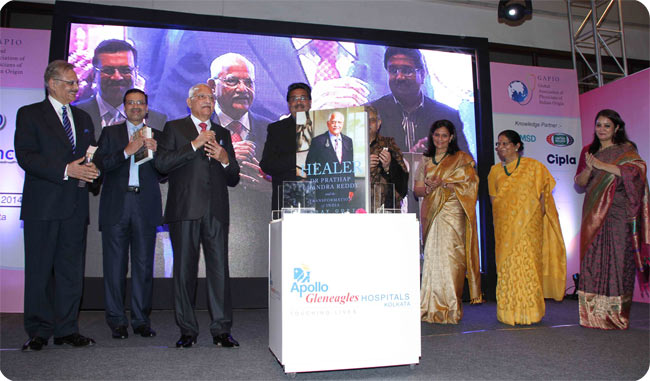 Posted by:
Apollo Hospitals
11 Jan,2014
Get the best of health related stories delivered to your inbox.
Management of Aortic Aneurysm & Dissection Surgery Conclave 2022 was organized by Apollo Hospitals in Chennai. The co...
Date: 02 Nov,2022
Apollo Proton Cancer Centre (APCC) conducted its 2nd Apollo Annual Proton Practicum from May 20-22, 2022. Over 700 pa...
Date: 04 Jun,2022
Apollo Cancer Centres proudly launched the "The Power to fight Breast Cancer is in Your Hands" campaign, which ill...
Date: 02 Apr,2021