Transplant recipients receives blessings from His Holiness the Dalai Lama as Apollo hospitals celebrates 15 years of successful Liver Transplantation
Posted by Apollo Hospitals | 30 Nov,2013
His Holiness the Dalai Lama, who spoke on the wisdom of compassion to patients and staff of the hospital, graced the event. Dr. Prathap C Reddy, Chairman, Apollo Hospitals Group along with several dignitaries was also present on the occasion.
The Apollo Hospitals has been a pioneer in organ transplantation in the country. The program with 1200 liver and kidney transplants in 2012 became the world's busiest and while celebrating the anniversary, His Holiness The Dalai Lama applauded the patients and their families for the fortitude shown by them.
His Holiness the Dalai Lama said, "Compassion is an understanding of the emotional state of another. It is a desire to alleviate or reduce the suffering of another or to show special kindness to those who suffer. I am glad to be a part of this gathering, celebrating the joy of overcoming ailments and encouraging one and all to be part of promoting healthy living."
More than 200,000 Indians require organ transplantation annually
An estimated 20,000 liver transplants are required per year in India
It is estimated that one lac brain deaths take place per year in India
Organ donation rate in India is 0.05 per million compared to 33 per millon in Spain
Speaking on the occasion, Dr. Prathap C. Reddy said, "I on behalf of the entire Apollo family would like to thank His Holiness for gracing the occasion today. His Holiness is a global thought leader and to hear him today was as wonderful as ever. His enlightened words on compassion have left an indelible mark on me. We at Apollo Hospitals pledge to do our utmost to touch a billion lives in whatever way possible. A small step towards that is our pledge to sponsor and help five children of Tibetan origin with cardiac ailments at our hospitals every year. I would also like to congratulate our transplant team for becoming the world's busiest in transplants. This is a testament to our expertise and untiring determination to make the nation proud."
Dr. Anupam Sibal, Group Medical Director, Apollo Hospitals Group and Senior Consultant Pediatric Gastroenterology and Hepatology said, "today indeed is a meaningful day as 200 transplant recipients and their families received blessings from His Holiness and they will share what was a truly divine experience with the 15300 other families who have received a liver or a kidney transplant at Apollo Hospitals. Our doctors, nurses and all the staff of our hospitals are fortunate to have received His Holiness's blessings in person today"
Apollo Hospitals, under the aegis of the Gift A Life (www.giftalife.org) initiative has been an active partner in advocating and undertaking activities aimed at promoting the cause of organ donation. The mission of Gift A Life is to ensure that no person in India dies for want of an organ. The initiative has been running successfully for the past two years, where the initiative has been associated with a varied likeminded institutions and partners across the country to conduct awareness drives amongst people on organ donation.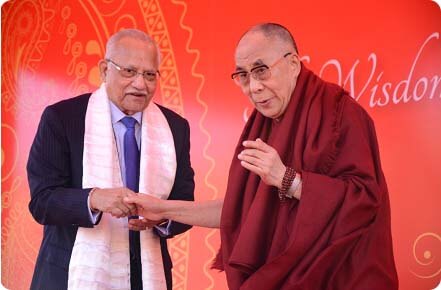 Posted by:
Apollo Hospitals
30 Nov,2013
Get the best of health related stories delivered to your inbox.
Management of Aortic Aneurysm & Dissection Surgery Conclave 2022 was organized by Apollo Hospitals in Chennai. The co...
Date: 02 Nov,2022
Apollo Proton Cancer Centre (APCC) conducted its 2nd Apollo Annual Proton Practicum from May 20-22, 2022. Over 700 pa...
Date: 04 Jun,2022
Apollo Cancer Centres proudly launched the "The Power to fight Breast Cancer is in Your Hands" campaign, which ill...
Date: 02 Apr,2021