The 24×7 emergency service of Apollo Gleneagles Hospitals, Kolkata saves a 58-year-old stroke victim
Posted by Apollo Hospitals | 14 Nov,2019
58-year-old Mr. Samir Banerjee suffered an acute stroke on 3rd October 2019 night around 9:00 pm. Seeing the symptoms like paralytic attack on right side of the body along with slurry speech, his family rushed him to Apollo Gleneagles Hospitals Kolkata post-midnight. The doctors started treatment immediately and within a day he recovered and was discharged. Even though his stroke was acute, today he leads a normal life without any support only because he was brought in within 4 hours of his stroke.
According to a report by WHO in 2018, Stroke causes 6 million deaths worldwide every year, which is the second highest number of deaths after ischemic heart disease. The report also states that every 6 seconds, regardless of age or gender – someone, somewhere is dying from stroke (Brain Attack/Paralytic stroke) and one in every 6 persons in this world will get a stroke in their life time. Hence, Apollo Gleneagles Hospitals pledged to reduce stroke cases by spreading awareness.
Facial paresis, arm drift/weakness, and abnormal speech indicate high positive predictive value for stroke and must be immediately treated. The sooner the treatment is given to stroke patients, the greater is the benefit, especially if started within 90 minutes of symptom onset. Present at the occasion, Dr Debabrata Chakraborty, Consultant Neurologist and Stroke Specialist Apollo Gleneagles Hospital, Kolkata expressed "The best way to avoid getting an ischemic stroke is by having controlled blood pressure and blood sugar levels. However, if symptoms of stroke are noted, it is extremely crucial to bring the patient to a tertiary care hospital with 24×7 services within the golden hour (within 4-6 hours of on setting symptoms). Chances of strokes proving to be fatal can only be reduced if patients are brought in without any delay. This helps the brain cells from getting permanent damage from the clots. "
Dr Sadanand Dey, Consultant Neurologist and Stroke Specialist Apollo Gleneagles Hospital, Kolkata said "There are modern treatments for stroke today. Depending on the severity of the stroke , the mode of treatments are decided. When blood thinning medicines aren't sufficient , thrombectomy is opted for within 4.5-6 hours of stroke. It is an endovascular therapy with a stent retriever to remove the blood clot. It is given to patients who did not respond to i.v tPA (tissue plasminogen activator) within 4.5 hours or reached beyond the therapeutic window of tPA but within 6 hours. The timing of the treatment is extremely critical for the patient's condition to improve."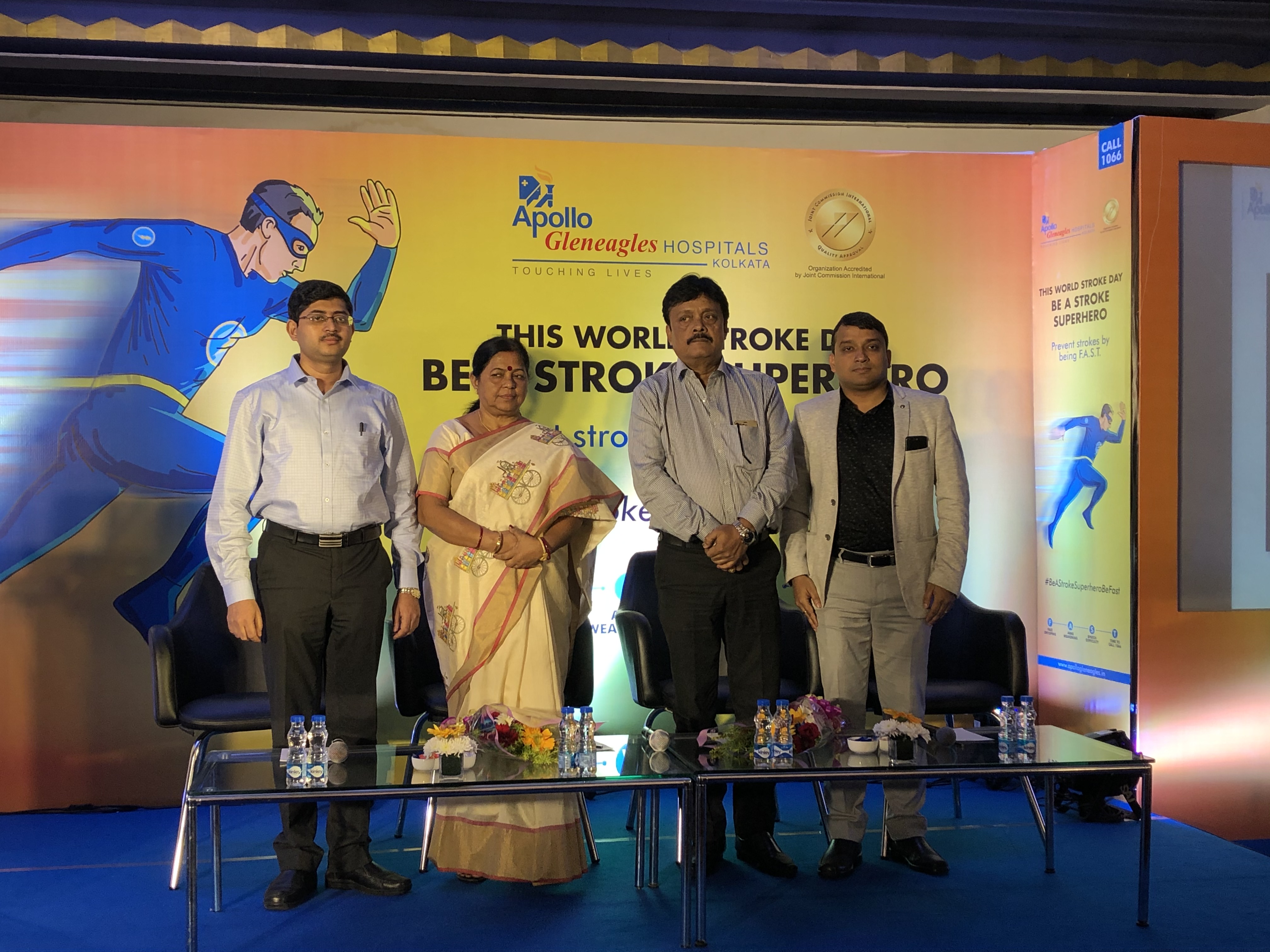 Posted by:
Apollo Hospitals
14 Nov,2019
Get the best of health related stories delivered to your inbox.
In an effort to uphold standards of clinical excellence and elevate standards of care for those with cardiological co...
Date: 06 Nov,2023
In a remarkable medical achievement, Apollo Hospitals Ahmedabad has successfully performed a liver transplant on a 7-...
Date: 16 Oct,2023
Apollo Hospitals is the largest Cardiac care program in India and one of the leading cardiac programs in the world in...
Date: 28 Sep,2023