Stealth surgery workshop at Apollo Children's Hospital!!
Posted by Apollo Hospitals | 02 Aug,2013
Apollo Children's Hospital organized a workshop and Continuing Medical Education (CME) programme on Pediatric Subcutaneous Endoscopic Surgery and Robotics on July 8th 2013.
There were nearly 70 doctors from all over India who had participated in the same and benefitted by the live relay of the stealth surgery techniques.
Addressing the gathering, Dr Ashwin Pimpalwar, Minimally Invasive Pediatric Surgeon, Houston, Texas, spoke about the da Vinci Si system.
Stating that advanced single port systems were in the offing, he said, if such robotic systems were made available, it would be like "a crab working inside the belly during the surgery."
Dr Preetha Reddy, MD, Apollo Hospitals, presents a copy of 'Live recording of Robo Surgery' to Dr Sanjay Oak at the Stealth Surgery Workshop.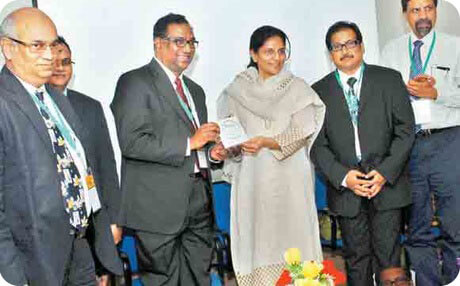 Posted by:
Apollo Hospitals
02 Aug,2013
Get the best of health related stories delivered to your inbox.
Management of Aortic Aneurysm & Dissection Surgery Conclave 2022 was organized by Apollo Hospitals in Chennai. The co...
Date: 02 Nov,2022
Apollo Proton Cancer Centre (APCC) conducted its 2nd Apollo Annual Proton Practicum from May 20-22, 2022. Over 700 pa...
Date: 04 Jun,2022
Apollo Cancer Centres proudly launched the "The Power to fight Breast Cancer is in Your Hands" campaign, which ill...
Date: 02 Apr,2021