Stamp released to celebrate the 15th anniversary of India's 1st successful liver transplant performed at Apollo Hospitals!
Posted by Apollo Hospitals | 05 Nov,2014
This prestigious honour has been approved and made available by the Department of Posts, Philately Section in recognition of the contribution of the program to the progress in the field of transplantation in the country.
The first successful pediatric and adult liver transplants in India were performed at Indraprastha Apollo Hospitals, New Delhi in 1998. Sanjay Kandaswamy, then a two-year-old boy from Kancheepuram was the first child in India to receive a successful liver transplant on 15th November 1998 with his father being the donor. Sanjay who was present on the occasion of the stamp release function, is today 17 years old and studies in Class XI at Village Palayaseevaram, Kancheepuram. His successful surgery marked a pivotal shift in the field of liver transplantation in India. Over 900 liver transplants are now performed in India annually.
Marking the release of the stamp, Union Minister said, "I congratulate the Apollo Hospitals Team on this momentous occasion. India today is at the forefront of healthcare delivery that rivals the best in the world. India has now emerged a global healthcare destination. The success of the transplant program is one such stellar example of the quality of our doctors and the innovations they have brought in this field. I am especially heartened to see young Sanjay amidst us today. His story is truly inspirational. Not only did his family set an example in exemplary courage but he is a living testament to the effectiveness of transplantation as a clinical intervention."
Speaking on the occasion, Apollo Hospitals Group's Chairman Dr Prathap C Reddy said, "Within the span of these 15 years approximately 4500 Liver Transplants have been performed in India. The Apollo Transplant Program remained the busiest program in the world in 2013, by performing 1456 transplants (390 liver, 1066 kidney) and Apollo Delhi the busiest centre with 952 transplants (283 liver, 669 kidney). This remarkable foray into organ transplantation has made India a global leader in the field by providing access to high quality and affordable transplant program. Today, we have innovated in the field of transplantation to provide access to a larger number of people in need liver transplantation. Patients of 121 countries have received treatment at Apollo Hospitals."
Prof Anupam Sibal, Group Medical Director, Indraprastha Apollo Hospitals, New Delhi commented, "Today is a special day for all of us. The journey that we started in 1998 has today culminated in hundreds of lives being saved. Sanjay now leads a completely normal life, goes to school like other kids, enjoys meals, plays football, wants to become a doctor to save lives. Sanjay's story is incredibly inspirational, one that in many ways changed the paradigm for transplantation in India. The Apollo Liver Transplant Program is the busiest Transplant program in India. In the last 24 months, 690 liver transplants have been performed with a success rate of 90%. More than 1850 liver transplants have been performed. Our program has provided hope to hundreds of patients from countries with outcomes comparable to the oldest centres in the world at 1/10th the cost. We are thankful to the Government of India for bestowing this honour to us and this is a major recognition for the countless surgeons, physicians, nurses and allied health staff that have made India the global leader in transplantation today."
Apollo Transplant Institutes were created with the aim of providing world class transplant services across the region. Since the first successful liver transplant in India in 1998, the Apollo Transplant Program has performed 21000 kidney transplants & 5600 liver transplants in children and adults till date. Contributing to this milestone, Indraprastha Apollo Hospitals, New Delhi has performed 5000 solid organ transplants till date. The high quality – affordable cost value proposition that Apollo Hospitals offer has made them the preferred destination for patients not only from India but more than 30 countries.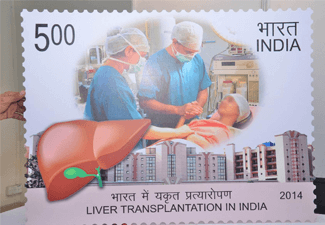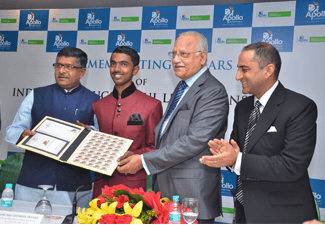 Posted by:
Apollo Hospitals
05 Nov,2014
Get the best of health related stories delivered to your inbox.
Management of Aortic Aneurysm & Dissection Surgery Conclave 2022 was organized by Apollo Hospitals in Chennai. The co...
Date: 02 Nov,2022
Apollo Proton Cancer Centre (APCC) conducted its 2nd Apollo Annual Proton Practicum from May 20-22, 2022. Over 700 pa...
Date: 04 Jun,2022
Apollo Cancer Centres proudly launched the "The Power to fight Breast Cancer is in Your Hands" campaign, which ill...
Date: 02 Apr,2021