Indraprastha Apollo Hospitals, Delhi celebrates life with cancer survivors – "Celebrating Life" Event organized to bring together cancer patients who survived because of their never-say-die spirit !
Posted by Apollo Hospitals | 24 Dec,2011
Apollo Hospitals, Delhi, organized an event, 'Celebrating Life', to commemorate 'Cancer Survivor's Day'. More than 50 cancer patients attended the event held at the hospital premises. 'Celebrating Life' acknowledged the never-say-die spirit of cancer patients who have survived the disease against all odds.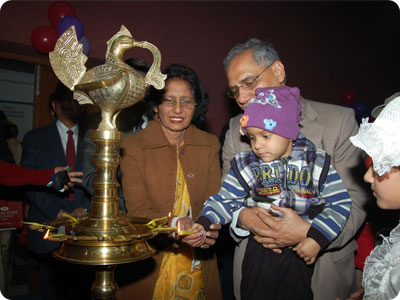 Dr Harsh Dua, Sr Consultant Oncology at Indraprastha Apollo Hospitals said: "Due to the latest advances in cancer research, cancer is looked upon without dread just like any other disease. We want society to realize this fact and integrate this positive approach towards life in interactions with cancer patients, thereby improving the mental, physical and qualitative aspects of patients' lives." Living with cancer has a number of important aspects. The disease affects the finances, relationships, emotional state and even the daily routine of patients. Despite all this, it's not necessary that everyone who gets cancer will die from it. There are many people with cancer who have undergone treatment successfully. For such patients, their cancer is an ongoing health problem that can be controlled by strictly following the treatment regimen.
During the two-hour long event, patients spoke about their single-minded journey from despair to hope after their cancer was diagnosed. As a wave of spreading positivity a Hasya Kavi Sammelan was organized where noted humourist Surinder Sharma and others participated. All the cancer survivors were felicitated for their irrepressible passion for life that ensured they did not lose hope. Highlighting the magic that science has performed in the field of oncology or cancer treatment, a magic show was also part of the event.
Posted by:
Apollo Hospitals
24 Dec,2011
Get the best of health related stories delivered to your inbox.
Apollo Cancer Centres proudly launched the "The Power to fight Breast Cancer is in Your Hands" campaign, which ill...
Date: 02 Apr,2021
Marking World Cancer Day, Apollo Proton Cancer Centre organised The Hand Print Campaign to motivate the cancer surviv...
Date: 16 Feb,2021
This is the first of its kind program focused on domestic and international medical tourism where end to end servi...
Date: 23 Nov,2020