HIMSS Elsevier award for Apollo Hospitals!
Posted by Apollo Hospitals | 10 Nov,2013
The award is given in recognition of the exemplary effort, commitment and dedication to leveraging on healthcare ICT to transform patient care and outcome.
The award was presented at the HIMSS Digital Healthcare Week in Singapore, on 21 October 2013. The award was presented by Stephen Lieber, President and CEO of HIMSS worldwide and Gerrit Bos, Managing Director APAC, Elsevier.
Ms. Sangita Reddy received the awards on behalf of the group.
Speaking on the occasion, Ms. Reddy said
"With patient centricity at the core, Apollo Hospitals has continuously focused on initiatives that provide superior patient care and comfort. The Apollo Prism initiative resonates perfectly with our ethos and helps us in providing our patients with secure and convenient access to their medical information, irrespective of their location across the world. We do believe that Apollo Prism representing a robust medical record will encourage individuals to stay more engaged with their health and in turn enhance clinical outcomes and also reduce unnecessary costs".
Ms. Reddy further added, "Apollo Prism has been launched across all Apollo Hospitals locations and has been tightly integrated with Hospital Information System across locations, thus providing clinically validated information to patients, who come to Apollo Hospitals. Patients can also download the mobile application of Apollo Prism that lets them receive their lab test results on their phone. Apollo Prism is also an interface for diabetic patients, for managing their diabetes. Thus, beyond helping a patient to track and manage their health information, the PHR enables continuous, preventive and wellness support."
"We would like to congratulate the HIMSS-Elsevier Digital Healthcare Awards winners. We received nominations from across the Asia Pacific region such as China, Hong Kong, India, Korea and Singapore. The winners have demonstrated superior implementation and utilization of health IT systems that have directly resulted in organization-wide advancements in patient care and operational efficiencies. We hope that their projects will inspire a new wave of IT advancement in the healthcare delivery," said Steven Yeo, Vice President & Executive Director, HIMSS Asia Pacific, General Manager, HIMSS Analytics Asia Pacific & Middle East.
"It is exciting and encouraging to witness how the Asia Pacific healthcare industry is embracing the transformational role of technology to harness the power of medical information. The organizations recognized for the HIMSS-Elsevier Digital Healthcare Award have demonstrated how technology adoption can achieve efficiencies and improve quality of care. It is for this very reason that Elsevier is proud to support and celebrate this innovative spirit of the community," said Gerrit Bos, Managing Director APAC, Elsevier.
Apollo Hospitals in collaboration with Health Hiway, a cloud based Health Information Network had launched its highly secure, web-based Personal Health Record (PHR) – Apollo Prism Headquartered in Bangalore. Health Hiway is a cloud based health information network that enables seamless exchange of health information – data sharing and transactional – between hospitals, clinics, diagnostics, insurers, doctors and Patients.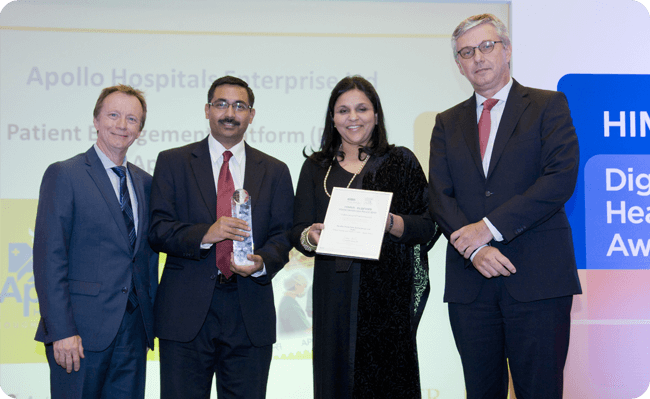 Posted by:
Apollo Hospitals
10 Nov,2013
Get the best of health related stories delivered to your inbox.
Apollo Health City, Hyderabad adjudged as the Best Medical Tourism Hospital in India by the Government of India ! ...
Date: 23 Nov,2020
Apollo Main Hospital,Chennai, competed in the National Business Excellence (BE) Star Award organized by the Confed...
Date: 23 Nov,2020
Apollo Hospitals Group was recognized for its outstanding contribution to Medical Value Travel with the FICCI Medi...
Date: 03 Jun,2020