First-of-it's-kind in South Asia – Full Field Digital Mammography with Tomosynthesis (3D) system launched at Apollo Speciality Hospital, Chennai
Posted by Apollo Hospitals | 05 Apr,2011
Marking a new beginning in diagnosis of Breast Cancer, South Asia's first-of-its-kind, Full-Field Digital Mammography with Tomosynthesis (3D) system was inaugurated at Apollo Speciality Cancer Hospitals, Chennai by Dr. Prathap C Reddy, Chairman, Apollo Hospitals Group, in the presence of Mr. Jack Cumming, Chairman, Hologic Inc., USA and Dr. G S K Velu, Founder & Managing Director, Trivitron Healthcare.
Digital Mammography with Tomosynthesis (3D) is the latest technology for breast cancer. This device Breast Tomosynthesis is a 3-dimensional imaging technology that involves acquiring images of a stationary compressed breast at multiple angles during a short scan. The individual images are then reconstructed into a series of thin high resolution slices that can be displayed individually or in a dynamic cine mode. Digital breast Tomosynthesis offers a number of exciting opportunities including the possibility of reduced breast compression, improved diagnostic and screening accuracy, 3-D lesion localization, and contrast-enhanced 3-D imaging.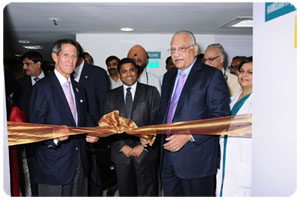 Speaking at the inauguration, Dr. Prathap C Reddy, Chairman, Apollo Hospitals Group said, "Breast cancer is the one of the commonest malignancies afflicting women. According to recent research data, over 16 percent of Indian women in the age group of 40-60 years face a potential risk of breast cancer. Beyond this, delayed detection can result in 1 of every 22 women actually developing breast cancer. As the pioneering healthcare leader, Apollo Speciality Cancer Hospitals is committed to fight the menace of cancer. Now, the contemporary Digital Mammography with Tomosynthesis (3D) technology at Apollo Speciality Cancer Hospitals Chennai, the first-of-its-kind in South Asia, will enable faster and accurate Stereotactic biopsies. This technology needs shorter examination time for diagnosis of breast cancer and also significantly improves patient comfort and convenience and will certainly motivate early detection".
Dr. Reddy added, "In standard mammography, images are recorded on film using an x-ray cassette. The film is viewed by the radiologist using a "light box". With digital mammography, the breast image is captured using a special electronic x-ray detector, which converts the image into a digital picture for review on a computer monitor. The digital mammogram is then stored on a computer, for further use".
The benefits of digital mammography are at many levels:
Quick and easy procedure
Less discomfort to the patient
Low dose of radiation
Accuracy is better, particularly in the 40 to 50 years age group
All images are archived and stored digitally and hence loss or damage of films will not affect patient care during follow up
Since it is digital, it can be sent electronically to other center's for another opinion
Storing digitally creates an enormous database, which is useful to teach and train the younger generation.
At the inaugural function, Dr.G.S.K.Velu, Founder & Managing Director, Trivitron Healthcare said, ""As a part of our commitment to bring world class medical technology at affordable cost in India and other emerging markets, we are proud to be the first in South Asia to bring this 3-D digital mammography system to Apollo Hospitals, Chennai. The launch of 3 D Digital Mammography / Tomosynthesis will facilitate the medical practitioners in early and accurate diagnosis of breast cancer in women.""
Mr. Jack Cumming, Chairman, Hologic Inc, USA added, ""Our advanced full field Breast Tomosynthesis with 3 D technology is a significant advancement in breast cancer diagnosis, including lower radiation dose, reduced breast compression pressure and improved cancer detection rates."" Hologic is defining the standard of care in women's health. Our technologies help doctors see better; know sooner; reach further and touch more lives.
Posted by:
Apollo Hospitals
05 Apr,2011
Get the best of health related stories delivered to your inbox.
Apollo Hospitals has launched India's first Comprehensive Connected Care programme; powered by Apollo's Connected Car...
Date: 06 Sep,2023
Dr. R. Bindu, Minister of Higher Education and Social Justice, Government of Kerala inaugurated the installation of t...
Date: 04 Aug,2023
Apollo Proton Cancer Centre (APCC) has marked a definitive step ahead by making the world's most advanced radiation t...
Date: 18 Jul,2023