First International Patient Safety Congress Inaugurated
Posted by Apollo Hospitals | 20 Apr,2011
The First International Patient Safety Congress was inaugurated today at HICC, Hyderabad. Hosted by the Apollo Hospitals Group, the two-day conference was inaugurated by Ms Preetha Reddy, MD, Apollo Hospitals Group. This Congress was organized by Apollo Hospitals Group in concert with Johnson & Johnson, Philips, Quality Council of India, Joint Commission International, National Patient Safety Foundation, Indian Medical Association – Hyderabad Chapter, FICCI, APNA, Astron Consultancy, Medvarsity and other reputed organizations.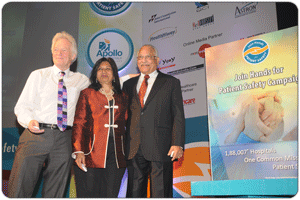 The prime purpose of this Congress is to discuss how proactive practice in healthcare systems can improve Patient Safety. The multi-disciplinary invigorating learning sessions involve participants from all areas of the healthcare continuum, including clinical and administrative leaders, practitioners, healthcare academics, healthcare regulators as well as patients and caregivers.
Key lectures delivered:
Patient Safety priorities in healthcare
Framework – A Safety Imperative
Focus on Monitoring & Analysis
4 Essentials of Patient Safety – the challenges faced
Best Practices in Patient Safety
Panel Discussion on Nursing
Ms Preetha Reddy, MD, Apollo Hospitals Group "Emphasised that Patient Safety is a global responsibility which needs to be cultivated within every healthcare system. It is for the first time we have come together to address this issue, which focuses on the reporting, analysis and prevention of medical error that might lead to adverse situations. A challenging global issue both for developed and developing countries, Patient Safety also helps in defining quality healthcare. We have to come forward to train and educate people about patient safety which is a very important aspect for any healthcare provider."
Meeting these goals helps healthcare providers ensure a safe healthcare environment for patients. Accreditation is the most important initiative to improve Patient Safety standards in an organization, region or a country.
Elaborating on Patient Safety, Ann Jacobson, ED, JCI said: "To promote Patient Safety, practitioners should identify problem areas in a hospital and thereafter develop practices to correct these errors. A global Incident Reporting System and evidence-based Patient Safety solutions should be part of Standard Operating Procedures. Sentinel events should also be tracked. JCI-accredited hospitals has a mandate to conduct a root cause analysis of any sentinel event within 45 days of occurrence. All these procedures will go a long way in ensuring better Patient Safety outcomes."
Recognizing that healthcare errors impact one in every 10 patients worldwide, the World Health Organization calls Patient Safety an endemic concern. "It is with this background that Apollo Hospital Group accords the highest priority to the safety and quality of care for each of its patients. The Patient Safety Model was first launched in a few Apollo Hospitals and has now evolved and been adopted across all the hospitals within the Apollo Group, in India and overseas," revealed Ms Sangita Reddy, ED – Operations, Apollo Hospitals Group.
Backed by a proper framework inculcating regular use of checklists, Apollo has seen positive results and is seeking to share these results with the entire healthcare fraternity. The response has been overwhelming, with more than 600 delegates from reputed organizations, healthcare institutions and professional societies across the globe participating in this conference. The Congress aims at putting together a Patient Safety Coalition of intensely focused, problem driven and knowledge-rich individuals. The world's best minds are speaking at the Congress, including Ms Ann Jacobson (JCI), Ms Diane P (NPSF), Ms Geeta Mehta(WHO), Dr Giridhar Gyani (NABH), Dr Anupam Sibal(Apollo Hospitals) and many others.
Posted by:
Apollo Hospitals
20 Apr,2011
Get the best of health related stories delivered to your inbox.
Apollo Hospitals organized the 9th Edition of the International Patient Safety Conference (IPSC) and the 10th Interna...
Date: 22 Feb,2023
Management of Aortic Aneurysm & Dissection Surgery Conclave 2022 was organized by Apollo Hospitals in Chennai. The co...
Date: 02 Nov,2022
Apollo Proton Cancer Centre (APCC) conducted its 2nd Apollo Annual Proton Practicum from May 20-22, 2022. Over 700 pa...
Date: 04 Jun,2022