Avail discounts on Diagnostics and Health Checks with ICICI Bank Debit Card
Posted by Apollo Hospitals | 30 Jun,2015
What are the discounts?
1. Apollo Hospitals: Get 15% off on diagnostics and health checks
2. Apollo Clinics: Get 10% off on diagnostics and health checks
3. Apollo Pharmacy: Get 12% off on private label products, 7% off on medicines except DPCO (Drug Price Control Order) medicines and 3% off on FMCG (Fast Moving Consumer Goods) products
4. Apollo Cradle: Get 30% off on Ante/ Post Natal Classes, 20% off on ultrasound and 10% off on OPD
5. Apollo Spectra: Get 10% off on diagnostics and health checks
6. Apollo Sugar:
i. 1st Diabetologist or Dietician Complimentary Consultation
ii. 20% discount on Sugar 1/ Sugar 90/ Sugar 360 packages
iii. Apollo Sugar Coach @ Rs. 999 (Special Price)
Eligibility Criteria: This feature is available to all resident customers with Savings Bank Account.
How to avail this service: Use your ICICI Bank Debit Card at the time of billing to avail these discounts.
For any queries, please call Apollo Lifeline at 18605001066
Click here to know more: http://www.icicibank.com/Personal-Banking/account-deposit/savings-account/apollo-group-discounts.page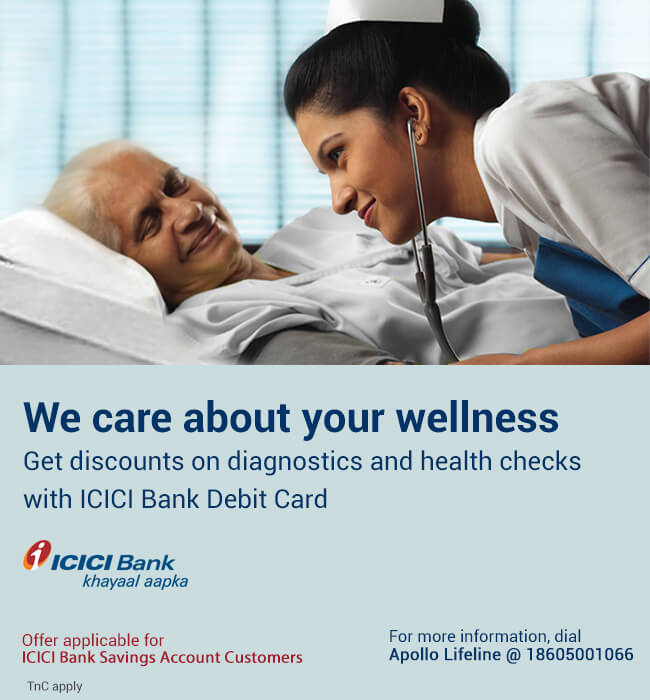 Posted by:
Apollo Hospitals
30 Jun,2015
Get the best of health related stories delivered to your inbox.
The Indian Institute of Technology (IIT) Kanpur and Apollo Hospitals have announced the signing of a MoU for collabor...
Date: 12 Jan,2023
Apollo Hospitals Group has launched its indigenously developed automated, rapid-response patient monitoring system. T...
Date: 02 Nov,2022
Apollo Hospitals Group is to set-up a state-of-the-art tertiary care hospital in partnership with Balmer Healthcare, ...
Date: 05 Sep,2022