Apollo Proton Cancer Centre has successfully performed a Palliative Mastectomy on a patient while she was singing.
Posted by Apollo Hospitals | 07 Feb,2022
Apollo Proton Cancer Centre successfully performed a Palliative Mastectomy for a patient with Metastatic Breast Cancer while the patient was singing. The Surgeon at Apollo Proton Cancer Centre said it was first time worldwide, a patient was awake & singing during breast cancer surgery, despite the extensive lung metastases, thus overcoming her anxiety.
Dr. Manjula Rao, Consultant, Oncoplastic Breast Surgeon, Apollo Proton Cancer Centre, said, "I am extremely delighted with Mrs. Seethalakshmi's recovery, and satisfied to see how elaborate counselling and keeping the patient well informed of her various options, and shared decision making, have helped her go through critical surgery with such ease. The developments in research, modern medicines and new surgical techniques have together contributed in improving cancer patients' overall quality of life, even in advanced stages. It is crucial for men and women to be mindful of any new symptoms and to report to their doctors at the earliest. The most common symptom of breast cancer is a painless lump, and if treated before the cancer spreads to the lymph nodes, the chances of complete cure goes up to 99%!"
Read more about how Apollo Proton Cancer Center performed a Palliative Mastectomy while patient was singing.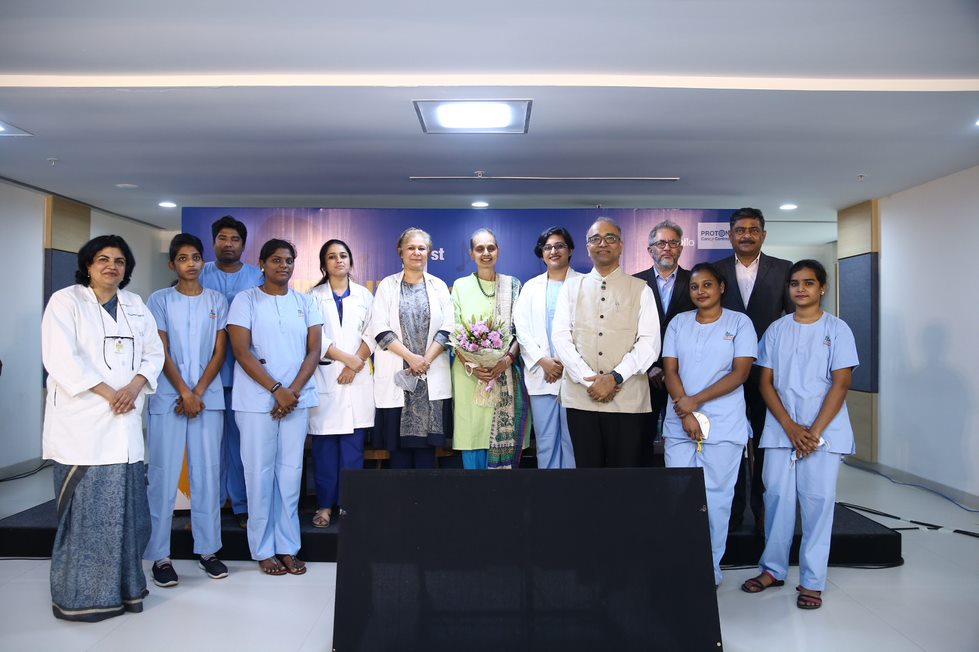 Posted by:
Apollo Hospitals
07 Feb,2022
Get the best of health related stories delivered to your inbox.
Adding another feather to its cap, Apollo Hospitals, Seshadripuram, Bangalore brings in India's very first prostate c...
Date: 23 Jan,2023
Mr. Vinod K Patel and Mr. Md Mansoor underwent successful liver transplants at Apollomedics Hospital Lucknow. Relativ...
Date: 23 Jan,2023
In a rare case of esophageal diverticulum, a 59-year-old man from Yangon, Myanmar underwent a successful robot assist...
Date: 12 Jan,2023