Apollo Hospitals, Visakhapatnam redefines the life of a 69-year-old cardiac patient by successfully performing Trans-Catheter Aortic Valve Replacement (TAVR) surgery
Posted by Apollo Hospitals | 02 Jul,2019
TAVR or Trans Catheter Aortic Valve Replacement, a percutaneous procedure, was successfully performed at Apollo Hospitals, Visakhapatnam on a 69-year-old man; where open heart valve replacement surgery was contraindicated due to co-existing health issues including past history of cardiac bypass surgery.
Our patient, a 69-year-old male presented with shortness of breath mostly increasing after dinner forcing him to sit. He was hypertensive, hyperlipidaemic, and had previously undergone bypass surgery in 2000 with two arterial grafts LIMA and RIMA, two venous grafts to D1 and OM. He had also undergone angioplasty to vein graft to D1 in 2011 and vein graft to OM in 2016. Echocardiography showed a gradient of 65 mmHg across aortic valve suggesting severe aortic stenosis and EF of 49% suggesting LV dysfunction. His surgical STS score was 5.8%. AVR surgery was considered very high risk in view of REDO open heart surgery.
TAVR was done successfully on 30th May, 2019. A 23 mm valve was delivered through 14 Fr expandable python sheath. The wound in the thigh was closed non-surgically by ProGlide device. He was discharged on day five. His gradient across aortic valve was 11 -17mmHg without aortic regurgitation at the end of one-month post discharge.
TAVR is performed in a highly specialised tertiary care centre. The centre should have sophisticated Cath Lab with Cardiothoracic OT back up and surgeons to deal with complications that may arise during the procedure. The centre also should have attached 24×7 Critical Care and a Blood Bank if the need for transfusion may arise. The whole procedure is to be done under in an aseptic condition and to achieve such type of environment; the infection control team should have robust protocols and implement them. Here at Apollo Hospitals, Health City, Visakhapatnam; we not only have the skilled human resources in Cath Lab to handle such a highly technical procedure but also infrastructure and aseptic environment, where procedure can be done successfully with best outcomes.
Dr. Nanda Kishore Panigrahi, Senior Interventional Cardiologist, Apollo Hospitals, Visakhapatnam explained, "In TAVR, a miniaturized valve is inserted through a catheter, a thin flexible tube, from the groin into the heart. The deployed valve reaches the base of the aorta at the site of the previous aortic valve. The doctor then opens a balloon which inflates the valve, pushing aside the old valve and overcoming the stenosis or narrowing. The entire procedure is conducted under general anaesthesia or mild sedation and takes about an hour as compared to 5-6 hours required for an open heart surgery."
TAVR is a game changer for patients with valve disease in India. While the expenses are more as compared to conventional open heart surgery, the benefits are incomparable. TAVR allows many patients with severe aortic valve stenosis who were previously classified as too high risk or inoperable, to be effectively treated, giving them a second opportunity at a healthy life. Interventional cardiology methods such as 'TAVR' have redefined the lives of people with an improved quality of life, even in people aged above 70 years or 80 years. Interventional methods can help many patients who are suffering from severe cardiac risks.
The patient showed remarkable improvement. He started speaking normally right after 45 minutes of the procedure and has been discharged from the hospital, in a stable condition.
Dr. Sami, Units Head, Apollo Hospitals, Visakhapatnam, said, " We did our first balloon expandable TAVR in the city and we are glad to share that this valve system is totally designed and manufactured in India. The face of healthcare in the Visakhapatnam region is undergoing a sea change with advanced medical technology available to help address complex conditions in patients. From organ transplants including heart transplants, minimally invasive cardiac hybrid surgeries to interventional cardiology, the incomparable benefits of the latest advances will help patients who are inoperable or at high risk to be treated effectively and get a second opportunity for a healthy life."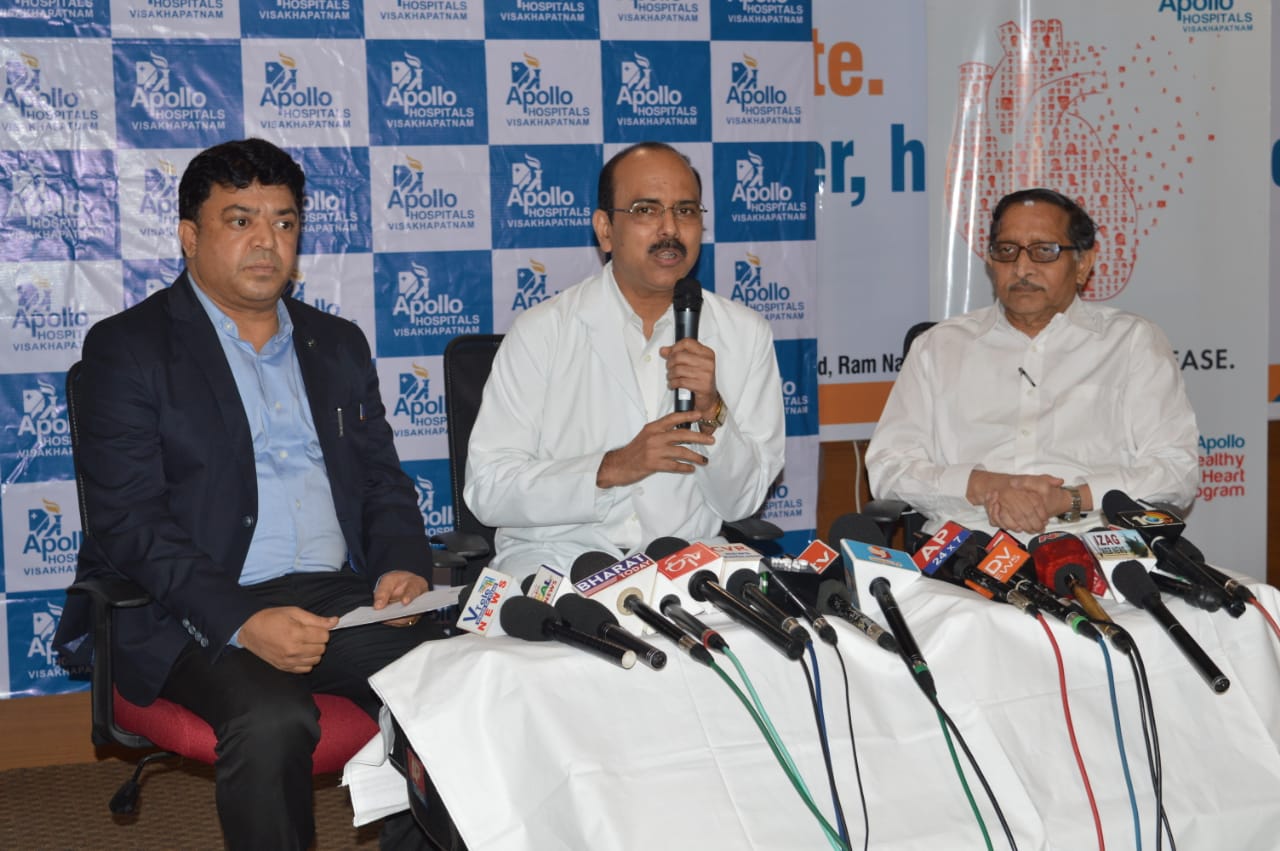 Posted by:
Apollo Hospitals
02 Jul,2019
Get the best of health related stories delivered to your inbox.
A 64-year-old gentleman from Fiji recently Robot-Assisted Total Arterial Bypass Surgery for Triple Vessel Coronary Ar...
Date: 16 Nov,2022
A 60-year-old man, citizen of Nigeria, successfully underwent a high risk and rare surgery for total femur replacemen...
Date: 16 Nov,2022
Apollo Hospitals, Seshadripuram, Bangalore has introduced India's very first Moses 2.0 Laser, an advanced and novel l...
Date: 14 Nov,2022