Apollo Hospitals organizes International OrthoGlide Workshop in Chennai
Posted by Apollo Hospitals | 16 Sep,2013
Indians are more prone to single compartment knee pain and that instead of total knee replacement, OrthoGlide implant and the new technique interpositional arthroplasty can be used as it doesn't affect the ligaments of other compartments of the knee, says Dr Madan Mohan Reddy, senior consultant orthopaedic surgeon at Apollo Hospitals. On Saturday, Dr Klaus Lehrberger, renowned orthopaedic surgeon from Germany, provided a live demo of OrthoGlide and two patients underwent this procedure on the same day.
The surgery, which is interpositional arthoplasty, is a minimally invasive knee surgery that involves an orthoglide implant, for early osteoarthritis where the arthritis is restricted to a single compartment of the knee. "It is between conservative treatment and total knee replacement," said Dr Madan Mohan Reddy, senior consultant orthopaedic surgeon, during the workshop in which two patients aged 46 and 51 were operated on and the procedure was screened live.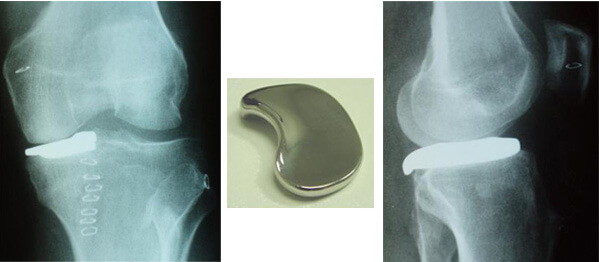 The doctors explained that the knee is divided into three compartments and Indians are prone to suffer osteoarthritis in the medial compartment of the knee. Earlier, doctors recommended either conservative treatment of suggesting weight reduction or lifestyle changes or the other extreme of undergoing a complete knee replacement, which was not just expensive – Rs 2 lakh – but also involves extensive post-operative therapy including physiotherapy.
"This surgery is not just cost effective but also leads to faster recovery. A patient can get operated on in the morning and get discharged in the evening. The surgery doesn't affect the ligaments in the other compartments of the knee," explained Dr Madan Mohan.
Dr Klaus Lehrberger said that the incision will be four to five centimeters and the implant is improvised in such a way that it requires no screw or bone cementing. "So far there has been no problem in stability of the implant post surgery," he said.
Apart from being cost effective, surgery costs Rs 1.3 lakhs with the implant alone at Rs 60,000, and fast recovery. Doctors said it can be used for younger patients, who can get back to their usual routine without any restrictions unlike complete knee replacement where the patient cannot sit on the floor or sit cross legged and so on. Dr Madan Mohan added that the surgery can be done on patients aged between 45 and 55 or even lesser. "Osteoarthritis is an aging process and happens both to men and women with the incidence of one in six persons above 55 years. The only way to prevent this is to maintain proper body weight, strengthen the knees and avoiding too much of sitting on the floor and Indian closets," the doctor added.
Dr Lehrberger said the technique was not a substitute for total knee replacement. "Compared to total knee replacement, this interpositional arthroplasty technique is much more invasive and after the procedure we have never seen any dislocation. No bone cut and no screws are necessary," he said. In case of total knee replacement surgery, one requires physiotherapy for many days post-operation, but, in this case, patients can do some exercises taught by the doctors, he informed.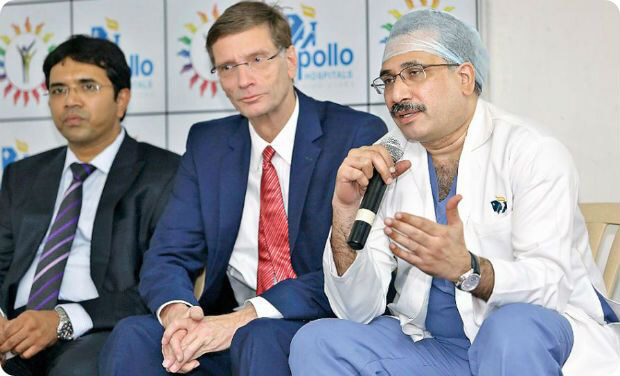 Posted by:
Apollo Hospitals
16 Sep,2013
Get the best of health related stories delivered to your inbox.
Apollo Hospitals organized the 9th Edition of the International Patient Safety Conference (IPSC) and the 10th Interna...
Date: 22 Feb,2023
Management of Aortic Aneurysm & Dissection Surgery Conclave 2022 was organized by Apollo Hospitals in Chennai. The co...
Date: 02 Nov,2022
Apollo Proton Cancer Centre (APCC) conducted its 2nd Apollo Annual Proton Practicum from May 20-22, 2022. Over 700 pa...
Date: 04 Jun,2022