Apollo Hospitals, Navi Mumbai successfully performed its first heart transplant on a 33-year-old male patient suffering from recurrent heart failure
Posted by Apollo Hospitals | 22 Aug,2019
Apollo Hospitals, Navi Mumbai successfully performed its first heart transplant on a chronic heart failure patient. The heart transplant team led by Dr. Sanjeev Jadhav, Consultant, Heart & Lung Transplant Surgeon retrieved the heart from the deceased donor at MGM Hospital, Vashi and transplanted it into the 33-year-old male recipient at Apollo Hospitals Navi Mumbai on July 27, 2019. The heart was transported from MGM Hospitals Vashi through a Green Corridor specially created for the purpose, to Apollo Hospitals Navi Mumbai with a distance of 12 km covered in just 10 minutes. The donor was a 61-year-old male who was declared brain dead as per the clinical protocols. The family was counselled for organ donation and they agreed to the organ donation.
The recipient of the donor's heart was 33-year-old Mr. Rajeev Waghmare from Ahmednagar. A patient of chronic heart failure, his medical problems began in June 2017 when he complained of chest pain and was rushed to a medical centre in Ahmednagar where an angiography showed blockage in a coronary vessel. He was medically managed and discharged, but in November 2017, he again complained of chest pain and breathlessness, was referred to a medical center in Mumbai and underwent an angioplasty.
Following this, he was admitted multiple times with recurrent heart failure and was referred to Apollo Hospitals Navi Mumbai with only 20% heart function. He was medically managed at the heart failure clinic and was put on the waitlist for a heart transplant. When a matching donor heart became available on July 27, 2019, it was an opportunity for a second chance at living a normal life. He successfully underwent a heart transplant on July 27, 2019. The heart transplant was performed by Dr. Sanjeev Jadhav, Consultant, Heart & Lung Transplant Surgeon, Dr. Shantesh Kaushik, Cardiovascular & Thoracic Surgeon and was supported by a team of specialists.
Dr. Sanjeev Jadhav, Consultant, Heart & Lung Transplant Surgeon, Apollo Hospitals Navi Mumbai said, "Today the first transplanted heart beats with new life at Apollo Hospitals Navi Mumbai! The patient was having recurrent hospital admissions due to heart failure and was on heart supporting drugs. With only marginal heart function, a heart transplant was imperative and the only solution. He was lucky to get a matching donor heart. He is the first case I have seen of cardiac failure due to end-stage heart disease following a honey-bee sting that led to a heart attack and decreased heart function. We are glad for this opportunity to give a second chance at life to the recipient and are happy that the transplant was uneventful and the patient has recovered well."
The heart transplant surgery took 90 minutes, and the patient was shifted to the ICU after completion for observation. Dedicated beds for patients who have undergone heart transplantation in a well-equipped Cardiothoracic ICU with barrier nursing helps avoid infective complications.
The patient, Rajeev Waghmare said, "I had lost hope of leading a normal life after my heart began to fail. I have great hope and expectations from this life-saving surgery and look forward to returning to normal life with my family. I would like to thank the team at Apollo Hospitals for their care and timely action that enabled me to get a second chance at life. I will be forever grateful to the donor's family who agreed to donate the organs. The knowledge that my life arises from a life that has been lost due to an unfortunate accident is a humbling thought. I look forward to returning to normal life soon!"
Mr. Santosh Marathe, COO & Unit Head, Apollo Hospitals Navi Mumbai said, "We are proud to have performed the first heart transplant here in our hospital. This is a testament to our world-class quality and expertise in solid organ transplant programs. We are sure that we will be able to provide the patient with an unparalleled standard of care and look forward to offering this critical care to more patients in the future."
With medication to keep the body from rejecting the new heart, many heart transplant recipients lead a long and productive life. The Apollo Hospitals group currently have patients leading good quality of life even after nearly 10 years of post-heart transplant. The dedicated multi-disciplinary heart transplant team comprises of Transplant Surgeons, Transplant Cardiologists, Intensivists/Critical Care Specialists, Pulmonologists, Infectious Disease Consultants, Immunologists, Pathologists, Transplant Co-ordinators, trained ICU & Ward Nurses and a Liaison officer. The cutting edge transplant centre has a rejection and infection surveillance system which meticulously follows up to prevent complications, such as infections, organ rejection, diabetes and osteoporosis as a consequence of immunosuppressive therapy.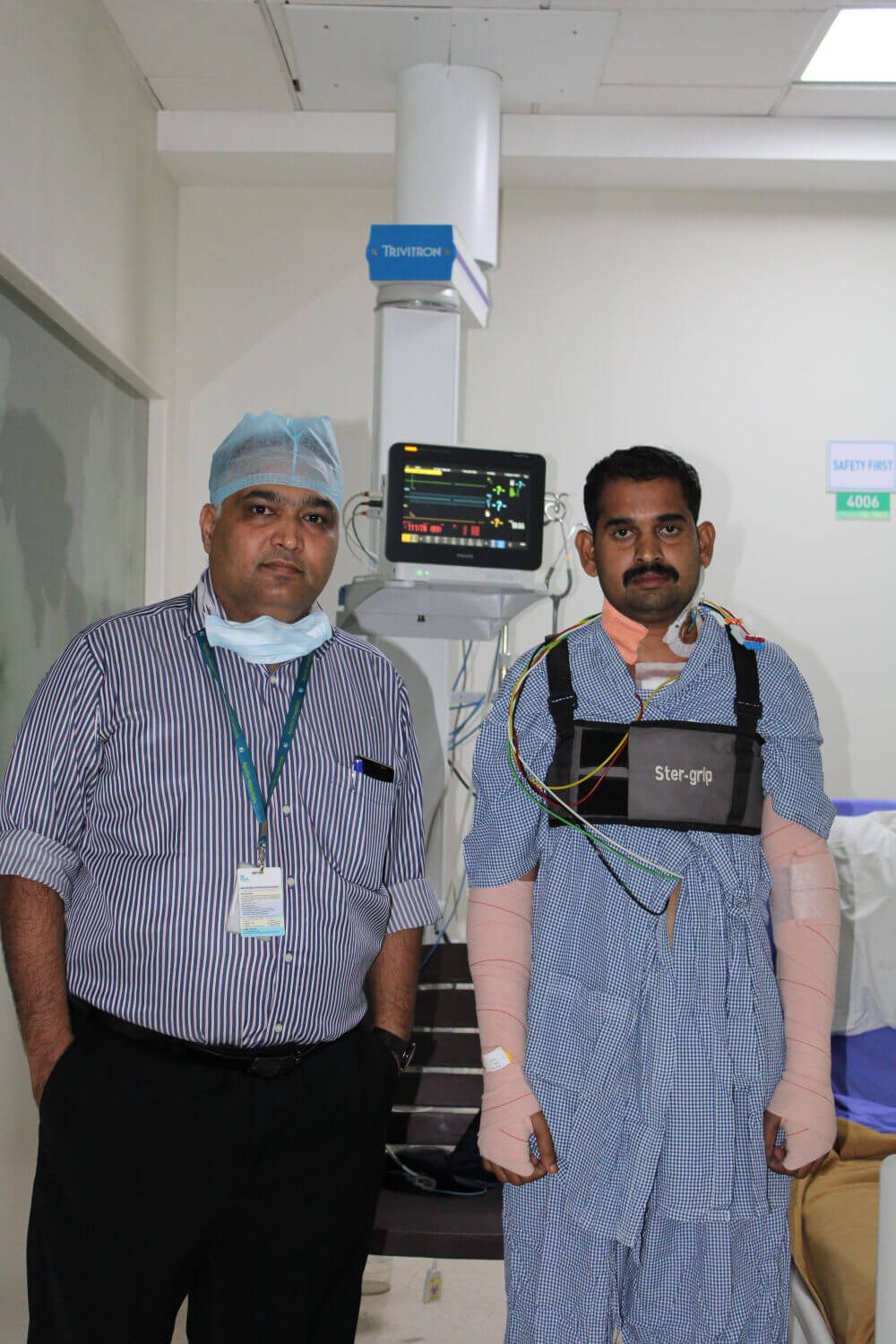 Posted by:
Apollo Hospitals
22 Aug,2019
Get the best of health related stories delivered to your inbox.
Adding another feather to its cap, Apollo Hospitals, Seshadripuram, Bangalore brings in India's very first prostate c...
Date: 23 Jan,2023
Mr. Vinod K Patel and Mr. Md Mansoor underwent successful liver transplants at Apollomedics Hospital Lucknow. Relativ...
Date: 23 Jan,2023
In a rare case of esophageal diverticulum, a 59-year-old man from Yangon, Myanmar underwent a successful robot assist...
Date: 12 Jan,2023