Apollo Hospitals, Navi Mumbai launches the Advanced Emergency Care and 1066 emergency response program
Posted by Apollo Hospitals | 12 Jan,2017
Apollo Hospitals, Navi Mumbai, inaugurated its Advanced Emergency Care and 1066 emergency response program at the hands of Shri Hemant Nagrale, Commissioner of Police, Navi Mumbai and Dr Thomas Burke, Emergency Medicine Specialist, Harvard University, USA.
The Emergency Response System is initiated with the number '1066', which is answered by trained emergency personnel who would advise and dispatch GPRS enabled ambulance. The ambulance, among the most advanced in the Mumbai, has trained paramedics with all essential equipment and drugs catered to deliver care at the bedside or on the road.
Shri Hemant Nagrale, Commissioner of Police, Navi Mumbai, said, "I'm happy to inaugurate the Advanced Emergency Care Centre. This will help the emergency and critical care patients of Navi Mumbai, avail treatment within the 'Golden Hour'. Also, we are happy to be associated with Apollo Hospitals for our Road Safety Week 2017 initiative and have been imparting safety and first aid training with their support."
Dr Thomas Burke, Emergency Medicine Specialist, Harvard University, USA, speaking at the launch said, "Emergency medicine has evolved over the years with new benchmarks. It is important for healthcare centers to adapt the international clinical protocols, as it helps saving time and life in crucial moments."
Dr Nitin Jagasia, Head, Emergency Medical Services, said, "There is a 2 – way communication between the ambulance and the hospital to ensure specific areas such as cath lab, operating theatre, ICU's are prepared to receive the patient. The GPRS enabled tracking provides the team at Apollo an accurate estimate of patient arrival. The Apollo emergency response protocol has ensured that the majority of emergency cases have been stabilized in a time critical manner at par with the international benchmark for golden hour management."
The Stroke Clinic is a multi-disciplinary clinic where stroke patients are assessed by doctors, specialist nurses, physio & speech therapists to formulate a comprehensive treatment plan for each patient.
Dr Girish Nair, Consultant, Neurology, Apollo Hospitals, said, "A person suffers from a brain stroke every three seconds in India. Following the onset of blockage of blood supply to the brain, over 1.4 million nerve cells are irreversibly damaged every second."
Dr Narendra Trivedi, CEO, Apollo Hospitals, Navi Mumbai, said "Apollo Hospitals has always been monitoring its service delivery against international benchmarks, which demonstrates quality of our care. This does not mean how fast we deliver the treatment, but actually how appropriate the care is and Apollo has always been driven by clinical outcomes."
Apollo Hospitals, Mumbai, has also initiated the 'Lifesaver's Club', along with the Navi Mumbai RTO / Traffic Police Road Safety Week, wherein Apollo Hospitals will deliver basic life support training across various residential societies and corporate to develop community champions who would help save lives when it matters most.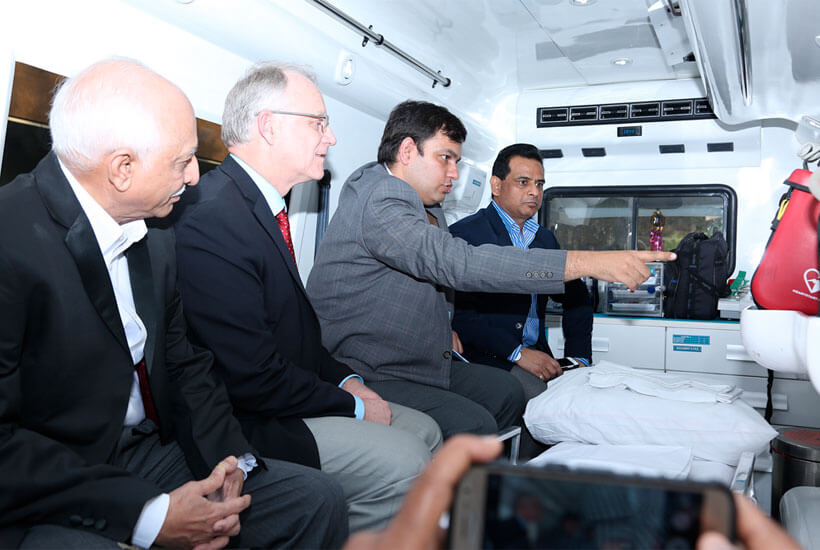 Posted by:
Apollo Hospitals
12 Jan,2017
Get the best of health related stories delivered to your inbox.
Apollo Multispeciality Hospitals Limited, which is a 100% subsidiary of Apollo Hospitals Enterprise Ltd. has acquired...
Date: 28 Sep,2023
Apollo Hospitals has launched India's first Comprehensive Connected Care programme; powered by Apollo's Connected Car...
Date: 06 Sep,2023
Apollo Hospitals has expanded partnership with Google Cloud to put healthcare in the hands of every Indian with Apoll...
Date: 05 Sep,2023