Apollo Hospitals introduces RenaissanceTM Robotic Technology in Asia-Pacific and completes 12 complex spinal surgeries in 10 days !
Posted by Apollo Hospitals | 05 Oct,2012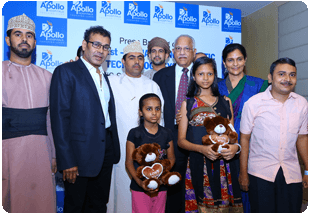 Apollo Hospitals performed a complex spinal surgery on a 10-year-old child. This was the 12th successful surgery done within 10 days of the launch of Renaissance Robotic Technology – the only technology specifically designed for spine surgery. Apollo Hospitals Group is the first in the Asia-Pacific to offer this minimally-invasive robotic-guided surgical guidance system for spine surgery.
A 10-year-old from Gujarat, Heema was born with congenital anomalies that left her with a severely deformed spine. Before being admitted to Apollo Hospitals, the child had already undergone multiple procedures that had failed and left her with rods placed in her back, broken at multiple places, and a spine that was grotesquely deformed.
The doctors' team faced several challenges in treating the child. But RenaissanceTM Robotic Technology allowed a successful spinal fixation with extreme precision and safety in carrying out the delicate maneuver to correct the deformed spine. A child otherwise doomed to go through life with the severe deformity -which could have led to premature death due to cardiopulmonary failure or eventual paralysis – can now lead a normal life like any other 10-year-old.
"After a comprehensive 18 months study of Mazor Robotics' RenaissanceTM in Europe and the USA, we found this to be the safest, most accurate minimally-invasive technology for spinal surgical procedures. This technology helped us in treating Heema, ensuring less pain, smaller incisions, shorter hospitalizations and faster recovery for the child. Conventional forms of such surgeries are more challenging due to the surgeon's lack of direct line-of-vision, requiring many intra-operative X-rays to compensate for this. The Spinal Robot overcomes these challenges, providing patients with the best possible clinical results and with minimal intra-operative radiation to both patients and surgeons," said Dr Sajan K Hedge, Head of Spine Unit at Apollo Hospitals.
Foreign patients have also benefitted from this treatment at Apollo Hospitals. Two young patients from Oman were admitted with severe back pain, which was also running down both their legs. Both patients had previously taken non-operative treatment in Oman, without any relief whatsoever. One of the patients was 36-year-old Sulaiman Mohammad, who had suffered pain for more than two years, which then began affecting his regular activities. Both patients underwent Robot-assisted minimally-invasive spine surgery. After the surgery, both have been free of pain and are now walking normally.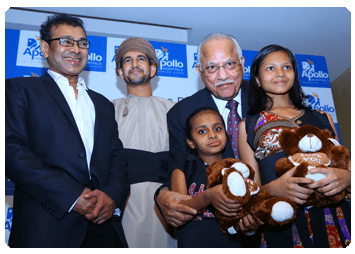 Dr Prathap C Reddy, Chairman of Apollo Hospital said: "Robotics and minimally-invasive surgeries have been a strong focus for Apollo Hospital in recent years. We believe in providing the best medical technologies for our patients. Once we recognized the positive impact that Spinal Robotics would have on patient outcomes, the decision was easy to bring in this technical marvel with close cooperation from our Robotics technology partner Advanced Medical Systems (AMS) Singapore. AMS has also developed with us 'The CyberKnife' Robotic Radio surgery project successfully at Apollo Cancer Specialty Hospital, Chennai. This is a Rs30-crore cancer therapy system, successfully treating patients for the past three years with extreme tumour-targeted precision. The Spinal Robotics will likewise offer precision, accuracy and minimally-invasive spinal surgery at Apollo Hospitals."
Apollo Hospital is a referral centre for spine surgeries and a pioneer in minimally-invasive surgeries. The facility also has a reputation as an established leader in spine surgery as well as in adopting the latest technologies for patient care.
"As demand for quality healthcare grows, medical device analysts are projecting robust growth rates in the Asia-Pacific region, with recent reports indicating medical device growth rate of 23% in India alone,"stated Romesh Kaul, President and Chief Executive Officer, Advanced Medical Systems Pvt Ltd (AMS), turnkey technology systems and services provider of Renaissance Spinal Robotics System to Apollo Hospitals.
Posted by:
Apollo Hospitals
05 Oct,2012
Get the best of health related stories delivered to your inbox.
The Indian Institute of Technology (IIT) Kanpur and Apollo Hospitals have announced the signing of a MoU for collabor...
Date: 12 Jan,2023
Apollo Hospitals Group has launched its indigenously developed automated, rapid-response patient monitoring system. T...
Date: 02 Nov,2022
Apollo Hospitals Group is to set-up a state-of-the-art tertiary care hospital in partnership with Balmer Healthcare, ...
Date: 05 Sep,2022