Apollo Hospitals, Indore is the first hospital in Madhya Pradesh to perform Transcatheter Aortic Valve Replacement (TAVR) on a 69-year-old female patient
Posted by Apollo Hospitals | 07 Sep,2019
Apollo Hospitals, Indore is the first hospital in Madhya Pradesh to perform complex valve replacement using the 'pin-hole' technique. Replacement of the aortic valve with a minimally invasive procedure called TAVR was performed successfully on a 69-year-old female patient.
Patient thought that the worst was over for her after she underwent a complex open-heart surgery in other hospital to replace her faulty valve last year. However, life took a different turn when she started experiencing breathlessness, instances of chest pain, unexplained fainting and blackouts since May 2019. Pained with her increasing difficulty she reached Dr. Roshan Rao, Consultant Cardiologist, Apollo Hospitals Indore for a detailed evaluation and it was found that the same artificial valve of the heart had again become narrow or blocked. Dr. Rao explained that though it is very rare , in a small percentage of the cases, the newly replaced valve becomes narrow again. This patient was one such case, who's newly replaced valve became narrow which further limited her heart's output. Due to this she developed renal dysfunction i.e. kidneys were not functioning properly.
Dr. Sarita Rao, Consultant Cardiologist said "in such cases performing a second time open-heart surgery becomes riskier and it is not advisable. This is where the newer innovations in medical science such as the valve solutions from Medtronic comes in as a blessing. The valve is made up of natural tissue leaflets and does not require a strong blood thinner as in a metal surgical valve."
Unlike an open heart surgery, which is very complex, TAVR is seemingly less complex — achieved through a pinhole insertion in the groin (an artery in leg) where a catheter is inserted first to create a passage through which later the valve is pushed in. Once the new valve is implanted, the catheter is removed and the new valve starts working right away.
Speaking on the occasion, Dr. Roshan Rao added it was indeed a very tough case and we are immensely pleased that our approach in this case brought us better than expected results. The valve was placed perfectly and the parameters were well within the normal range and there were no post procedural complications. Patient regained consciousness immediately and was greeted when wheeled out of the Cath lab by members of her family — which was a very satisfying sight for all of us.
Dr. Sai Satish Senior Consultant and Director TAVR program Apollo Hospital & Research Center Chennai, commented that in India about 15 Lakh individuals are suffering from a faulty valve condition. TAVR, which is an established standard of care for aortic stenosis in Europe and USA, is now emerging in India as a promising treatment.
Speaking on the occasion, Dr. Ashok Bajpai, Director, Apollo Hospitals shared that it was a moment of pride for Apollo Hospitals and the state of Madhya Pradesh — to bring within the reach of natives of our state, trends, practices and procedures performed by the best hospitals in the world at one-tenth of the cost in the West. I congratulate Dr. Roshan and Sarita Rao along with our cardiac surgeon Dr. Khitish Dubey, Cardiac Anesthetist Dr Vikas Gupta and Dr. Sai Satish and Dr. Ganapathy who travelled all the way from Apollo Hospitals, Chennai to make this maiden effort possible'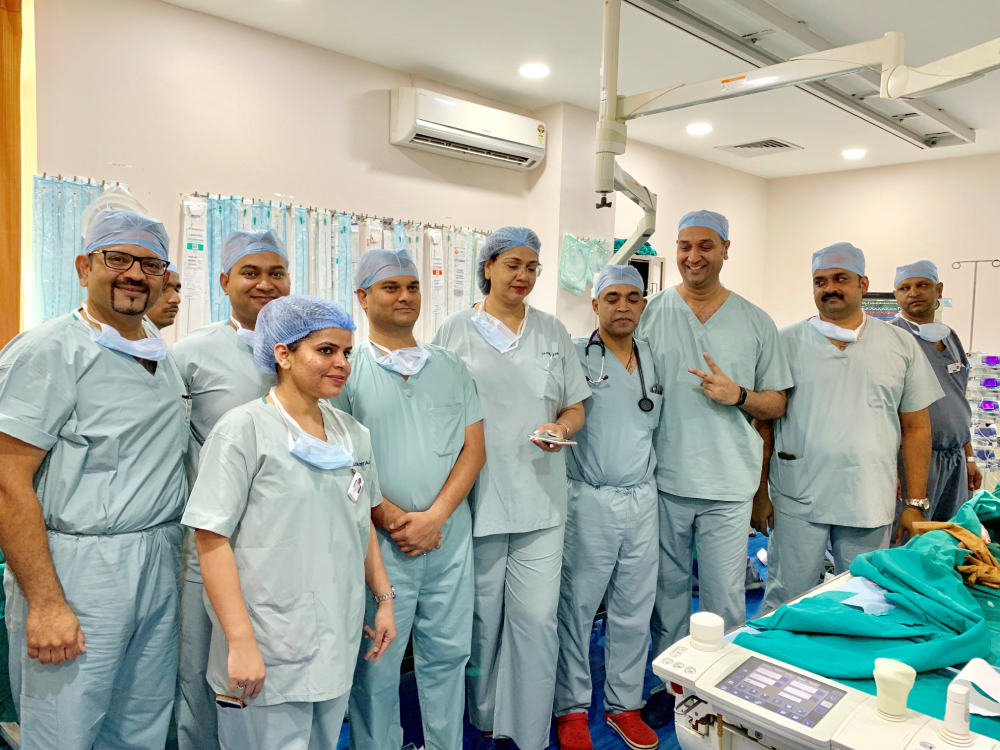 Posted by:
Apollo Hospitals
07 Sep,2019
Get the best of health related stories delivered to your inbox.
Apollo Proton Cancer Centre has successfully performed Asia's first brain bypass surgery on twin 8-year-old children ...
Date: 05 Dec,2022
With a focus on innovating new techniques for the treatment of rare cancer cases, Apollo Cancer Centre, Bangalore, ha...
Date: 05 Dec,2022
A 64-year-old gentleman from Fiji recently Robot-Assisted Total Arterial Bypass Surgery for Triple Vessel Coronary Ar...
Date: 16 Nov,2022