Apollo Hospitals, Indore has successfully performed Central India's first and India's second daycare hip replacement surgery on a 30-year-old patient.
Posted by Apollo Hospitals | 30 Nov,2020
Apollo Hospitals, Indore has achieved a milestone by becoming the first daycare centre in the country for both knee and hip replacement, that allows the patient to be discharged on the same day. The daycare hip replacement surgery, which is the first in Central India and the second in the country, was successfully performed on a 30-year-old female who was suffering from severe pain in both hip joints for past three years. After the surgery, which involved replacement of the damaged left hip joint with prosthetic components, the patient was discharged from the hospital on the same evening in less than 12 hours after admission. This less than 12-hour hospital stay is a great advantage over the conventional joint replacement surgery that requires patients to stay in the hospital for up to a week to ten days for post-operative care and reduces the cost and risk of hospital-acquired infection.
Dr K. Hari Prasad, President, Apollo Group Hospitals, said, "Apollo Hospitals has always been at the forefront when it comes to bringing in cutting-edge medical technology that helps provide the best of services to our patients. With improved surgical techniques such as minimally invasive or robotic surgery and better pain management methods, there is less blood and muscle loss with recovery which is faster and easier, thus making outpatient surgery possible on some elective procedures such as knee and hip replacement. Studies indicate that outpatient total joint replacement is expected to increase 457% for knee replacements and 633% for hip replacements over the next decade. By 2027, over 50% of the joint replacement surgeries will be in an outpatient setting with same day discharge. Proper patient selection and education, multimodal protocols are all key for successful day-case joint replacement. Same-day discharge for joint replacement patients can also help reduce healthcare costs. We are proud that Apollo Hospitals, Indore has led from the front in becoming the first hospital in India to offer both day care knee and hip replacement."
The patient, a 30-year-old lady from Rajasthan, was referred to Apollo Hospitals, Indore with severe pain in both the hip joints since last three years. Her left leg had got shortened by about 3 cm and the pain had increased to a level that she could only walk with a significant limp. After no relief from treatment at various places, she came to Apollo Hospitals, Indore for consultation with Dr Sunil Rajan on 15th September 2020.
Dr Sunil Rajan, Orthopedic & Hip, Joint Replacement Surgeon, Apollo Institute of Orthopaedics, Apollo Hospitals, Indore said, "The patient was worked up for her ailment and was diagnosed to have Avascular Necrosis of Ball of both Thigh Bones. She was advised surgery with total replacement of her hip joints. It was decided to replace the left one first as it was more damaged. Due to her fear of getting admitted and operated because of the COVID pandemic, she was offered the option of "Day Care Total Hip Replacement" that would ensure same day discharge and she would not be required to stay in the hospital overnight."
Elaborating on the procedure, Dr Sunil Rajan said, "For daycare surgery, complete preoperative preparation is critical for success. A team of a cardiologist and an anesthesiologist did a complete work up of the patient for fitness for anesthesia and surgery prior to admission for surgery. After their clearance, the surgery was planned for 19th November 2020. One day before the surgery, two of the team members went to the patient's house to assess the facilities with special attention to height of the bed, availability of western closet and grab bar in the bathroom along with checking for any hindrance to movement with walker amongst other aspects to make the home ready for her recovery. The patient's room and attached washroom was disinfected one day prior to the surgery and closed till she returned from the surgery. The patient and her family or attendants were trained about strict hand hygiene that they would need to follow after surgery. The family was taught about cleaning to be done before surgery at home."
Describing the surgery, Dr Sunil Rajan said, "The patient was admitted in the morning at 6.30 am and taken to the operation theatre at 8.00 am. Dr Jayesh Jajodia, the anesthesiologist, decided to use general anesthesia with minimal sedation to facilitate the early post-operative mobilization and feeding. Special precautions and medications including adequate painkillers were administered in view of the day care surgery and there was no use of tubes or drains. The surgery was successfully completed in less than an hour and the patient was shifted to recovery. She was able to take liquids two hours after the surgery and was allowed soft food in the afternoon once her bowel motility returned. The patient was mobilized in the recovery itself with the help of walker. She was discharged from the hospital the same evening at 5.45 PM – in less than 12 hours. One staff nurse and a housekeeping staff was provided to the patient at home for next 48 hours to take good care of her in the post-operative period. Physiotherapy was done as per the routine protocol by physiotherapist visiting the patient at home along with training in performing her activities of daily living."
The patients who are healthy make good candidates for same-day surgery. These include patients younger than 70-80 years without preoperative bleeding disorders, cirrhosis, clinically important cardiac disease or end-stage renal disease. Day care hip and knee replacement has multiple advantages that includes significantly lower cost, reduced infection rate, early mobilisation and recovery, and no need of hospitalization. There is greater patient satisfaction as the day care procedure puts the patient on the fast track to recovery, relieving pain, restoring independence and returning the patient to a normal lifestyle.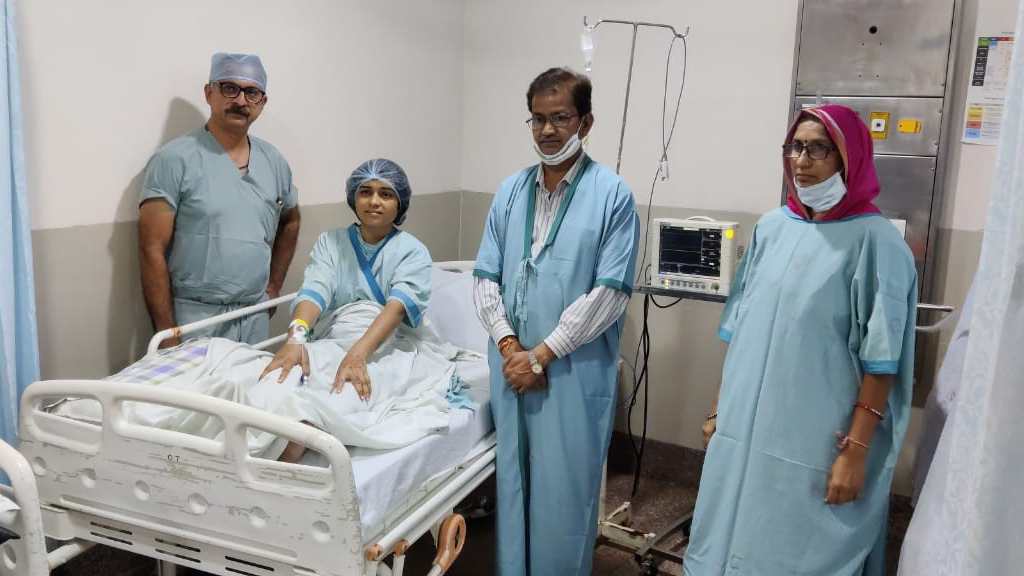 Posted by:
Apollo Hospitals
30 Nov,2020
Get the best of health related stories delivered to your inbox.
Apollo Hospitals is the largest Cardiac care program in India and one of the leading cardiac programs in the world in...
Date: 28 Sep,2023
Apollo Hospitals continues to spearhead advancements in healthcare by providing accessible and top-quality medical se...
Date: 22 Sep,2023
A 35-year-old woman from Vadodara saved the life of her 6-year-old daughter by donating a part of her liver. The chil...
Date: 06 Sep,2023