Apollo Hospitals, Hyderabad performed a first of its kind surgery to remove a bullet from the Patient's liver
Posted by Apollo Hospitals | 01 Mar,2017
Mr. Mahmud, 50-year-old male from Somalia had a bullet injury 9 months before he had come to Apollo Hospitals. Since then, he was having continuous pain in the abdomen which prevented him from doing his work. He visited lot of hospitals both in his country and in India and was advised surgical removal of the bullet. In all the hospitals, he was advised conventional open surgery – wherein the abdomen is cut open and bullet along with some part of the liver are removed. He was also told that it is a high-risk surgery.
He then visited Apollo hospital and after evaluating him thoroughly Dr.P.Siva Charan Reddy and team planned a laparoscopic surgery – wherein two small holes of 0.5 cm are placed in the abdomen and with the help of specialized instruments the exact location of the bullet was identified and the bullet was removed preserving the liver and the surrounding important structures. This surgery was done with very minimal blood loss and the patient was discharged within 24hrs. Post operatively patient was totally pain free and was back to his routine work.
Laparoscopic removal of such a bullet injury is probably a first in the country and we at Apollo are proud to have done.
With the increased expertise of laparoscopic surgeons, we are able to perform many such complicated and challenging surgeries safely and effectively in many such patients. The conventional or open surgery would have left a large scar about 15 – 20 cms in length and post-operative recovery would have taken about a week to ten days, but with laparoscopic surgery the patient does not have any scar and was discharged in less than a day.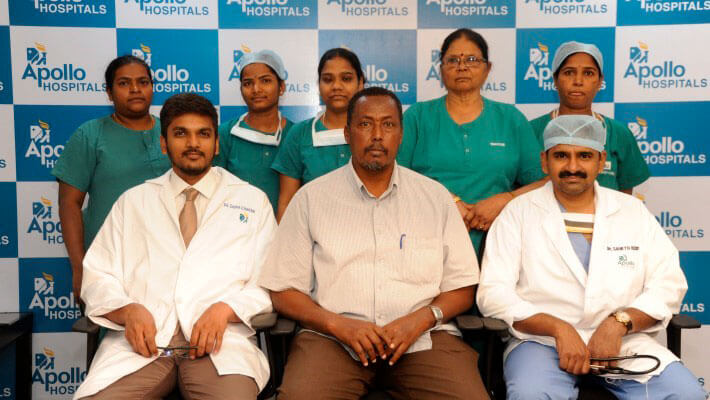 Posted by:
Apollo Hospitals
01 Mar,2017
Get the best of health related stories delivered to your inbox.
Apollo Hospitals, Navi Mumbai, a leading tertiary care hospital, successfully performed a laminectomy with removal of...
Date: 30 Jun,2022
A rare case of congenital heart disease, 3-month-old Baby Priyansh was successfully operated at Indraprastha Apollo H...
Date: 21 Jun,2022
In a rare feat, the Surgical Transplant team at Apollo BGS Hospitals, Mysuru performed a Pediatric Liver Transplantat...
Date: 21 Jun,2022