Apollo Hospitals hosted the 9th Apollo International Clinical Nutrition Update to highlight the latest advancements in the field of Clinical Nutrition
Posted by Apollo Hospitals | 03 Jun,2017
The 9th edition of Apollo Hospital's International Clinical Nutrition Update (AICNU) Conference, held in Mumbai was organised by the Clinical Nutrition and Dietetics arm of Apollo Hospitals Group. The annual conference serves as a core knowledge exchange platform to distinguished Clinical Nutritionists and Dieticians from around the globe to highlight the latest advancements and updates in the field of Clinical Nutrition. The Conference also aims to provide healthcare practitioners with an understanding of the central role of nutrition in healthcare.
The theme of this year's conference was "Connecting Evidence to Clinical Nutrition Practice". Over 550 delegates across 10 countries came together for 2 days to share best practices. The Conference was designed to have a wide variety of formats including debates, lectures, symposia, abstracts sessions, discussions, and presentations that highlighted important issues like nutrition in intestinal failure, in surgical oncology, immunonutrition, hospital malnutrition and clinical nutrition research. AICNU's scientific committee received 75 research abstracts in the run-up to the Conference. The conference's eminent jury have adjudged five abstracts of distinction.
Dr. Prathap C Reddy, Chairman, Apollo Hospitals Group said, "The theme of this year's conference, Connecting Evidence to Clinical Nutrition Practice is very apt. It has been clearly demonstrated that failure to meet the nutritional needs of a hospitalized patient delays recovery from major illnesses. Hospital – based nutritional intervention is a team effort which involves optimal contribution from the treating physician or surgeon, dietitian/clinical nutritionist and nurse practitioners."
Dr. Preetha Reddy, Vice Chairperson, Apollo Hospitals Group said, "At Apollo Hospitals, we believe in evidence-based care. Our Clinical Nutrition team works closely with clinical teams in developing patient-specific nutrition. Clinical Nutritionists play a pivotal role in patient recovery and it is important that they stay abreast of global trends and developments in the field. This conference is an attempt to provide such a platform."
Dr Anupam Sibal, Group Medical Director, Apollo Hospitals Group said, "AICNU is a leading opportunity for clinical dieticians, academic faculty, research experts in nutrition and dietetics and talented student communities, providing an ideal environment to share the latest innovations in Nutrition and Dietetics. The aim of AICNU is to provide a comprehensive platform to converse about the newest research and novelties in the arena of Clinical Nutrition and Dietetics, aiming to bring best practices of Nutritional Therapies and Treatments in various challenging medical conditions.
Dr. Bhuvaneshwari Shankar, Group Chief Dietitian, Apollo Hospitals & Organizing Chairperson of the event said, "The importance of Clinical Nutritionists role in the healthcare domain need not be overemphasized. It is very important for all practicing dietitians and clinical nutritionists to consistently and constantly upgrade their knowledge on the latest trends in clinical nutrition and practice evidence-based nutrition".
Dr. Narendra D Trivedi, CEO – Apollo Hospitals Navi Mumbai said, "Apollo Hospitals, Navi Mumbai is proud to be hosting this event for the first time within one year of its launch. Our eminent speakers will explain how to evaluate the benefits and risks of nutritional recommendations for specific health conditions through an analysis of the existing scientific and clinical evidence".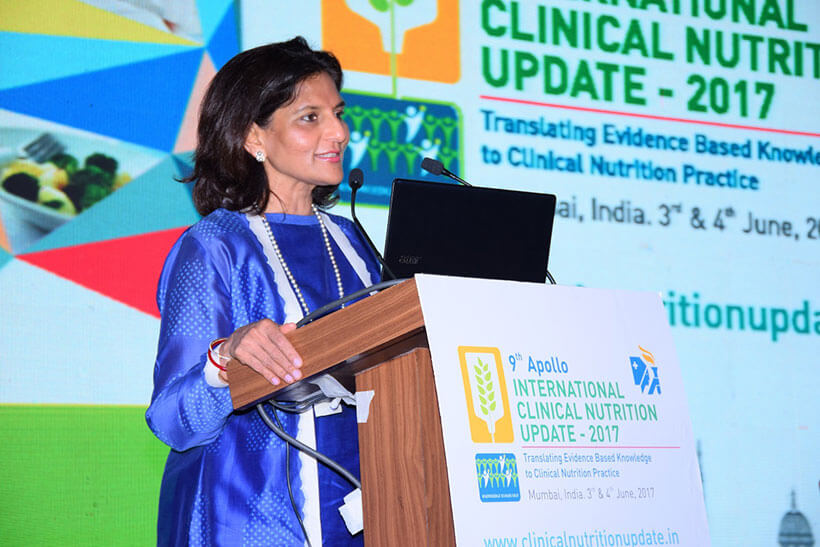 Posted by:
Apollo Hospitals
03 Jun,2017
Get the best of health related stories delivered to your inbox.
Management of Aortic Aneurysm & Dissection Surgery Conclave 2022 was organized by Apollo Hospitals in Chennai. The co...
Date: 02 Nov,2022
Apollo Proton Cancer Centre (APCC) conducted its 2nd Apollo Annual Proton Practicum from May 20-22, 2022. Over 700 pa...
Date: 04 Jun,2022
Apollo Cancer Centres proudly launched the "The Power to fight Breast Cancer is in Your Hands" campaign, which ill...
Date: 02 Apr,2021