Apollo Hospitals Group conducted twin conferences in Hyderabad – the International Patient Safety and Transforming Healthcare with Information Technology
Posted by Apollo Hospitals | 12 Sep,2019
Apollo Hospitals Group conducted the 8th edition of the International Patient Safety Conference (IPSC) and the 9th edition of the International Conference on Transforming Healthcare with Information Technology (THIT), inaugurated by Dr. Prathap C. Reddy, Founder and Chairman, Apollo Hospitals Group.
Over 2500 delegates from 120 countries attended Asia's largest patient safety-focused conference and the largest healthcare and IT-based International conference and trade show in India. The conferences were organised under the aegis of International Health Dialogue, a platform that brings together international hospital leaders, medical and information technology companies, and public policy makers to debate and discuss solutions to global challenges in healthcare.
Dr. Prathap C Reddy, Founder and Chairman, Apollo Hospitals Group said, "It has always been our vision to bring the best of world-class healthcare for the benefits of patients in India, and over the decades we have successfully been at the forefront of ensuring healthcare that is comparable to the best globally for our patients. At the same time, it is important to build a model of global collaboration with a platform where healthcare stakeholders from all over the world can come together for healthy dialogue and discussions, share best practices and exchange ideas and experiences. The International Health Dialogue is such a platform and we look forward to more such conferences in the future to ensure that we are prepared for the changing face of disease with the rising 'tsunami' of non-communicable diseases or NCDs. With modern technology and AI taking center place, we need to keep abreast of the latest developments and ways to harness it for delivering the best of healthcare services to the patients. At the same time, we must not lose sight of patient safety, which is an important factor affecting healthcare outcomes. I am thankful for the Government of Telangana for their support in this important mission."
The 8th edition of the International Patient Safety Conference (IPSC) is a not-for-profit initiative which addressed the critical issues in patient safety with global experts discussing the role of proactive practices and streamlined systems in improving patient safety.
The 9th edition of the International Conference on Transforming Healthcare with Information Technology (THIT) organized by the Apollo Telemedicine Networking Foundation and Apollo Hospitals Group had over 50 eminent speakers from India and abroad who participated in interactive sessions, educational programs, and a trade exhibition showcasing the latest products, technology, services and industry information.
With sessions based on this year's theme of 'Imagine, Innovate, Inspire', IPSC provided an opportunity to learn from patient safety and quality experts from across the world. The discussions at the conference ranged from debates on technology versus touch; the healthcare workforce of the future; overall patient safety aspects included infection control, medication management, radiation safety to facility safety and accreditations.
THIT conference had over 500 decision-makers from 10 countries in the nascent Healthcare and IT industry which comprised of leading IT companies and leading healthcare institutions in attendance. National organizations like the Indian Medical Association, Telemedicine Society of India, Computer Society of India, Indian Association for Medical Informatics and several Government organizations also participated.
Ms. Preetha Reddy, Vice Chairperson, Apollo Hospitals Group, said "Our team and collaborators have been working endlessly in the last couple of months on bringing this massive event to fruition and we are proud to host it for not just our national delegates but those from abroad as well. The International Patient Safety Conference will serve as a platform where all stakeholders can share experiences, exchange ideas, and discuss best practices for improving patient safety, which comprises a vital aspect of healthcare delivery. We look forward to an outcome where the suggestions generated are integrated into a national policy to improve patient safety across the healthcare system."
Adding insights on THIT conference, Dr. Sangita Reddy, Joint Managing Director, Apollo Hospitals Group, said, "The conference showcases AI in Healthcare, Machine Learning in Medical Imaging, Enterprise Digital Health Solutions, Digital Health in Health Delivery Organizations Standards and Policies for Digital Health in India from national and international healthcare technological luminaries. This conference is a platform where healthcare and information technology entrepreneurs, professionals, and students will get insights into how medical technology and innovation is disrupting the healthcare industry, and the need to keep pace with this transformation. We hope that the conference will lead to an understanding of the need to invest in and adopt new technologies for cost-effective health outcomes that are beneficial to all stakeholders in the Indian healthcare industry"
The occasion also saw the national launch of preview of AI CVD Risk Score developed in joint collaboration by Apollo Hospitals and Microsoft India. As part of Microsoft's AI Network for Healthcare initiative, Microsoft India and Apollo Hospitals Group have set up a National Clinical Coordination Committee (NCCC) for the Cardiovascular Disease Risk Score, consisting of leading doctors from Apollo Hospitals; All India Institute of Medical Sciences, New Delhi; and King George's Medical University, Lucknow.
The AI-powered Cardiovascular Disease Risk Score API is an Intelligent Platform that can predict cardiovascular disease risk score in the Indian population. With over 2,00,000 people screened using the AI-driven API on Microsoft Azure across Apollo Hospitals over the last one year, the platform has been successful in allowing physicians to predict the risk score of patients 5 to 7 years in advance. With the national launch of the platform, doctors across the Apollo network of hospitals as well as doctors in other leading Indian hospitals will be able to access and leverage this AI-powered API to predict risk of CVD and drive preventive cardiac care in patients across the country.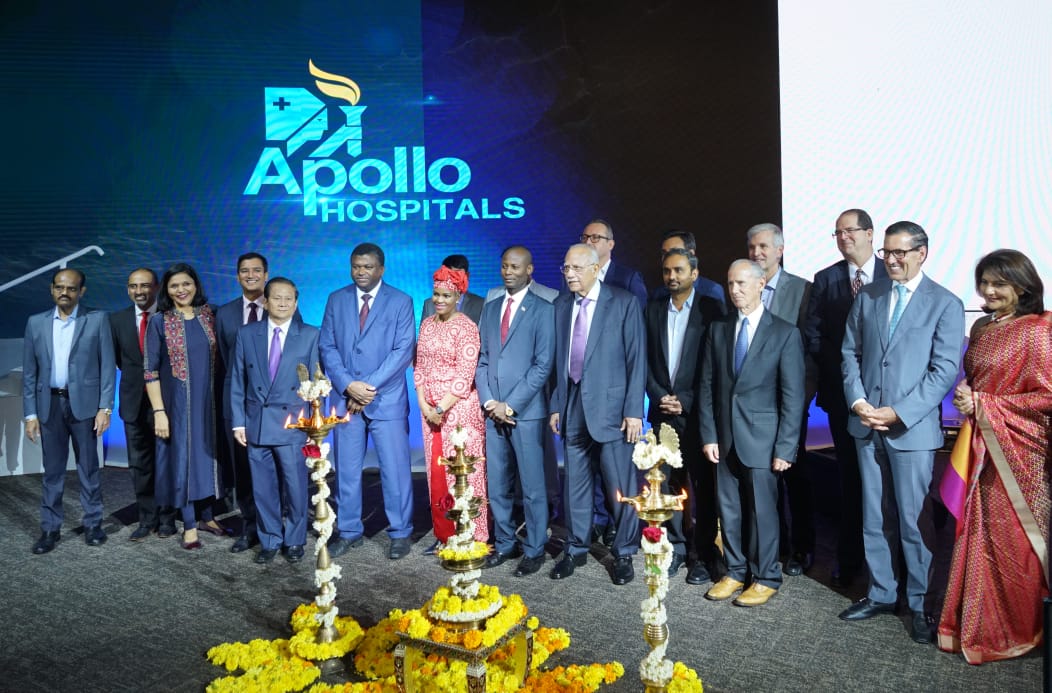 Posted by:
Apollo Hospitals
12 Sep,2019
Get the best of health related stories delivered to your inbox.
Apollo Hospitals organized the 9th Edition of the International Patient Safety Conference (IPSC) and the 10th Interna...
Date: 22 Feb,2023
Management of Aortic Aneurysm & Dissection Surgery Conclave 2022 was organized by Apollo Hospitals in Chennai. The co...
Date: 02 Nov,2022
Apollo Proton Cancer Centre (APCC) conducted its 2nd Apollo Annual Proton Practicum from May 20-22, 2022. Over 700 pa...
Date: 04 Jun,2022