Apollo Hospitals Facebook Health Hunt Contest – 2 results declared !
Posted by Apollo Hospitals | 31 Oct,2011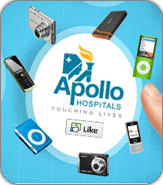 The results of the Facebook Health Hunt Contest – 2 have been declared.
The winners are :
Aarti Agarwal
Ramni Mohan Sain
Himanshu Singal
Kavya Shah
Ajay Mirchandani
Hearty congratulations to all the winners !
We thank all our Facebook friends who participated in this contest and spreading across the message on healthy living & life style and wish them all good luck for our future contests.
We invite those who have not joined us yet in our social media network to connect with us and get the latest news on health care and health tips.
Follow Apollo Hospitals on :
Facebook: http://www.facebook.com/TheApolloHospitals
Twitter: http://twitter.com/HospitalsApollo
Posted by:
Apollo Hospitals
31 Oct,2011
Get the best of health related stories delivered to your inbox.
Management of Aortic Aneurysm & Dissection Surgery Conclave 2022 was organized by Apollo Hospitals in Chennai. The co...
Date: 02 Nov,2022
Apollo Proton Cancer Centre (APCC) conducted its 2nd Apollo Annual Proton Practicum from May 20-22, 2022. Over 700 pa...
Date: 04 Jun,2022
Apollo Cancer Centres proudly launched the "The Power to fight Breast Cancer is in Your Hands" campaign, which ill...
Date: 02 Apr,2021