Apollo Hospitals, Chennai launches a Liver Care helpline in Kerala
Posted by Apollo Hospitals | 09 Jun,2015
This initiative aims at educating people on liver diseases, liver transplantation and post surgery queries.
"Better awareness is needed on organ donation. Continuous vigilance should be there on liver diseases.", said Dr. Anand Khakhar, Program Director, Centre for Liver Disease and Transplantation Apollo Hospitals, Chennai while launching the helpline. Dr. Anand emphasised on the modern technologies available in organ transplantation surgeries as well as in kidney and pancreas transplantation surgeries held at the same time in India.
Dr. Anil Vaidya, Consultant also shared his experience of being part of the 23 organ transplantation surgeries conducted within 30 hours at Apollo Hospitals, Chennai.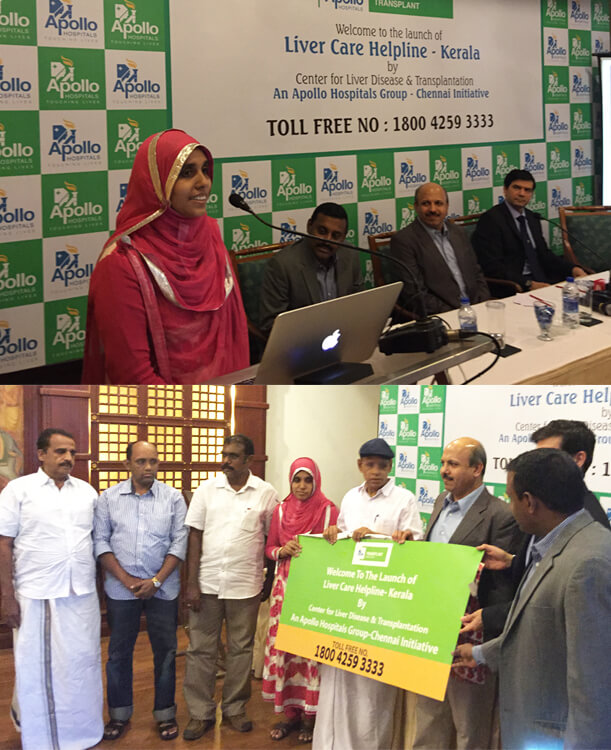 Posted by:
Apollo Hospitals
09 Jun,2015
Get the best of health related stories delivered to your inbox.
Apollo Cancer Centres will be conducting India's first virtual Duathlon. Apollo D2D Duathlon 2021, aiming to create a...
Date: 21 Sep,2021
Apollo Hospitals has launched an Institute of Hernia Surgery and Abdominal Wall Reconstruction at Chennai which is a ...
Date: 01 Sep,2021
Apollo Proton Cancer Centre (APCC) has launched India's first video newsletter - PRONEWS. Aimed at reaching readers w...
Date: 19 Aug,2021