Apollo Hospitals, Bangalore performed a challenging and lifesaving small bowel transplant – a first of its kind in Karnataka
Posted by Apollo Hospitals | 14 Mar,2017
Considered as one of the challenging surgeries of all time, team of expert transplant surgeons at Apollo Hospital Bannerghatta road Bangalore performed lifesaving small bowel transplant on a 45-year-old male Mr. Venkatesh Naik. It is said, to be a first of its kind surgery performed in the state of Karnataka.
It is believed that the bleak chances of receiving organs at the right time for the donation and shortage of expert surgeons in the country to perform this surgery, adds to the criticality of the case. It is a very challenging surgery and only a handful of centres in the world are performing such surgeries. In India till date only three such surgeries were performed in the past.
The patient, Mr. Venkatesh Naik, in June 2016, developed severe abdominal pain and went for medical advice. It was found that he had developed a clot in the superior mesenteric artery which supplies blood to intestine, and as a result his intestine had become gangrenous. Then, in order to save his life, doctors removed his entire small intestine.
Talking about his recent and rare surgery, Dr. Mahesh S Gopasetty, Consultant, Multiorgan Transplant surgeon (liver, kidney, pancreas, small bowel), Apollo Hospitals Bannerghatta, said, "It is considered to be very critical surgery as the exposure to infection is much higher. The patient was referred to Apollo Hospital, Bangalore for small bowel transplant and was supported and maintained by the Apollo Hospital gut rehabilitation team with total parenteral nutrition (TPN, nutrition given through vein) and enteral feeds. The expert team of surgeons, his loving family, The Love your Liver foundation and other NGOs helped him in overcoming these complications both mentally and physically during his four months in hospital under intense observation. Finally, after eight months, on 1st of March 2017, our team of experts at Apollo Hospitals, operated on him by transplanting small bowel and gave him a new lease of life." The patient is recovering well and is stable.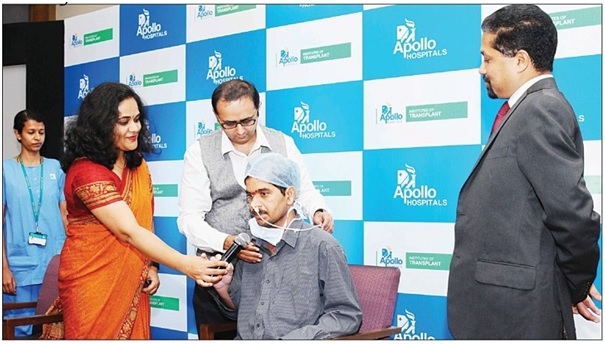 Posted by:
Apollo Hospitals
14 Mar,2017
Get the best of health related stories delivered to your inbox.
Apollo Hospitals, Navi Mumbai has successfully performed the first Kidney Swap Transplant surgery in Navi Mumbai. The...
Date: 23 Sep,2022
Apollo Multispeciality Hospitals, Kolkata gave a new lease of life to three octogenarians by performing Minimally Inv...
Date: 23 Sep,2022
Apollo Hospitals, Chennai has introduced Cryo Balloon Ablation technology, that offers a solution to a complex and co...
Date: 16 Sep,2022