Apollo Hospitals announces the launch of the MRI-HIFU, a breakthrough, non-invasive technology, for treatment of uterine fibroids
Posted by Apollo Hospitals | 05 Feb,2012
Apollo Hospitals Group today unveiled a breakthrough MRI-guided high intensity focused ultrasound (HIFU) solution from Philips at its Hospital in Chennai. This was announced by Dr. Prathap C. Reddy, Chairman, Apollo Hospitals Group and Mr. Krishna Kumar, President, Philips Healthcare, India, here, today.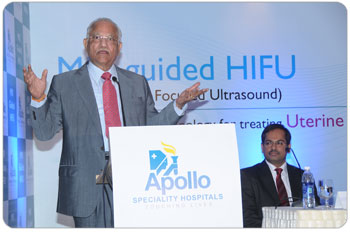 MRI Guided HIFU offers a non-invasive alternative to the traditional treatments for uterine fibroids in women. It combines magnetic resonance (MR) imaging, with high-intensity focused ultrasound (HIFU). The benefits for women include – no surgery, no radiation, no scar, no anesthesia, quicker recovery, more precise image guided treatment and only little stress. The technology has tremendous applications in the non-invasive treatment of benign and malignant tumors.
The MRI Guided HIFU system was first clinically approved for the treatment of non-cancerous tumors like uterine fibroids. Uterine fibroids are non-cancerous growth of the uterus that often appears during childbearing years. Also called myomas, uterine fibroids aren't associated with an increased risk of uterine cancer and almost never develop into cancer. As many as 1 out of 4 women have uterine fibroids sometime during their lives, but most are unaware of them because they often cause no symptoms. The doctor may discover them incidentally during a pelvic exam or prenatal ultrasound.
In women who have symptoms, the most common symptoms of uterine fibroids include heavy menstrual bleeding, prolonged menstrual periods (seven days or more of menstrual bleeding), pelvic pressure or pain, frequent urination, difficulty emptying your bladder, constipation, backache or leg pains.
Existing treatment options for women included medication or surgical removal of fibroids. In contrast to the existing treatment options of surgery to remove fibroids, MR guided HIFU is a non invasive ablative procedure that helps all women especially those in the reproductive stage. It offers good symptomatic relief with no post operative complications, no scarring and reduced hospital stay. Hence this procedure can be performed on an outpatient basis, with the patient leaving the hospital the same day and almost fully recovered within a few days.
The MR-HIFU system uses safe and focused ultrasound waves to heat and coagulate benign or cancerous tumor tissue deep inside the body without damaging intervening tissues. Apollo Hospitals is the first chain of hospitals to introduce MRI- HIFU system in India.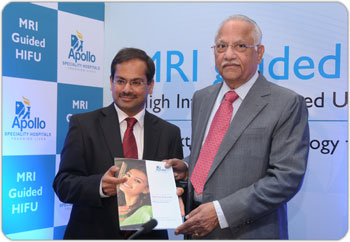 Speaking on the occasion, Dr. Prathap C Reddy, Chairman, Apollo Hospitals, said "Apollo has always adopted the latest in technology to provide the very best care to the patients, HIFU is one such which is safe, radiation-free, and a boon for women with fibroids. The new MR-guided HIFU offers an extremely doctor and patient friendly treatment option. It is guided by magnetic resonance for three-dimensional planning of the procedure and offers real time temperature monitoring during the ablation to control the amount of energy delivered to the tissue by the HIFU machine. Apollo will have this technology at all its hospitals."
Mr. Krishna Kumar, President, Philips Healthcare India, said, "The future of medicine in our view will be image-guided, non-invasive and without radiation, and MRI-HIFU represents the convergence of these 3 principles for improving the lives of women with uterine fibroids and people with malignant tumors. The launch of MRI-HIFU is yet another testimonial to Philips' commitment to bring cutting-edge innovations to solve key healthcare challenges like tumors that face India."
Posted by:
Apollo Hospitals
05 Feb,2012
Get the best of health related stories delivered to your inbox.
Apollo Multispeciality Hospitals Limited, which is a 100% subsidiary of Apollo Hospitals Enterprise Ltd. has acquired...
Date: 28 Sep,2023
Apollo Hospitals has launched India's first Comprehensive Connected Care programme; powered by Apollo's Connected Car...
Date: 06 Sep,2023
Apollo Hospitals has launched a Pan-India expansion of their one-of-a-kind connected care program, Apollo Connect. Wi...
Date: 05 Sep,2023