Apollo Hospitals announces Sanofi's investment in Apollo Sugar Clinics!
Posted by Apollo Hospitals | 03 Feb,2015
Apollo Sugar is a disease management clinic focused on providing high quality, integrated care across its clinics for people with diabetes. ASCL is a Subsidiary of Apollo Health & Lifestyle, the arm of the Apollo Hospitals Group that is driving its rapid growth in primary and secondary healthcare.
In India, Diabetes afflicts over 65 million citizens, and in addition to this over 77 million people have been diagnosed as being pre-diabetic. These numbers are still growing significantly and the total number of Diabetics in India is expected to rise to 109 million by 2035. Apollo Sugar offers access to an integrated Diabetes care solution via a combination of high quality clinical infrastructure including early detection and protocol driven treatment of Diabetes, complemented by a robust set of lifestyle management programs. Through this investment, both Apollo and Sanofi would endeavour to expand Apollo Sugar to provide superior value to patients and Doctors with an enhanced geographic reach, and provide high quality outcome oriented set of services.
Commenting on the collaboration, Dr. Prathap Reddy, Chairman and Founder, Apollo Hospitals Group said, "Over the years, Apollo Hospitals has benchmarked global best practices in quality healthcare delivery with stringent alignment to approved standards and protocols. With the increasing burden of Diabetes in our society, we need to act quickly and with a sense of purpose to arrest the disease from claiming more lives. I am confident that with this investment, Apollo Sugar Clinics is even better positioned to offer patients advanced care and counselling for Diabetes management. This is a good start towards improving the Diabetes management programme in India and I am delighted to be partnering with Sanofi, a global leader in Diabetes management. Our shared vision will provide a new approach to Diabetes care to benefit patients in India and other parts of the world."
Ms.Sangita Reddy, Chairperson, Apollo Sugar and Joint Managing Director, Apollo Hospitals said "We have presented at the American Diabetes Association conference and have been recognized for delivering exceptional clinical outcomes in managing Diabetes, some of which were attempted and successful for the first time in India. However, we as a country are still battling with the image of being the Diabetes capital of the world. We understand that a diagnosis of Diabetes and pursuit of necessary lifestyle changes is daunting for patients. At Apollo Sugar, a patient with Diabetes has access to information, the right treatment, co-morbidities management, counselling, care and treatment to sustainably manage diabetes. We are now keen to take Apollo Sugar's comprehensive offering to many more parts of India."
Commenting on the investment by Sanofi, Mr.Neeraj Garg, Chief Executive Officer of Apollo Health & Lifestyle said "At Apollo Sugar, we offer best in class clinical care delivered in our conveniently located facilities, and combine it with a comprehensive, 360° patient lifestyle management program to help patients to successfully manage Diabetes and avoid related complications. The investments made by Sanofi and the strong support of both our shareholders, enables us to grow our footprint to offer our services at many more clinics across India, and provide millions of Diabetic customers access to world class care at their doorstep."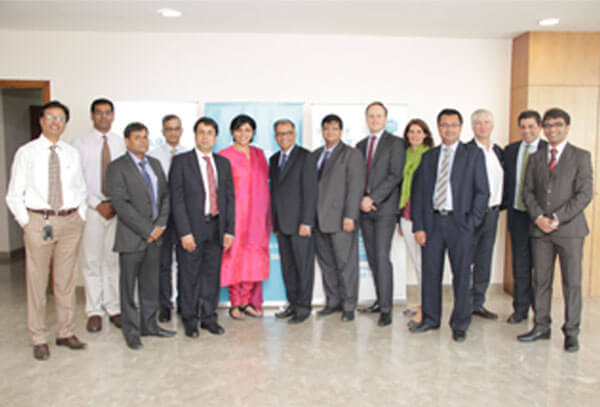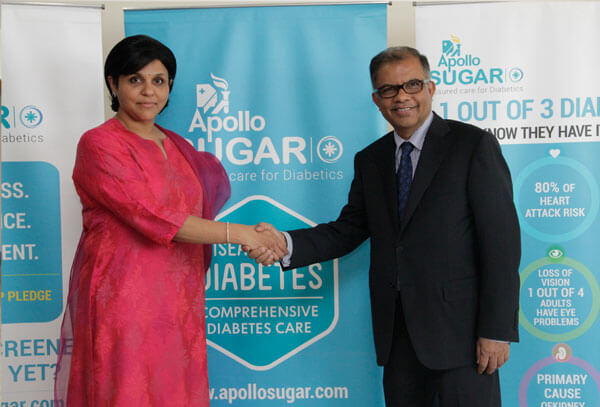 Posted by:
Apollo Hospitals
03 Feb,2015
Get the best of health related stories delivered to your inbox.
The Indian Institute of Technology (IIT) Kanpur and Apollo Hospitals have announced the signing of a MoU for collabor...
Date: 12 Jan,2023
Apollo Hospitals Group has launched its indigenously developed automated, rapid-response patient monitoring system. T...
Date: 02 Nov,2022
Apollo Hospitals Group is to set-up a state-of-the-art tertiary care hospital in partnership with Balmer Healthcare, ...
Date: 05 Sep,2022