Apollo Hospitals and Jet Airways launched the Fly for Good Health Program and Apollo Connect for Patients from Bangladesh
Posted by Apollo Hospitals | 16 Feb,2017
It was a special day when two of India's largest entities joined hands in the service of the People of Bangladesh – Apollo Hospitals Group and Jet Airways announced their joint service 'FLY FOR GOOD HEALTH PROGRAM'. This was facilitated by Health Connect International-Bangladesh, a medical consultancy firm. The launch was announced at a joint press meet of Apollo Hospitals and Jet Airways at Dhaka Press Club. The announcement was made by Mr. Rajkumar Bhattacharya, Country Manager – Jet Airways Bangladesh, Mr Jithu Jose, Senior General Manager Apollo Hospitals Group and Mr Shafeeq Azam, Managing Director –Health Connect International, Bangladesh. The program will provide all the guests of Apollo a 10% discount on their flights to Chennai (via Kolkata & Mumbai) and direct flights to Mumbai & Kolkata. The boarding pass will further entail a 10% discount on Apollo's room rent and health check programs.
Speaking at the occasion, Mr Jithu Jose stated that "We are delighted to have this service for our guests from Bangladesh and together with this we are also commencing the Apollo Connect initiative. The Jet offer is a very unique offer and possibly the first of its kind where two major Indian entities have joined hands to provide such a service to our brothers and sisters in Bangladesh, which has become a home away from home. We would also like to announce the Apollo Connect Initiative by our partner Health Connect International and this would be unique service to provide free second medical opinion and I would like to invite all the clinics and doctors to join us in this initiative.
Rajkumar Bhattacharya, Country Manager, Jet Airways said, "At Jet Airways, we have always shared a special bond with our guests which goes beyond travel. This unique travel option in collaboration with Apollo Hospitals Group is one more initiative aimed at making air travel more cost-effective for those seeking medical support at a premier institution. This tie up with Apollo seeks to deliver exceptional value while attempting to foster stronger relationships with our guests."
Mr Shafeeq Azam, Managing Director of Health Connect International stated that the service will be offered through their office and in association with Jet airways office at Dhaka Airport. This would help people to have a hassle-free service and absolute handholding right from Dhaka.
Mr Md. Abdur Rob, Director of Health Connect International, stated that such initiatives are the need of the hour and especially in healthcare. The established hospitals like Apollo and airline like Jet Airways can help health many lives.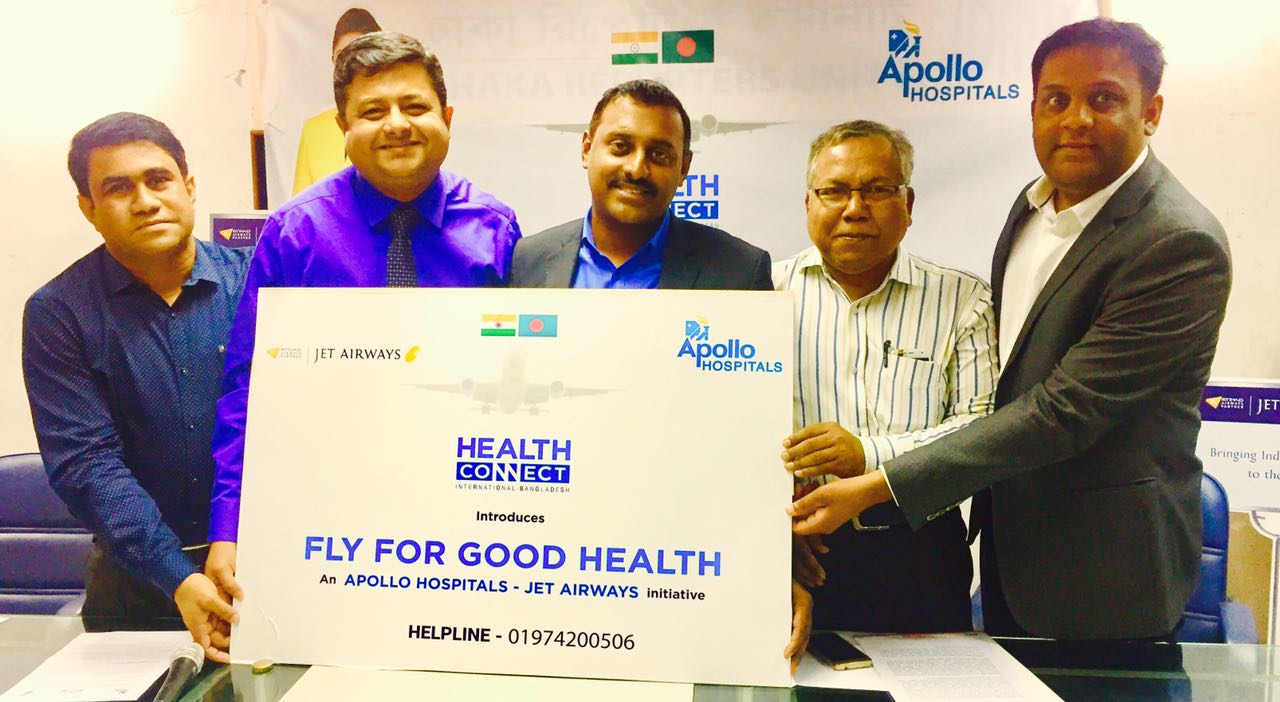 Posted by:
Apollo Hospitals
16 Feb,2017
Get the best of health related stories delivered to your inbox.
The Indian Institute of Technology (IIT) Kanpur and Apollo Hospitals have announced the signing of a MoU for collabor...
Date: 12 Jan,2023
Apollo Hospitals Group has launched its indigenously developed automated, rapid-response patient monitoring system. T...
Date: 02 Nov,2022
Apollo Hospitals Group is to set-up a state-of-the-art tertiary care hospital in partnership with Balmer Healthcare, ...
Date: 05 Sep,2022