Apollo Hospitals and DATRI bring together donor and recipient of stem cell donation for the first time in Chennai
Posted by Apollo Hospitals | 05 Feb,2015
Over 100,000 Indians are diagnosed with blood cancer which is quite alarming. Stem cell donation, even though relatively new, has the capacity to increase survival chances of cancer patients. When 17 year old Ankit was diagnosed with Acute Myeloid Leukemia (AML), a form of blood cancer, little did he know that a stranger from Ahmedabad would be his saviour and help him conquer cancer. 24 year old Jinal Patel, had registered with DATRI hoping that someday a precious life might hopefully find use of her cells. Today, Ankit is cured of cancer and Ms Patel is grateful that she had the opportunity to help him.
Expressing her feelings, the donor said, "Donating blood stem cells doesn't affect a donor's health is a fact unknown to many. It is the best feeling in the world to save a life and be responsible to our community."
Senior Consultant, Paediatric Hematology Dr. Revathi Raj who treated the patient said, ""There is still some amount of stigma associated with cancer which can be eliminated only by increasing awareness on the treatment procedures and highlighting successful case stories which will break the taboo associated with cancer. Significant improvements have occurred in the treatment of childhood cancers and we now have the technology and infrastructure to enable the treatment of several blood related disorders. While earlier we had to depend mostly on foreign registries to find an unrelated matched donor, where the probabilities of a match are lower, we now have a viable option of DATRI. DATRI has helped find donors for 17 paediatric patients who got treated in Apollo Chennai and most of these children have survived. She also congratulated DATRI on their tremendous effort."" DATRI is India's largest registry of voluntary blood stem cell donors.
DATRI has successfully created the largest and credible database of 70000 voluntary donors from diverse ethnic backgrounds and has successfully facilitated 82 transplants.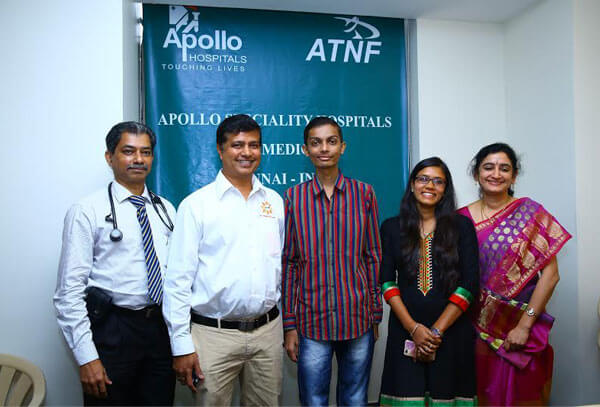 Posted by:
Apollo Hospitals
05 Feb,2015
Get the best of health related stories delivered to your inbox.
Adding another feather to its cap, Apollo Hospitals, Seshadripuram, Bangalore brings in India's very first prostate c...
Date: 23 Jan,2023
Mr. Vinod K Patel and Mr. Md Mansoor underwent successful liver transplants at Apollomedics Hospital Lucknow. Relativ...
Date: 23 Jan,2023
In a rare case of esophageal diverticulum, a 59-year-old man from Yangon, Myanmar underwent a successful robot assist...
Date: 12 Jan,2023