Apollo Gleneagles Hospitals, Kolkata launches the first installation of its kind in the world – "128 Slice Ingenuity PET CT- Positron Emission Tomography"
Posted by Apollo Hospitals | 17 Jun,2013
Apollo Gleneagles Hospitals, Kolkata, introduced the country's most advanced "128 Slice Ingenuity PET CT- Positron Emission Tomography" in the city on June 17, 2013. The Honorable Governor of West Bengal, Sri M.K. Narayanan inaugurated this state-of-the-art imaging system along with Dr Rupali Basu, CEO, Apollo Gleneagles Hospitals and Eastern Region, Apollo Hospitals, India.
PET CT is a medical imaging technique using a device which combines in a single gantry system both a Positron Emission Tomography (PET) and Computed Tomography. The images acquired from both devices can be taken sequentially, in the same session from the patient and combined into a single superposed image. This is then used for exposing the occurrence of fatal diseases like cancer at a pre-mature stage.
The INGENUITY 128 PET CT at Apollo Gleneagles Hospitals is the first installation of its kind in the world with Astonish 3rd generation time-of-flight technology.
Speaking on the occasion, Dr Rupali Basu, Chief Executive Officer – Apollo Gleneagles Hospitals and Eastern Region, Apollo Hospitals said, "PET CT has revolutionized many fields of medical diagnosis, by adding precision functional imaging, which was previously lacking from pure CT imaging. For example, in oncology, surgical planning, radiation therapy and cancer staging has been changing rapidly under the influence of PET-CT availability. The new PET CT facility will enable our doctors to get best quality images to base their treatment on, with 30% better clarity than other PET scanners. It will also benefit the patients with less time required for the scan as well as up to 50% reduction in amount of radiation. With this facility we now have complete 360 degree services to diagnose, monitor and treat all kinds of cancer cases under one roof. Besides cancer patients, it will also be useful in management of cardiac patients who have had myocardial infarction and neurology patients with dementia."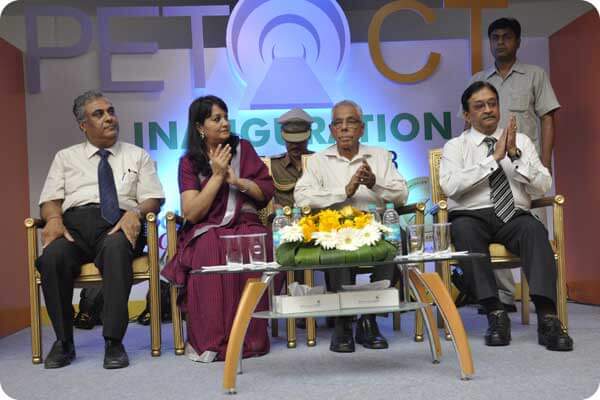 Posted by:
Apollo Hospitals
17 Jun,2013
Get the best of health related stories delivered to your inbox.
Apollo Hospitals has commenced the Covid-19 vaccination program for children in the age group of 15 to 18 years. This...
Date: 17 Jan,2022
The last two years have shown us how vulnerable we are to disease and how a new disease can take root and sprea...
Date: 29 Dec,2021
FLO, the women's wing of FICCI, joined hands with Apollo Cancer Centre for India's First Virtual Duathlon – Apollo D2...
Date: 05 Nov,2021