Apollo Gleneagles Hospital Kolkata, organized a discussion session on the theme "We Can I Can" on World Cancer Day.
Posted by Apollo Hospitals | 05 Feb,2016
Apollo Gleneagles Hospitals (AGHL), Kolkata, the leader in modern healthcare management in Eastern India, is at the forefront of the battle against cancer. On the occasion of World Cancer Day, an initiative that unites people across the globe in a combined fight against the disease, AGHL organized a discussion session on the theme, "We Can I Can." Attended by a panel of eminent doctors, the chess wizard, Mr. Dibyendu Barua, and the popular actor, singer and composer, Mr. Kharaj Mukherjee, the session discussed the various advances that have strengthened our hands in the war against cancer. The speakers highlighted that early detection improves the chances of effectively combating the disease, and raises survival rates. They also discussed the importance of the latest advances in diagnosis, like Liquid Biopsies and 3D Imaging Tests, besides the use of such innovations like the Novalis TX, IMRT and IGRT, Immunotherapy and Targeted drugs in the overall treatment process.
Dr Rupali Basu, President and CEO (Eastern Region), Apollo Hospitals Group, India, said on the occasion, "We need to realize the importance of awareness in combating the menace of cancer. When detected early, the wealth of expertise and the newest technologies and medications at our disposal allow us to ensure a complete recovery and cure. The notion that all cancer is incurable, therefore, does not hold true anymore."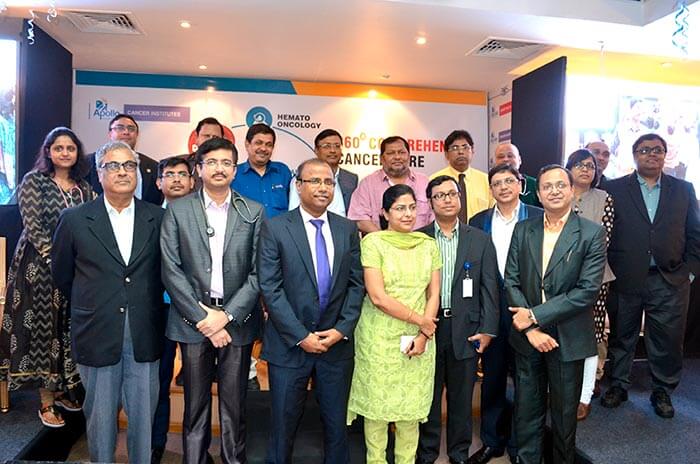 Posted by:
Apollo Hospitals
05 Feb,2016
Get the best of health related stories delivered to your inbox.
Management of Aortic Aneurysm & Dissection Surgery Conclave 2022 was organized by Apollo Hospitals in Chennai. The co...
Date: 02 Nov,2022
Apollo Proton Cancer Centre (APCC) conducted its 2nd Apollo Annual Proton Practicum from May 20-22, 2022. Over 700 pa...
Date: 04 Jun,2022
Apollo Cancer Centres proudly launched the "The Power to fight Breast Cancer is in Your Hands" campaign, which ill...
Date: 02 Apr,2021