Apollo Cancer Hospitals, Chennai conducts Symposium on Women's Oncology.
Posted by Apollo Hospitals | 22 Feb,2016
A symposium on women's Oncology at Apollo Cancer Hospitals, Chennai, had experts from the hospital, the National Cancer Institute, the U.S., and the Cancer Institute, Adyar, sharing their experiences. The symposium, aimed at educating people on newer treatments, vaccinations and screening processes, deliberated on prevention and management of cancers.
Apollo Hospitals' Executive Vice-Chairperson Dr. Preetha Reddy said, "Over six lakh people die of cancer every year in India and more than half of them are in the 30-70 age group. This symposium will provide opportunities for oncologists to interact with one another and exchange latest updates on cancer prevention and treatment."
Dr. Prathap C Reddy said the need of the hour was a collective movement from public and private organisations to increase awareness of proactive screening for NCDs. Adyar Cancer Institute chairperson V. Shanta said the lifetime cumulative risk of women aged below 75 years acquiring cancer in urban areas in India is one in seven to 10 whereas in developed countries it was one in three or four.
She said nearly 60 per cent of patients seek treatment in advanced stages leading to increased mortality and poor survival. Dr. Shanta said a thrust on preventive measures with early detection, education and increasing awareness will reduce the number of cancer incidences.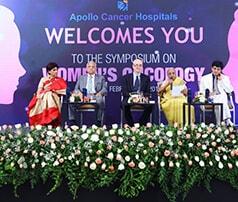 Posted by:
Apollo Hospitals
22 Feb,2016
Get the best of health related stories delivered to your inbox.
Apollo Hospitals organized the 9th Edition of the International Patient Safety Conference (IPSC) and the 10th Interna...
Date: 22 Feb,2023
Management of Aortic Aneurysm & Dissection Surgery Conclave 2022 was organized by Apollo Hospitals in Chennai. The co...
Date: 02 Nov,2022
Apollo Proton Cancer Centre (APCC) conducted its 2nd Apollo Annual Proton Practicum from May 20-22, 2022. Over 700 pa...
Date: 04 Jun,2022