Apollo Blood Transfusion Service – Setting New Milestones
Posted by Apollo Hospitals | 01 Mar,2017
Blood Transfusion Service (BTS) is a vital part of the modern healthcare system, without which efficient medical care is impossible. The aim of BTS is to provide effective blood and blood products, which are as safe as possible, and adequate to meet the patients' need. Apollo's Department of Transfusion Medicine is self-sufficient at meeting the blood requirements for all in-house patients, and also provides blood and blood components to other hospitals in Delhi/NCR as and when required.
Department of Transfusion Medicine accepts and receives only voluntary/voluntary replacement donors for blood donation. With a warm welcome, Apollo's well-trained staff performs donor screening, and maintains donor privacy and confidentiality at all times. Trained phlebotomists take the donation in specialised blood collection bags with integral filters; first sample pouch, which diverts the first 15-20 ml of blood, and needle guard to ensure 3-4 log leukoreduced blood, reduced bacterial contamination and prevent needle stick injuries to the phlebotomist respectively. Leucoreduction prevents Febrile Non Haemolytic Transfusion Reactions (FNHTR), HLA alloimmunisation, transmission of lymphotropic viruses such as EBV, CMV and HTLV-I & II.
The Immunohaematology Laboratory of the Department is a reference centre providing advanced Immunohaematology work-ups for patients across Delhi.
Provision of extended phenotyping for all blood donors is in place, and helps the department to provide phenotypically-matched blood for patients with common type of Rh and Kell alloantibodies. The Department is capable of resolving grouping discrepancies, autoimmune haemolytic anaemia workups, and multiple alloantibody workups.
The Department is the first centre to introduce Hepatitis C antibodies and Hepatitis B core antibodies in blood donors in the year 1996, besides the other mandatory tests, i.e., HbsAg for Hepatitis B, HIV I &II, malaria, and syphilis. Hepatitis C antibody testing later became mandatory in the year 2000.
The Department is a pioneer in starting Individual Donor (ID)-NAT (Nucleic Acid Test) on all the donated blood units in the country, since 2006. This has reduced the window period of HIV, HBV, and HCV considerably, and is a step forward in our quest for zero-risk blood.
The Department caters to the transfusion needs of approximately 75 thalassemic patients. We provide ID-NAT tested, 3 to 4 log leukoreduced blood to these patients.
We perform regular screening for any irregular red cell antibodies and extended blood group phenotyping for thalassemic patients, thus providing the safest possible blood to them. These patients are also typed by advanced molecular methods for red cell antigenic profile and receive a phenotype matched blood, thereby reducing the risk of alloimmunisation.
The Department has a wellestablished Donor Apheresis Programme that functions round the clock, and has extended its services to the bedside of the patient by performing therapeutic apheresis procedures like plasma exchange and red cell exchange. A well advanced peripheral blood stem cell harvesting programme for autologous and allogenic donors with cryopreservation is in place for treatment of several haematological and non-haematological approved conditions.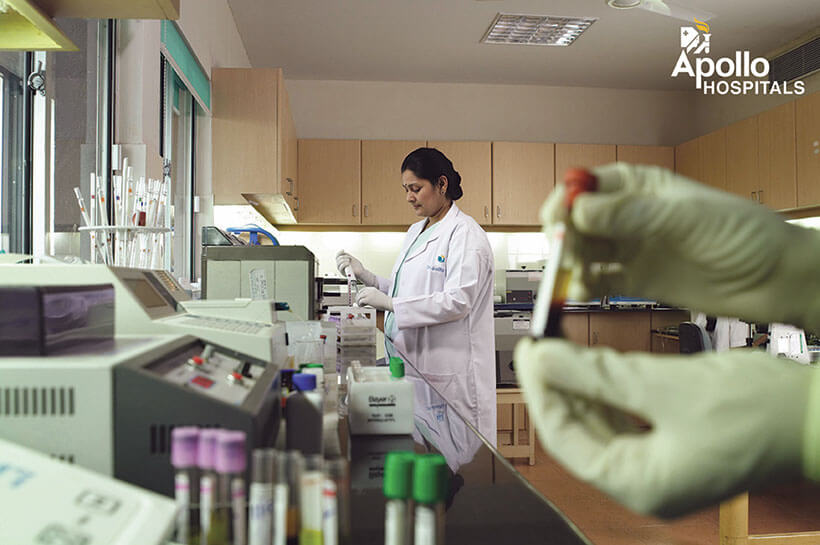 Posted by:
Apollo Hospitals
01 Mar,2017
Get the best of health related stories delivered to your inbox.
Adding another feather to its cap, Apollo Hospitals, Seshadripuram, Bangalore brings in India's very first prostate c...
Date: 23 Jan,2023
Mr. Vinod K Patel and Mr. Md Mansoor underwent successful liver transplants at Apollomedics Hospital Lucknow. Relativ...
Date: 23 Jan,2023
In a rare case of esophageal diverticulum, a 59-year-old man from Yangon, Myanmar underwent a successful robot assist...
Date: 12 Jan,2023