1st International Apollo Cord Blood Symposium 2013!
Posted by Apollo Hospitals | 02 Mar,2013
True to Apollo's, firm belief that enhancement of medical knowledge is one of the key mechanisms for continued excellence, and to keep abreast with the ever evolving changes in the field of stem cell usage, Apollo Speciality Hospital , Chennai organized the 1st International Symposium on Cord blood Transplantation covering the usage of cord in blood disorders.
Cord blood stem cells have been termed truly as Lord Dhanvantri's magic potion for the cure of blood related disorders in the last two decades.
The symposium, the 1st of its kind in the country was aimed to:-
Raise awareness about the use of cord blood as a source of stem cells
Provide scientific knowledge and guidelines for physicians wishing to pursue the use of cord stem cells
Leukemia, Thalassaemia and inherited genetic disorders seen in childhood are a huge burden to our society. Deliberations on use of cord blood as a source of stem cells in these conditions were the highlights of this symposium.
The panel of Speakers, featuring some of the most eminent Onco-Hematologists, Transplant Physicians from India and abroad were quite eloquent in proposing their thoughts, the key International Faculty included:-
Dr. Elaine Gluckman – Professor Emeritus of the University Paris-Diderot & President of Eurocord, who is referred to as Mother of Cord Blood Transplant , appreciated the work done at Apollo Hospitals, Chennai here to improve our patients life by using new and life saving cell therapy from cord blood.
Dr. Vinod K. Prasad – Director, Pediatric Blood and Marrow Transplant Fellowship Program Dukes University, USA, impressed on us the cord blood usage practice in the U.S, and his clinical experience on its usage.
Dr.Tang-Her Jaing, Admitting Physician, Department of Hematology/Oncology, Chang Gung Children's Hospital, Chang Gung University, Taiwan who is one of the world's leading physician using cord blood to cure thalessemic conditions, was insightful as well.
The other Indian Panelists and Chair persons included the leading transplant physicians, Hematologists, pediatricians and medical oncologists shared their thought on leveraging the usage of Cord blood as an important Source for managing blood Disorders.
The program was very well attended by almost 130 Transplant physicians, Onco-Hematologists, Oncologists & Pediatricians etc.
"The need for a Public cord blood repository in our country" is the one important resource we need in our country and we hope all the participating physicians, would put their efforts to bring make this dream come true.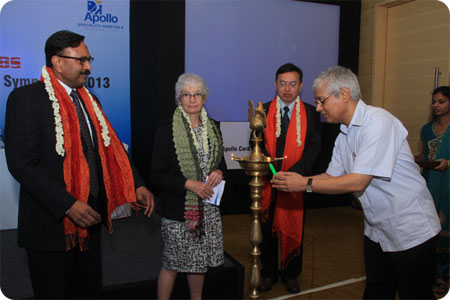 Posted by:
Apollo Hospitals
02 Mar,2013
Get the best of health related stories delivered to your inbox.
Apollo Hospitals organized the 9th Edition of the International Patient Safety Conference (IPSC) and the 10th Interna...
Date: 22 Feb,2023
Management of Aortic Aneurysm & Dissection Surgery Conclave 2022 was organized by Apollo Hospitals in Chennai. The co...
Date: 02 Nov,2022
Apollo Proton Cancer Centre (APCC) conducted its 2nd Apollo Annual Proton Practicum from May 20-22, 2022. Over 700 pa...
Date: 04 Jun,2022