Transcatheter Mitral Valve Replacement (TMVR)
Posted by Apollo Hospitals | 12 Sep,2019
About the Patient and condition
A 26-year-old female patient with RHD, previously underwent Mitral valve replacement in 2012 with 27 mm Biocor valve. Patient now developed severe mitral prosthetic valve stenosis.
Case Scenario
Patient got admitted under Dr. Sengottuvelu. G, Senior Consultant Interventional Cardiologist for Transcatheter Mitral Valve Replacement (TMVR) to avoid anticoagulation in the child bearing age. Presently, for TMVR patients suffering from severe symptomatic mitral valve disease and a failing bioprosthesis or ring annuloplasty or mitral annular calcification , the risk-benefit ratio favours intervention over medical treatment and our Cradiology team favours a nonsurgical approach. The objectives of the screening process for TMVR are to identify the severity and mechanisms of mitral valve disease and bioprosthesis or ring failure; determine the morphology of the mitral valve and specific characteristics of surgical bioprostheses or rings; determine the risk of complications such as left ventricular outflow tract (LVOT) obstruction, paravalvular leaks, or embolization; and help in the planning of the procedure.
After transseptal puncture, the atrial septum is dilated. After careful checking of its orientation, the prosthesis is advanced through the sheath, aligned, and adjusted in the inferior vena cava, exactly as is done in the descending aorta during TAVR. Once the position of the THV is deemed adequate, it can be deployed under rapid ventricular pacing. The first operator holds the catheter in the left hand and the wire in the right, to be able to finely adjust the position of the THV during its deployment, while the balloon is inflated by the second operator.
After deployment, a complete evaluation by TEE is mandatory to confirm the optimal function of the THV.
Worldwide Scenario
Transcatheter Mitral Valve Replacement (TMVR) involves replacement of mitral valve without open heart surgery. Generally, Mitral valve replacement involves cutting down the chest, cardiopulmonary bypass and chest closing. By transcatheter method, the mitral valve is replaced without opening the chest and heart. It is done simply through trans femoral access. This procedure is usually done for the patients who had underwent mitral valve replacement with tissue valve previously and for whom the second operation will be at high risk.
Expertise at Apollo Hospitals
The team of doctors at the Cardiology department at Apollo Hospitals, Chennai successfully performed TMVR with 26 mm Edwards Sapien 3 valve under general anaesthesia by Trans – femoral vein approach. Right femoral vein approach was used by us, for valve delivery prepared by 14 F e sheath. Left femoral vein was used for pacing lead insertion. Septal puncture was done with Mullin's sheath and BRK-1 needle under TEE guidance.
Then the Agelis sheath parked in LA. Mitral valve crossed with JR catheter and 0.035 wire and exchanged to Confida wire. The septum was dilated with 12X40mm complaint balloon. Then a 26mm Edwards Sapien S3 valve was deployed across the mitral valve with rapid pacing. Final deployment was appropriate as confirmed by fluoroscopy and ECHO. Gradient across the mitral valve was 1.8mm hg. ECHO showed no Para valvular leak. Hemostasis achieved by one proglide suture for RFV.
Apollo Hospitals – Touching Lives
Apollo Hospitals has a vast experience in Cardiology (both adult and paediatric). Our expertise and approach towards the most complicated cases has won world wide recognition.
Patient's testimonial
Patient was satisfied with the treatment and was glad that she had approached Apollo Hospitals for her treatment. Patient's family thanked Dr. Sengottuvelu and his team for giving her a new lease of life.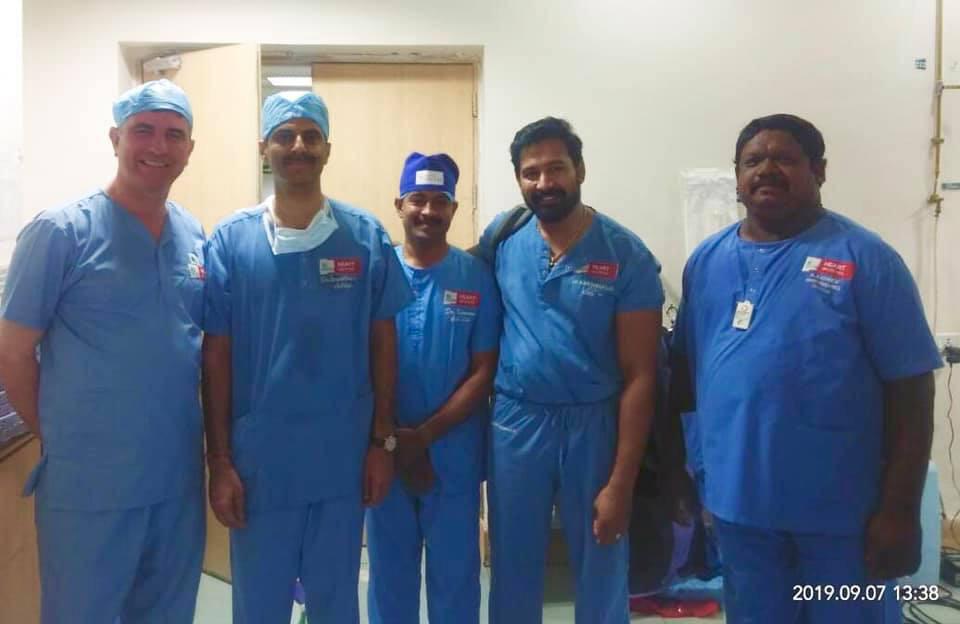 Posted by:
Apollo Hospitals
12 Sep,2019
Get the best of health related stories delivered to your inbox.