Multiple Stenting through Keyhole Surgery in an elderly Cardiac patient
Posted by Apollo Hospitals | 03 Sep,2019
About the Patient and condition
Patient Mr. Roop Singh Sidhu, was suffering from multiple co-morbidities. He presented with a history of hypertension, short episodes of transient paralysis (transient ischemic attack) TIA, hypertension and varicose veins. Mr. Roop was hardly able to walk due to pain in his legs; hence, led a restricted life because of multiple blockages in the brain artery, kidney artery and leg artery.
Case Scenario
In an extremely rare case a 73-year-old male patient, was treated for multiple artery blockages via multiple stenting through keyhole surgery performed by Dr. N N Khanna, Senior Consultant, Interventional Cardiology, Indraprastha Apollo Hospitals and Group Advisor of Apollo Group of Hospitals along with his team.
Dr. N. N. Khanna said "A few years ago, the mere mention of stent and open heart surgeries was a dreaded factor among patients. However, with advancement in technology, surgical procedures have been taken over by keyhole endovascular therapies. Here, a small puncture is made in the artery or vein and a micro-catheter is used to engage the respective artery and then the blockage is cleared by balloon, atherotome, rotational atherectomy or stent. Mr. Roop's case was a high-risk case owing to his age and multiple blockages. We took utmost care to see that the patient is able to lead a healthy and normal life, and is fully independent and functional."
Worldwide Scenario
Cardiovascular diseases are on an all-time high in India because of poor lifestyle, unhealthy diet, lack of exercise and also the ageing population and increased life expectancy. The aging process itself affects the cardiovascular system, thus we need to take care of our heart health proactively to lead a healthier life in the older age.
Expertise at Apollo Hospitals
Traditionally, blockages were treated by open and bypass surgeries. However, in this case due to age factor and multiple blockages, Indraprastha Apollo Hospitals, Delhi treated the blockages without even putting a knife but through the keyhole procedure. Hence, less pain and speedy recovery.
Apollo Hospitals – Touching Lives
"With the advanced technology & care and the team of specialised medical experts, Apollo Hospitals Group is always committed to provide the best of healthcare services to public at large. Owing to sedentary lifestyle, consumption of junk and unhealthy food and lack of physical activity etc. the burden of NCDs in India is growing manifold and one needs to proactively look after his health to avoid being a victim of these", said Mr. P. Shivkumar, CEO, Indraprastha Apollo Hospitals.
Patient's testimonial
Post the keyhole procedure, patient Roop said, "I feel like 30 at the age of 73, thanks to Dr. Khanna and his team. The procedure was smooth and I was discharged within two days. For more than a year my movement was restricted to within the home, with slow and steady steps due to the blockages in heart artery and varicose veins. Now, I am able to move freely and engage in all social activities."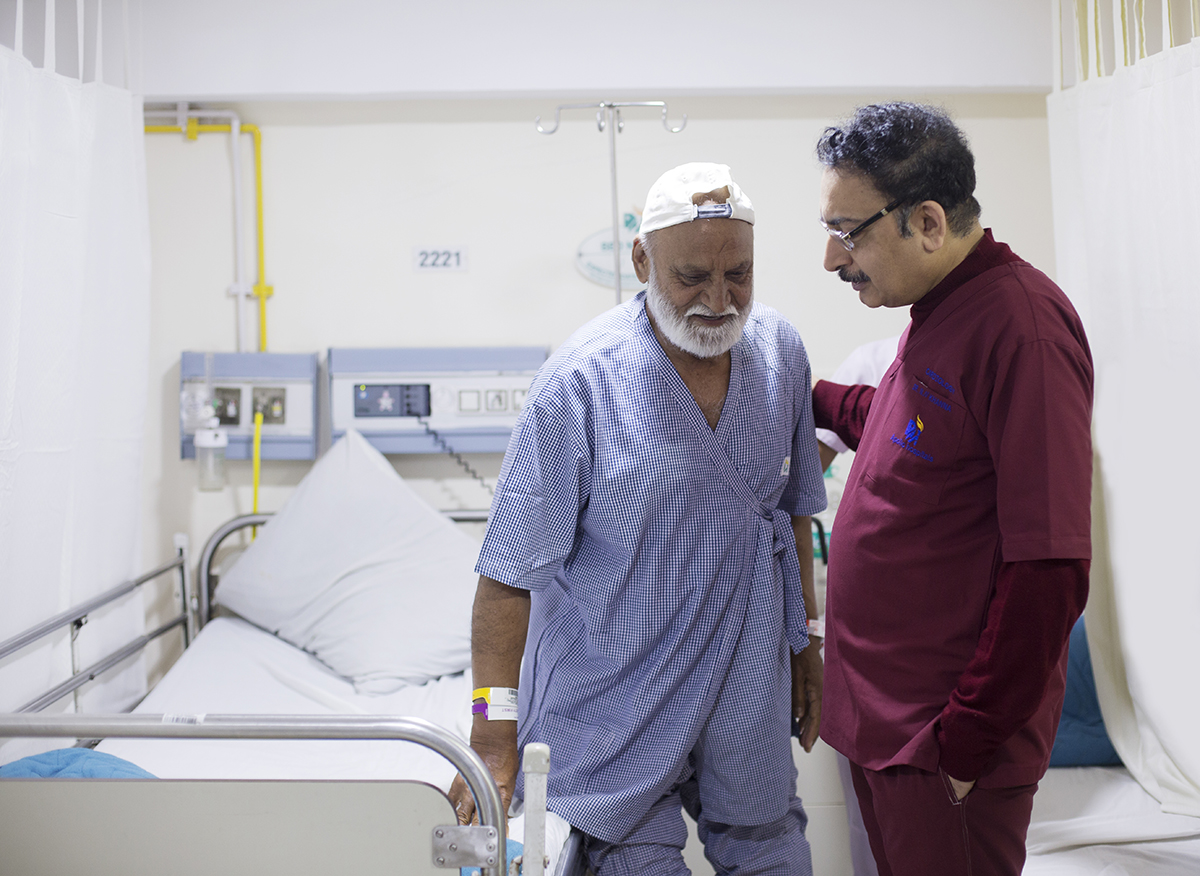 Posted by:
Apollo Hospitals
03 Sep,2019
Get the best of health related stories delivered to your inbox.